California Found Review January 2019
California Found is a subscription box that delivers beautifully crafted California artisan products to your door every month. They currently offer month-to-month subscriptions for $49.00 or three month subscriptions for $144.00. Shipping is $7.95/month within the US.
California Found fills the box to the rim with natural spa & beauty products, locally sourced gourmet treats, beautifully crafted home goods, and infinitely wearable jewelry every month! The total retail value of the monthly collection is at least $90 which is nearly double the cost of the box alone.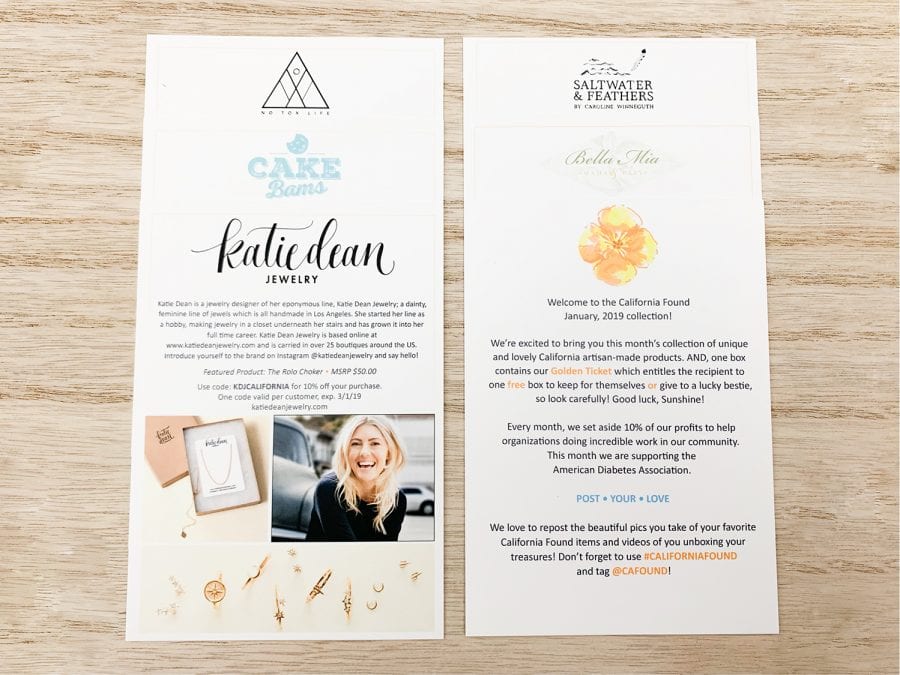 Inside every California Found box you will find Meet the Maker cards which provide a little info about each maker and gives you a peek into what you'll find inside of the box before digging in. The total value of this month's box is $100.00. Also, don't forget to check for the golden ticket to win a box for you or your bestie!
Saltwater & Feathers Three Greeting Card Collection ($15)
Caroline Winneguth, artist and entrepreneur behind Salt & Feather, makes greeting cards using 100% post-consumer recycled paper and vegetable based ink. I personally love stationery, especially included inside of subscription boxes. I get to explore small shops who offer beautifully crafted work and personalize the insides for family or friends. These cards are handmade making them even more special than store bought cards. Their uniqueness surely does make for a great gift for any occasion!
No Tox Life Mini Body Bar Duo ($12)
No Tox Life was founded by a mother-daughter team from Los Angeles, CA. They create natural, toxin-free vegan body care to help you live a cleaner, greener lifestyle. The January box includes the Ginger Spice & Grapefruit and Lotus & Winter Jasmine duo body bar. Both body bars have a delightful scent that is very unique. I have not had the chance to try these out but I'm sure they will work wonderfully!
Katie Dean Jewelry The Rolo Choker ($50)
This gorgeous little piece is from Katie Dean Jewelry! I received the Rolo Choker in gold and it is the perfect piece to throw together with a dressy outfit or everyday look. Minimalist pieces such as this one make a big statement when combined with the right outfit so I am very excited about this choker necklace. Also, the price for this necklace covers the cost of the monthly box alone which is an amazing deal!
Cake Bams 3 Cake Bams ($3 each)
This month's California Found box included not one, but THREE delicious treats from Cake Bams! These rice cakes are made with organic brown rice and topped with delicious flavors like dark chocolate and strawberry greek yogurt. Jenn Stoner, rice cake reinventor, founded Cake Bams after her daughter was diagnosed with celiac disease. She created treats that are naturally gluten free and lower in calories to provide you with a healthier snack option that satisfies that sweet tooth as well. They are one of the tastiest snacks I have ever had and sure did satisfy my late night pregnancy cravings!
Bella Mia Mama & Baby 60″ Scarf ($20)
The coziest scarf from Bella Mia was included in this month's box! Perfect for the cold weather we're still having down in Texas. It's like a big ball of soft fuzz and I'm lucky to have it this winter. The quality of the scarf is amazing and the color matches just about everything. I really love that they include washing instructions so I'm not as worried about having to clean it if something should get it dirty. This warm scarf is sure to keep you cozy during the colder days.
California Found Review January 2019 – Final Thoughts
California Found is one of the greatest subscription boxes for all types of people! They include healthy, tasty snack options every month, along with beautiful fashion pieces and tons of self care items to enjoy. This subscription is more than just a box, it is so perfectly curated with its customers in mind. Everything I have received has been top quality and adds up to well over the cost of the box. My favorite item from this month's box is the Cake Bams rice cakes, specifically the salt in the dark flavor. The greatest part about California Found is if you fall in love with any products or shops, they provide you with a special discount to order more things you'll love!
Sabrina – https://dearsarabia.com