Canadian Beauty Box Review Winter 2021
With Canadian Beauty Box, each and every season you can look forward to starting it off right with a truly Canadian twist on Fashion, Beauty and Lifestyle. They search every nook and cranny to find those hidden Canadian gems just for you! They kindly sent us this box for review.
Canadian Beauty Box is a subscription I've had my eye on for quite some time. First of all, I love it because it's a Canadian-based beauty subscription, and second of all, I love the fact that they include more than just beauty products. I have a good feeling about this one and can't wait to share it with you.
Subscription Details
There are Two (2) payment options to choose from for your Canadian Beauty Box. Each Season will be shipped at the beginning of the month. March, June, September and December within the first week of the month.
You can choose a quarterly subscription or an annual subscription.
Canadian Beauty Box subscribers will receive 6-8 Full sized products from Canadian businesses worth a min of $140.
Here's a closer look at the Winter 2021 Canadian Beauty Box…..
Granolust Mocha Chocolate Crunch ($12)
Behold: Mocha Chocolate Crunch, we created a Granolust flavour that combines two of our ultimate obsessions, coffee and our love of dark chocolate!  We recommend a handful of it to a bowl of coconut yogurt with some berries and maple syrup on top.
I have received this granola a few times over the years and I've definitely come to love it. Granola is one of my comfort foods, especially this time of year, and the flavour sounds wonderful – Mocha Chocolate Crunch.
Cutie Oils Olivine Cuticle Oil ($22)
OLIVINE – Sweet vanilla, warm amber, with a hint of sandalwood and blackberry. Olivine typically arrives just on time with outlandish tea to spill. Often chooses pink or glitter. 6ml. 
Ingredients:
Coconut oil
Macadamia oil
Meadowfoam oil
Jojoba oil
Fragrance
For best application, gently massage the product into your cuticles using the doe-foot applicator. This increases blood flow to the area, which increases product absorption. 
I love a good cuticle oil and this one smells lovely. I try to apply an oil to my nails at least once a day. It doesn't always happen, but I definitely try. I will keep this one in my purse for on-the-go applications, and I should also point out that it doubles as a perfume oil, which is another great reason to keep it close by.
Vail-Chunky Rib Headband ($30)
This headband is made in super soft rib knit yarns with a cute knot detail in the front. 
This is one of the things I love about Canadian Beauty Box. They feature more than just beauty products. A cute little headband is perfect for a winter box. It's a fashionable way to keep my ears warm.
Voir Haircare Rhythm of the Rain Masque and Scalp Detox ($28)
Your weekly slot to sing in the rain— that's all it takes to achieve a flake-free scalp and touchably softer hair. A deep conditioning serenade for your strands, I will restore your locks with thirst-quenching, creamy hydration, working my magic in just 3 minutes.
Benefits:
Soothes the scalp, reduces sebum and the appearance of flakes
Smooths and repairs dry ends
Complete detox therapy for hair and scalp
3-minute deep conditioning & purifying treatment
I have to admit……I've been neglecting my hair care routine for at least a year now. I pay little attention to what I use, when I use it, styling, nourishment…….all of the above. So, I was happy to see this scalp treatment in the box. I will keep it on the bathroom counter as a daily reminder to take care of my hair/scalp the way I take care of my skin.
Taurah Calming Mist  ($25)
Feeling stressed? Trying to meditate more? Searching for a relaxing aroma? Calming is a part of your wellness routine to destress, unwind and relax. 
Our favourite uses:
Pillow Spray
Meditation Mist
Room Spray
Yes, yes, yes! This is a product I desperately need as of late. Life has been crazy, and the holidays are definitely adding to the stress. So, I really need to find time to relax and recharge. I love products like this because it's a great way to force/remind myself to unwind. I will use it on my pillow at night and as a mediation mist during the day.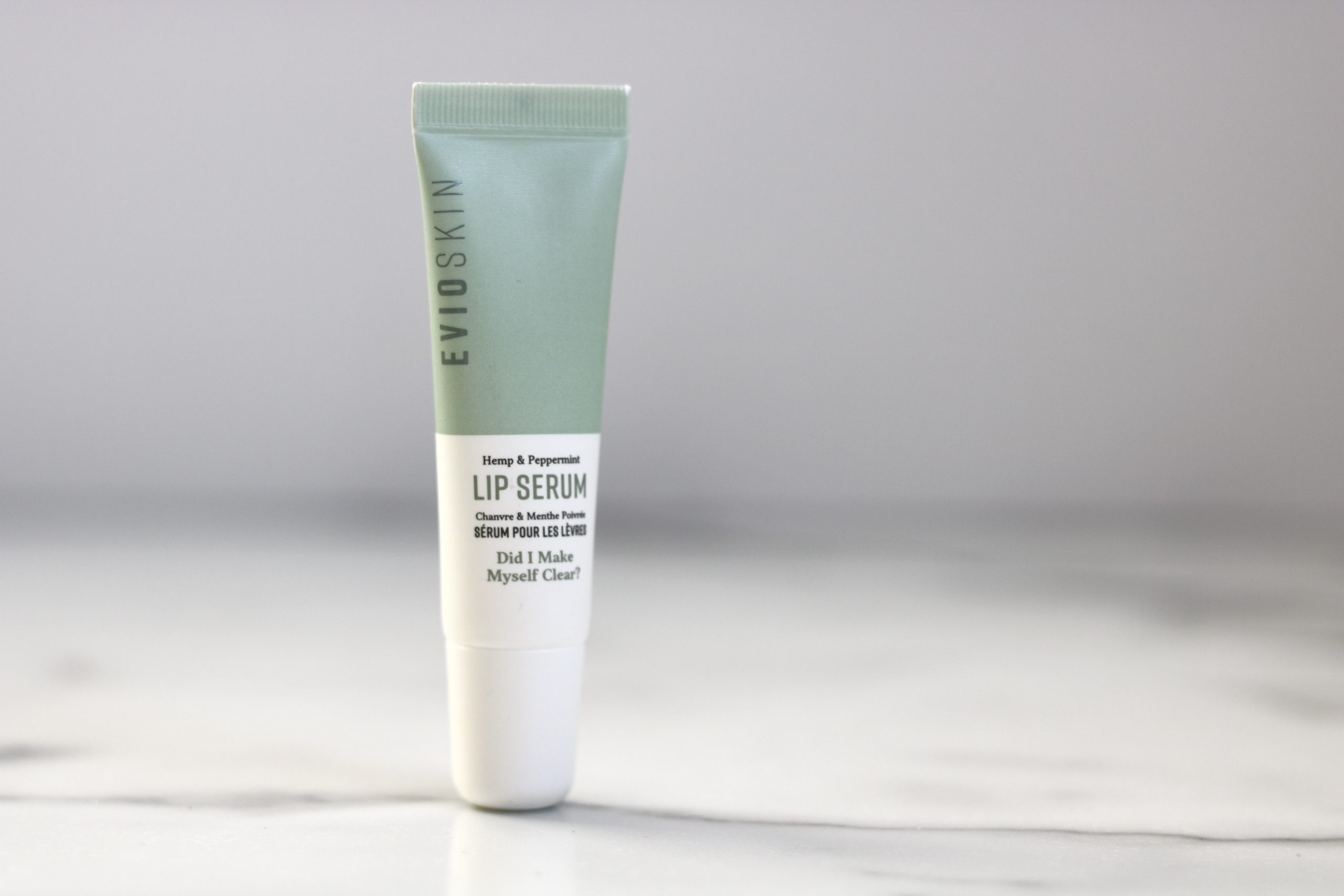 EVIO Hemp and Peppermint Lip Serum ($19)
A soothing lip serum packed with the healing power of hemp and peppermint. High in Omega 3, 6 and 9 to repair the skin barrier and form a seal over the lips to keep moisture in.
The soft oil balm texture will keep lips supple and hydrated with a refreshing cooling effect.
I love receiving lip products this time of year because the Winter weather makes my lips very dry. I'm also a HUGE fan of peppermint scented anything.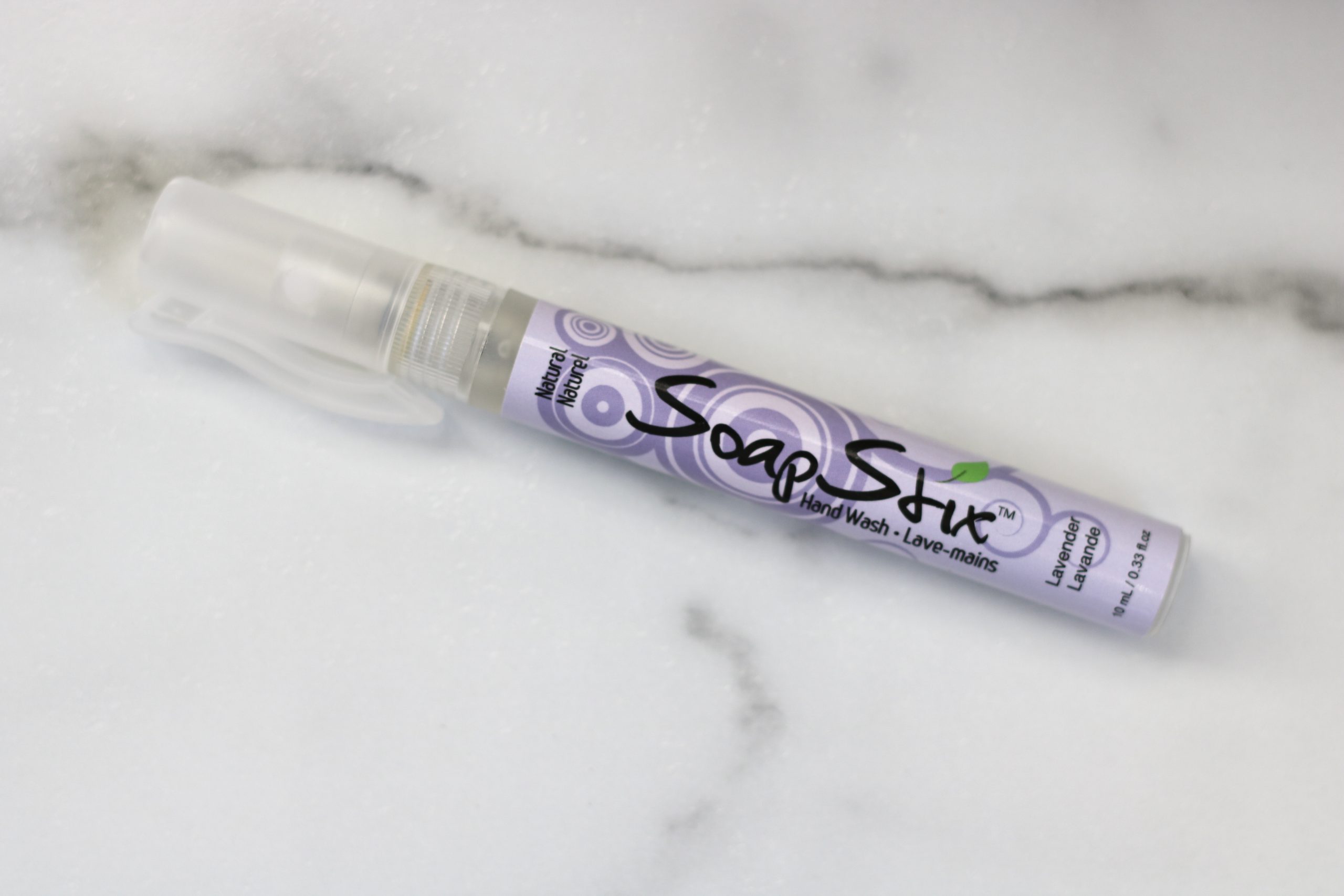 Soap Stix Hand Wash ($6)
Introducing the first All-natural portable hand wash spray. The SoapStix is the perfect solution for washing hands… anywhere!
It's the new healthy way to well-being. Imagine carrying your own personal hand soap and never having to touch a contaminated public soap dispenser filled with harmful chemical petroleum-based pink soap that dries out your skin.
I am a little ashamed to admit that I have been slacking when it comes to sanitizing, washing my hands, etc….. I was very diligent about it for the last year but it's something I need to get back on track with. So…..this hand wash is already in my purse and I will make an effort to use it often.
Canadian Beauty Box Review Winter 2021 – Final Thoughts
I have to say……I am very happy with my first Canadian Beauty Box. I think they did a lovely job curating a collection of products for Winter. I really love the fact that it is more than just a "beauty box". I like that we also received a snack and an accessory. This subscription definitely has the potential to become a new favorite. It's one I will be keeping an eye on in 2022!
-AYOB Sarah