Canuck Crate Review February 2022
Canuck Crate Subscription Boxes are a fun way to discover Canadian-made snacks and goodies from all over the country. They kindly sent us this box for review.
Canuck Crate has become one of my favorite boxes to receive. They include a fun mix of Canadian-made snacks, they have a different theme each month, and I always end up discovering new brands and/or product faves. It is such a fun box to receive!
Subscription Details
What You Get: Small or Large subscription box with 5+ or 8+ Canadian made food products every month.
Two ways to subscribe:
Monthly subscriptions: Month-month 3, 6 and 12 month subscriptions – subscribe for a longer period of time and save on your monthly cost!
Gift / Pre-paid subscriptions: Pre-pay for a 3 or 6 month subscription and save on your monthly cost!
The theme for the February Canuck Crate is Snowbirds…..
"It's about that time of year that we start getting sick of the -25C wind chills and meter-high piles of snow. In February, we will be migrating south just like the Snowbirds!"
Here's a closer look at the Small February Box from Canuck Crate….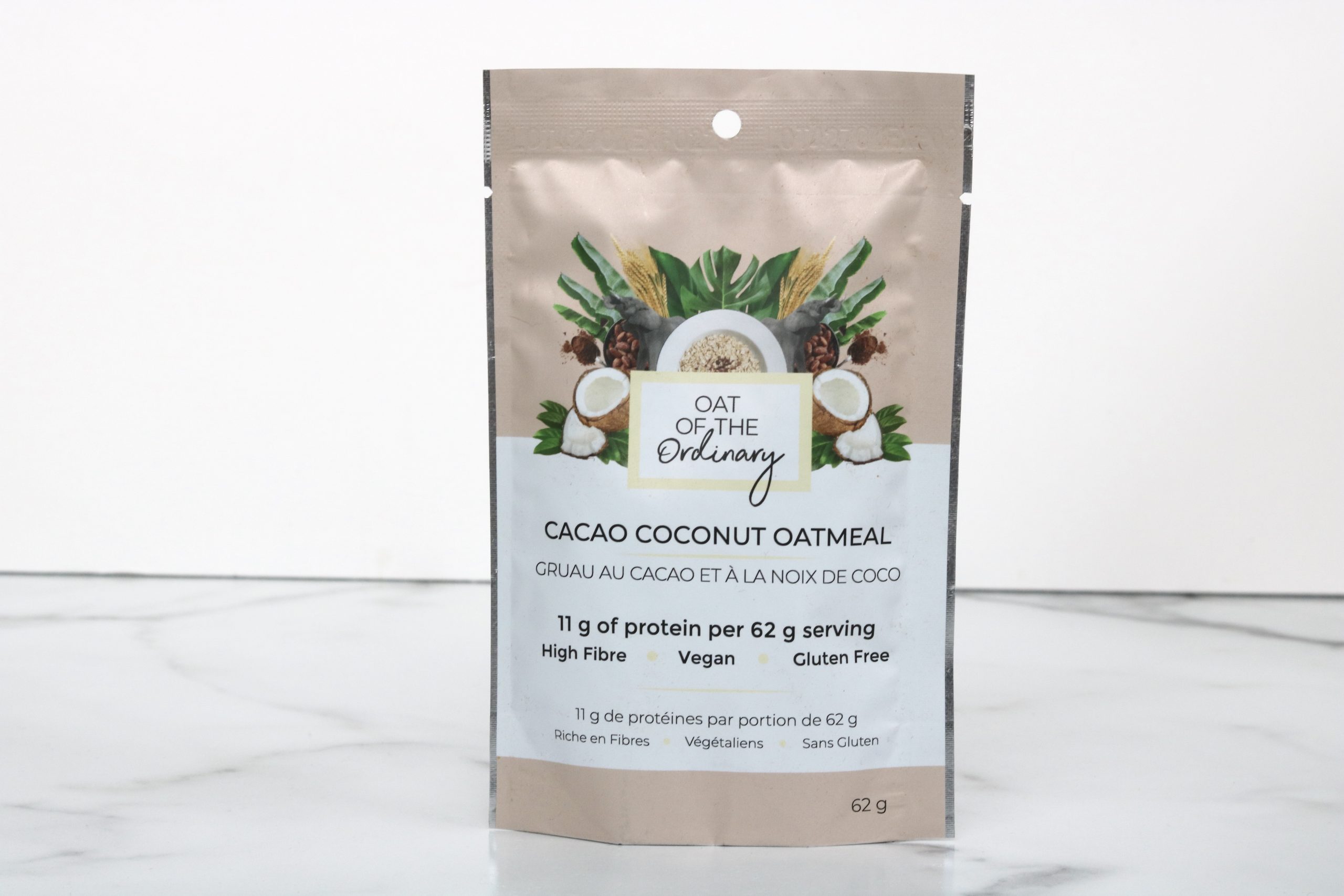 Oat of the Ordinary Coconut Oatmeal
Enjoy this single-serve oatmeal instant or overnight style!
Chocolate lovers, you will not be disappointed with this oatmeal that can be made as instant or overnight oats! Add a little nut butter to this beauty, and you'll be writing us love letters. Nutrient powerhouse cacao leading the way with a smooth chocolate flavour has now teamed up with coconut adding a little somethin' somethin' we think, scratch that, know you will go coco-nuts for.
I keep meaning to try this oatmeal so I was happy to see it in the box. I LOVE that it is vegan and has 11 grams of protein per single-size serving. Steven and I eat oatmeal almost every day so I'm excited to see if he likes this one.
Remix Snacks Pineapple Bean Bark
Nothing screams summer indulgence quite like rich dark chocolate laced with our tropical pineapple pieces.
The unique crunchy texture of our bark is made by our ground beans. Our beans are carefully washed, soaked, cooked, dehydrated, ground and integrated into the recipe of our product. The beans don't change the taste or flavour of our chocolate, but they make a great crunchy snack and increase the nutrition profile of your chocolate!
70% dark chocolate
Imperfect pineapples
High in fibre, iron and protein
Made with all natural ingredients without preservatives
Suitable for vegans
Made with love by dietitians!
I am SO excited about this next snack. I have a serious sweet tooth and especially love dark chocolate. But with that being said, I try to choose my sweet snacks wisely so I like that this one is made with beans and up-cycled fruit.
Bow Valley BBQ Salsa
Inspired by the flavors of Southeast Asia and Southern America, both in which share a common palate of fresh, crisp and spicy. A blend of chili peppers, citrus juices, sweet corn and fresh cilantro that offers a world of diversity. Sweet Chili Corn Salsa is a perfect companion for any fresh seafood or grilled chicken, and truly a salsa for all salsas.
Ummmm….this sounds so good. I always have chips and salsa on hand because it's the perfect snack for guests, or to munch on before dinner. And I love trying different flavours of salsa so this is right up my alley.
La Fumisterie Smoked Nuts
Peanuts, almonds and cashews smoked with natural wood and seasoned to perfection with a blend of homemade spices.
Spicy smoked peanuts, almonds and cashews……sounds SO good! This is another great snack for guests but I will probably end up eating it myself.
Lela's Chickpea Chips Cracked Pepper
Dusted with rich black flecks these chickpea chips are seasoned with tasty cracked pepper to add a little spice to your crunch.
This is the snack I am most excited about….so much so, I already looked them up online so that I can purchase more. I love a good potato chip alternative and this particular kind has the added benefit of 12 grams of protein per serving.
Canuck Crate Review February 2022 – Final Thoughts
This is my first time reviewing the small crate from Canuck Crate and I have to say…..I love it just as much as the large crate. So, whatever your budget, you can't go wrong with either. I am VERY excited about every product included in the February box with my favorite being the Chickpea Chips and the salsa. But with that being said, I'm also very intrigued by the Bean Bark – it sounds SO good! I LOVE a good snack subscription box and this one is yet to disappoint. It's definitely a fave!
-AYOB Sarah