Canuck Crate Review June 2021
Canuck Crate is a subscription box for people who are interested in discovering Canadian food, drinks and snacks. Each month, Canuck Crate carefully curates a collection of food, drinks and snacks to help you explore new Canadian products from coast to coast without the hassle of the grocery store. Some of those items will be cookies, brittle, chia seed pudding, chocolate, chips, baking mixes, squares, bars and protein bites, jams and spreads, roasted nuts, freezies, teas, latte mixes, and a whole lot more! Every product in their subscription boxes is made in Canada by a fellow Canuck!
For those interested in Canuck Crate items outside of their subscription, Canuck Crate also has an online store chock-full of 100% Canadian-made products to choose from to create your own crate and they also offered curated crates that are inspired by a theme.
I was so excited to receive this Canuck Crate box as I am all about supporting local, 100% Canadian-owned and operated businesses! And, who doesn't love to discover new food, snacks and drinks to enjoy?
Let's take a look inside…
My box showed up quickly after it was shipped and it was packed inside this Canadian-plaid themed box with the items carefully packaged inside. It also showed up after a week of record temperatures in Alberta, and each item was still perfectly fine and ready to enjoy!
What's In Your Crate
The info sheet provides information regarding the products found in your Canuck Crate! Details like origin, ingredients and some information about the company are listed for each product. Canuck Crate also tells subscribers why they love them!
First look!
Hardbite Smokin' BBQ Chips & Smokin' Sweet Spud Chips – Surrey, British Columbia
"If you haven't heard of Hardbite chips, you're missing out. Inspired by nature and handcrafted in beautiful BC, these chips contain just the right amount of unique seasonings, with just the right crunch. These chips are all-natural and are gluten-free, kosher, and all but two of their flavours are completely vegan.
Why we love them: We are self-proclaimed chip connoisseurs, and Hardbite chips are hard to beat. With their unique flavours, all-natural approach and small batch production, these are the most flavourful and crispy chips you will ever have!"
Either bag did not last long. I took the review photo and gobbled them up. Seriously, delicious! If I had to choose my favourite, BBQ would win by the tiniest amount!
Martin's Crispy Apple Chips Cinnamon – Waterloo, Ontario
"Farming the land as far back as 1820, the Martin family has become known for their sweet, juicy apples that they originally sold at farmer's markets. They take pride in every apple tree that they plant, and every apple that they harvest.
Why we love them: We have been enjoying their crispy apple chips for a long time. They are the perfect alternative to the classic potato chip; crunchy, sweet and satisfying."
I was never a huge apple chip fan until recently, but my partner has always been a big fan. Everyone kept telling me to try them. So finally I tried these and fell in love. Martin's Crispy Apple Chips are going to be my new go-to. You get the delicious, satisfying crunch, without the grease.
Bisou Dates Pecan Cinnamon Bites – Ottawa, Ontario
"Bisou is North America's first health food company focused around Medjool dates. Beginning in 2018, the three co-founders wanted to provide their family and friends with healthy food that was natural and good for you, hence Bisou was born.
Why we love them: We always have Medjool dates in our houses. When we found a Canadian company that makes date bites and date butter, we knew we had to have them in our crates."
I'm not going to lie, my partner and I fought over these bites and they were that delicious. I was impressed that it satisfied me for breakfast, tied me over until lunch and was so freaking tasty! I love that it didn't have that lingering taste that other energy bites do. They have a bunch of flavours listed on their site that I want to try!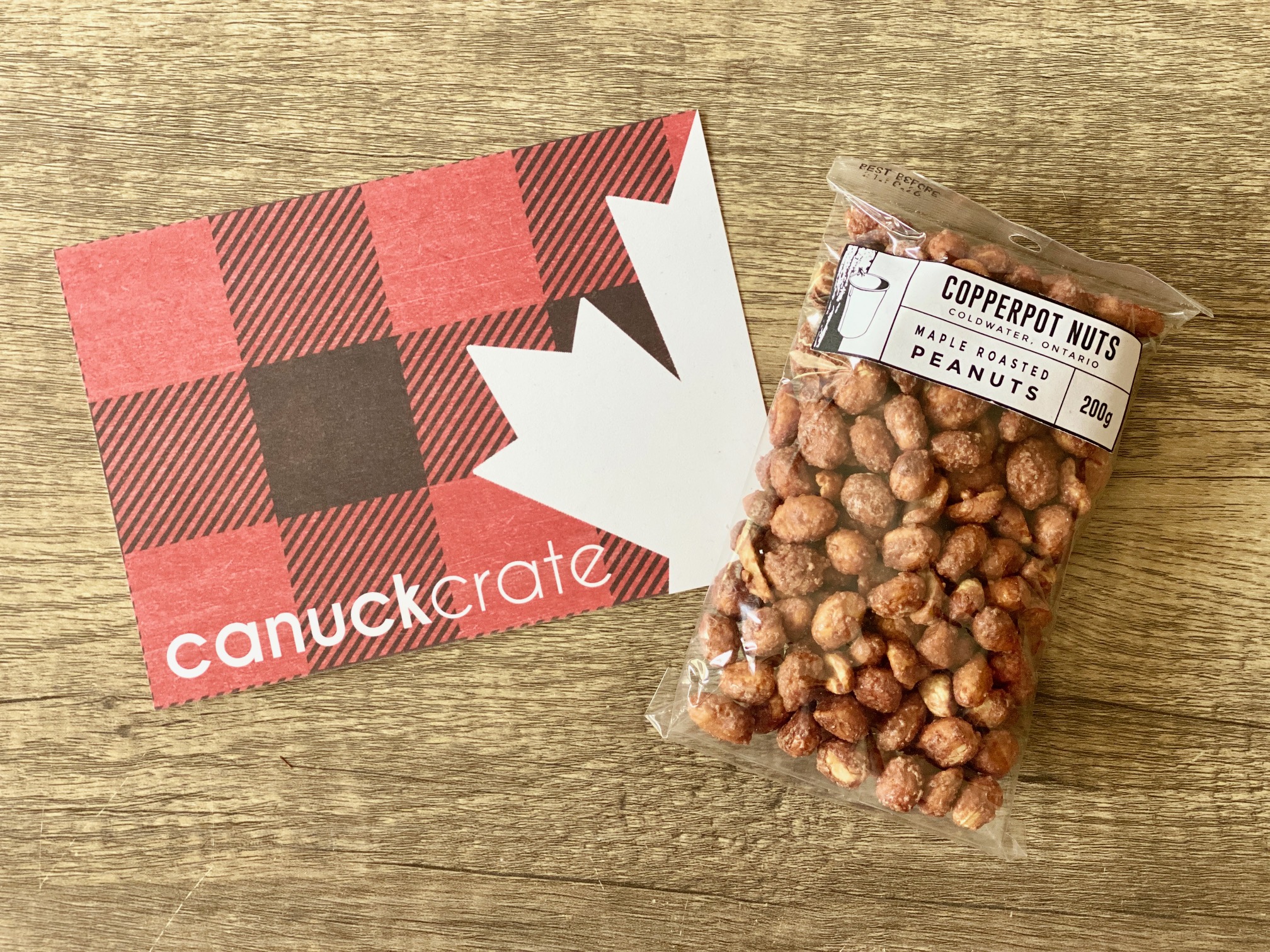 Copperpot Nuts Peanut Beer Nuts – Coldwater, Ontario
"Copperpot Nuts Inc. had humble beginnings in 2009 as a garage start-up near a small town in Ontario called Coldwater. Now, they have a brick-and-mortar store where they offer more than 20 flavours of nuts, seasoned with hand-crafted recipe blends.
Why we love them: Beer nuts in particular hold a special place in our hearts as a nostalgic cottage treat. They are the perfect little sweet snack, or as a part of a larger snack spread."
So these were devoured by my partner in no time. He described them as, "deliciously perfect and sweet". He said it's so great to get treats like this that take him back to his childhood.
Sapsucker The Lime One – Flesherton, Ontario
"This organic, sparkling water is nothing like you've tried before. Packed with 46 naturally occurring minerals, vitamins and antioxidants, this bubbly beverage will keep you cool right through the summer.
Why we love them: We love a versatile drink that you can dress up, or dress down. We like to add our favourite alcohol to turn this unique beverage into a refreshing cocktail!'
I absolutely loved this sparkling water beverage! It was light, refreshing and it would be amazing with your favourite clear spirit.
Hardy Buoys Garlic & Pepper Salmon Jerky – Port Hardy, BC
"What started out as a hobby and side business for Bruce Dirom, quickly turned into a successful family business. They are one of the most popular smoked salmon brands on Vancouver Island, and their hot. smoked salmon is hailed as #1 in its category!
Why we love them: They are deeply connected to their community, giving back by sponsoring sports teams and youth events, and many staff volunteer their time on behalf of the company to participate in fundraising events."
My partner loves salmon and we had never heard about salmon jerky before. He said that he could tell it was made of high-quality salmon as it did not give his insides a surprise as other low-quality meats do. He is hoping to put in an order to try all of their varieties!
MDRN Jerky Original BBQ – Hamilton, Ontario
"MDRN JRKY was founded with the goal of creating a clean and lean high protein snack as well as a sustainable plant-based snack that is better for both us and the environment.
Why we love them: We love jerky, and being vegan herself, Catherine appreciates a plant-based jerky for simple and tasty snacks."
My partner and I absolutely loved this jerky. We were impressed with the taste and texture considering it is vegan. Yum!
Home Grown Living Foods U Bake Veggie Burgers – Cambridge, Ontario
'Malcolm Henry, a chef born and raised in Jamaica, used his knowledge and experience to create a truly unique sweet potato hot sauce. Demand for his original sauce was so high he founded MH Fine Foods in 2017.
Why we love them: Here at Canuck Crate we love unique products, and their Triple Heat hot sauce is not just unique, it's award-winning unique!"
I am already a huge fan of plant-based burgers as I am incredibly picky about my meat. These burgers were easy to prepare, tasty and tangy. Highly recommend!
Malty & Hoppy Delicacy Pale Ale Beer Jelly – Toronto, Ontario
"Founded by Francoise Briet, a professional Chef who also has a PhD in nutrition and a multitude of other qualifications, Malty & Hoppy Delicacy is truly one of a kind. Perfect for a summer BBQ snack, or an addition to a charcuterie board, the beer you can eat will be sure to become one of your favourites.
Why we love them: We have truly never seen a product like this before, and when we tried them it was love at first bite. Their jellies are slightly sweet, complete with the notes of your favourite beer."
Save the best for last? It took me a few days to figure out how to sample this Pale Ale Beer Jelly, but I made a charcuterie board and we sampled it with artisan bread, cheeses and meats. It's weirdly delicious and you need to try it!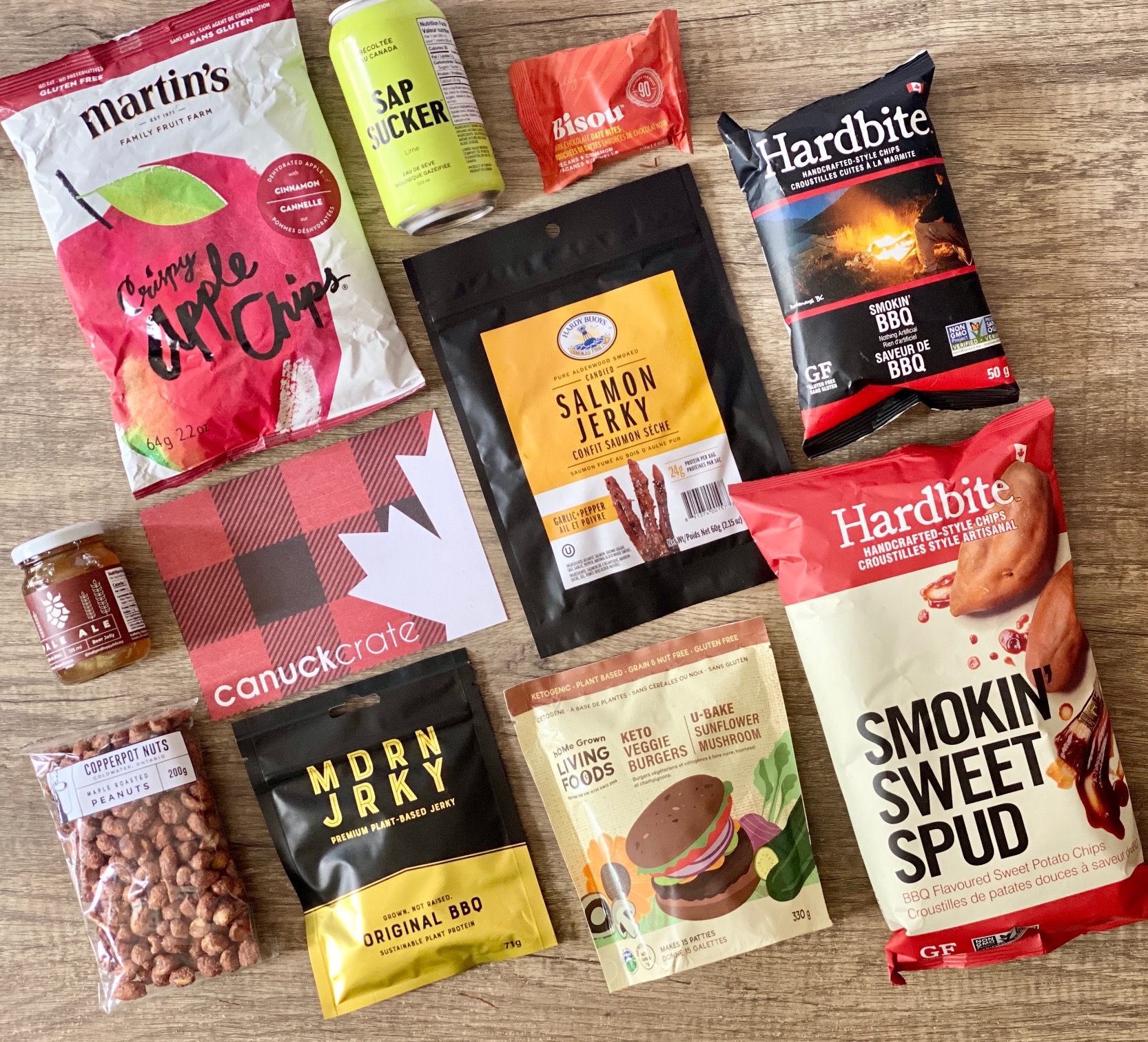 Canuck Crate Review June 2021 – Final Thoughts
The June 2021 Canuck Crate contained 10 delicious products from Canadian companies. This box provides a nice collection of snack, food and drink items that take the "What should we try next?" guessing game out of grocery shopping for you. Canuck Crate would also be perfect for someone who is vegan to jazz up their snack options. I appreciate that they are reasonably priced, have fantastic customer service and only $10 shipping to Canada and the US. If you were to buy these items yourself, you would need to go on a hunt at specialty stores. My partner wants to subscribe to this box after seeing how easy it was for him to have delicious and unique Canadian snacks picked for him. Happy snacking!
Hayley Savanna – https://www.instagram.com/hayleysavanna/