Care/of Review January 2020
Care/of provides a monthly subscription of personalized vitamins. Each month customers receive some of the best health and wellness products right to their door, including the signature box of 30 daily vitamin packs along with a new line of powder products chosen just for you.
I have to say…..I've had my eye on this subscription for quite some time. I first discovered it on Instagram and fell in love with the concept, especially the convenience and simplicity. I first came across Care/of prior to being pregnant but my vitamin needs increased two fold once we got the positive pregnancy test so Care/of became a subscription that I needed to incorporate into my lifestyle ASAP. I will elaborate more below but for now let's go over the details…..
Subscription Details
When you sign up for a Care/of subscription you will start by taking their quiz. You will answer questions about your needs, lifestyle, concerns, etc. After completing the quiz, Care/of will provide you with recommendations in regards to vitamins, powders and quick sticks.
Each Care/of box comes with 30 packs, meant to be taken once a day. Powders come with the amount specified online and are meant to be taken as needed depending on your lifestyle. Once you're near the end of a month of vitamins or powders, they'll be preparing a new box to arrive before your month ends.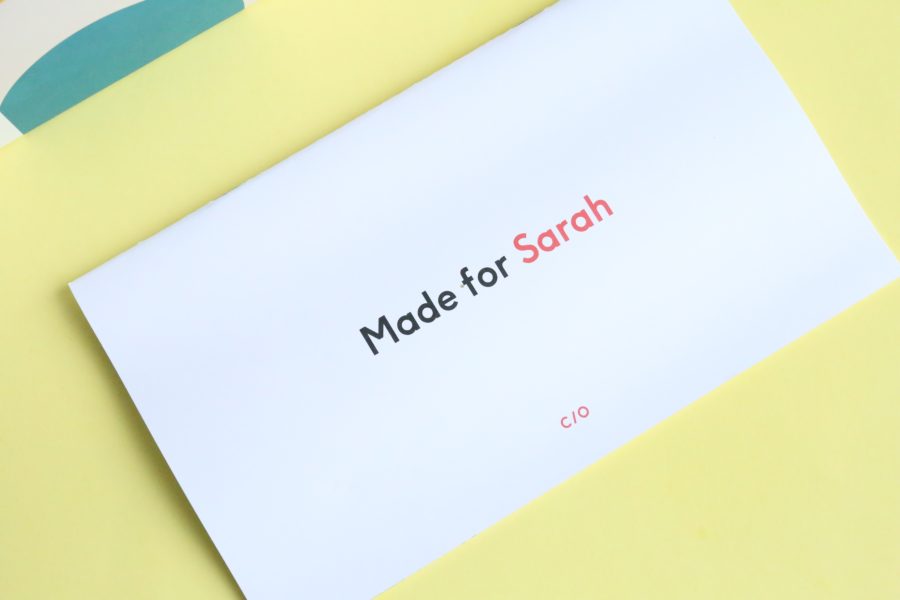 Here's a closer look at my personalized Care/of vitamin pack for January…..
Packaging
Let's talk about packaging, because you all know I LOVE nice packaging, especially when it comes to subscription boxes. The Care/of box is simple and effective. There's no wasted space or uneccessry packaging. My vitamin box sits nicely inside and my personalized product card is displayed on top.
Vitamins
Here's a list of the Care/of vitamins I added to my box for the first month. I will be changing it slightly before my next box ships.
Veggie Omega – Our Veggie Omega is an omega-3 supplement sustainably sourced from a type of microalgae, schizochytrium sp. and is loaded with EPA and DHA. It's a great way for vegans and vegetarians to get their omega-3s, which support heart health.
B-Complex – Our B Complex contains all 8 B vitamins, fermented for gentle absorption, so it's easy to digest and can be taken on an empty stomach. It also includes methylfolate, a superior form of folate, and methylcobalamin, a superior form of Vitamin B-12.
Vitamin C – Our Vitamin C is fermented with organic yeast and foods, making it resemble Vitamin C in its food-based form. It is easy to digest and can be taken on an empty stomach.
Prenatal – Our Prenatal multivitamin is a twice a day formulation, fermented to make it easy to digest. As a result, it's less likely to make you feel nauseous, as some vitamins do. It contains 22 nutrients crucial for a developing baby's health, including a superior form of folic acid called methylfolate and choline, which has been studied for its health benefits.
Probiotic Blend – Manufactured in the United States, our probiotic blend is composed of L. acidophilus and B. lactis, two strains of 'good' bacteria with a growing volume of research around gut health.
For my first month I went with the essentials. My prenatal vitamin is a must, I was so happy to see that they had this in the product line. I like to take a veggie omega as I don't feel like I get enough omega-3's in my diet. Being vegan, I also need to take a B-complex as us vegans don't get enough B-12 from our diets.
I also added Vitamin C as it's always a good one to take and a probiotic to help with gut health/digestion during my pregnancy.
Your Care/of vitamins are individually packaged and there's one pack for each day. I LOVE the convenience of this as the packs are easy to throw in your purse, travel bag, etc.
One of the things I struggled with since becoming pregnant was remembering to take all my vitamins each day. It's a pain to get out 5-7 different vitamin bottles each morning, portion out your vitamins and then remember to take them. I have to space out my vitamins, I often get sick if I take them all at once, so the fact that I could grab one of these little packs in the morning, throw it in my purse, and take 1-2 vitamins as need was a HUGE selling feature.
Oh…..and how cute are the packages themselves?! They are personalized and each one has a quote, question, challenge, or fact.
Care/of Review January 2020 – Final Thoughts
This is only my first Care/of vitamin box and I am already a HUGE fan! I am 100% in love with this subscription. It is simple, convenient and reasonably priced. The other thing I love about it is the fact that I no longer need to store bottles and bottles of vitamins in my kitchen cupboard. The cute little box sits on my desk and is a daily reminder to take my vitamins. I also believe it will save me time and money. No more trips to the vitamin store and no need to worry that I will run out of one bottle of vitamins before another, does that happen to anyone else? I will finish one bottle and another bottle will still be half full. It has become a pet peeve of mine, but I no longer need to worry about it.
I feel like there's so much more I could tell you but I will save it for the next review…….like the fact that my Care/of vitamins don't bother my stomach (another selling feature). Already looking forward to next month…..
-AYOB Sarah