Caring Crate Review April 2017
Caring Crate is a unique, monthly subscription box service for those dealing with mental health issues, chronic illnesses – or anyone who needs a little extra self-care. From mood enhancing aromatherapy and teas, to personal journals and healthy snacks, Caring Crate is the perfect solution to indulging in a little self-care, or gifting a thoughtfully curated box to friends, family & loved ones. They kindly sent us this box for review.
This is my second month reviewing Caring Crate, but AYOB has been reviewing this box for almost a year now.   I have to say, even though I only have one experience prior to this with Caring Crate I already feel impressed by the details and care put into each box!  Let's see what April's box has.
Forest Bathing
This month's theme seems to focus a lot on nature and taking care of your most basic needs through the relaxation of a bath!
Sudsatorium Treemendous Bath Soak
Take in the greenery of this bath soak while enjoying the scents of cypress, cedarwood, and eucalyptus and soothing dry skin and score muscles.  Plus you'll feel good knowing this soak is cruelty-free and sudsatorium donates 5% of its profits to a grassroots charity.
Love this item!  I've been super big into the baths lately, as there is nothing quite like it to calm stress and relax the body.  The scent of this soak is right up my alley too.  I'm not always big on floral scents, so a woodsy smell sounds perfect to me.
Artemisia Collage with Nature Tiny Terrarium Kit
Bring the outdoors in with this mini terrarium kit, which is perfect for placing on your desk or nightstand.  The kit contains everything you need to design your own terrarium, including special stones and crystals, sand and an air plant.
Love this!  Air plants seem to be big with the subscription boxes right now, as this is the third one I have received in the last month!  I think they are a great idea though, as they ship well, are super trendy and add so much to your room!
Bloomin Self-Growth Wish Kit
Write down your dreams, wishes and goals on these cards and then plant them and watch the wildflowers grow!
Ahhh… So great!  I have seen paper seeds before, but I'm so excited to receive them in my box!  I really like the idea of writing down your wishes, as watching a plant grow from them can really help you see them "coming to life" so to speak!
Nootka Naturals Whistler Woodlands Aromatherapy Spray
Transport yourself to the forests of the Pacific Northwest with this aromatherapy spray, with notes of sage, spruce and peru balsam, along with stimulating eucalyptus, uplifting citrus, and warming vanilla.  This multipurpose aromatherapy spray can be used as a linen spray, pillow spray, room spray, body and facial mist or therapeutic spray.
I could smell this almost as soon as I opened the box and it really does smell fantastic!  Like I mentioned, I'm not huge into floral, but if I can make my bedroom smell like a forrest I'm 100% in!  There are so many studies that prove being out of doors and in nature benefit the body in more ways than we can count.  I think this aromatherapy spray is really on the right track here.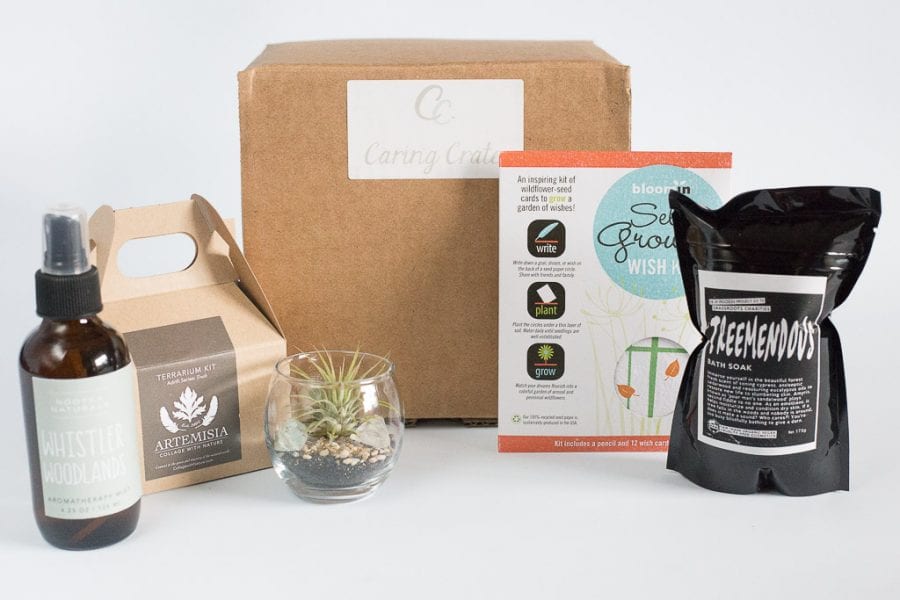 Caring Crate April 2017 – Final Thoughts
I know I have only reviewed two of these boxes, but this box is my favourite I've seen from them!  The theme is so great and very consistent with every item.  I feel every item is very useful or contributes well to over all mental health and works to uplift the spirits, which is what this box is all about!  I really love the air plant and it's tiny home.  I think it might be my favourite item from the box.  The bath soak is brilliant and I love the scents chosen!  If all their boxes are this good than I would easily consider getting this for a friend who is suffering from a physical or mental illness.  These items are really great and I think would boost the day of any recipient!
-Shonah