Caring Crate Review August 2016
Caring Crate Review August 2016
Caring Crate Review August 2016 – You guys, can I just say that I have really been enjoying this box. It is a pleasant surprise because I was a little skeptical of it at first. I hope that doesn't come across as being negative because it's not meant to be. I just wasn't sure if I was going to be able to relate to a box of this nature. But……they have done an absolutely amazing job of putting it together and I find it to be a perfect subscription for all  different lifestyles, not only for those dealing with mental health issues, or chronic illnesses.
Caring Crate Details
If you aren't familiar with Caring Crate it is a unique, monthly subscription box service for those dealing with mental health issues, chronic illnesses – or anyone who needs a little extra self-care. From mood enhancing aromatherapy and teas, to personal journals and healthy snacks, Caring Crate is the perfect solution to indulging in a little self-care, or gifting a thoughtfully curated box to friends, family & loved ones.
The Box: Caring Crate
Cost: $39.95
What You Get: Each box is a surprise, so they have to keep the full details on the down-low 😉 But they can tell you that each subscription box you receive on your doorstep each month will contain 4-5 full-sized products related to health and wellness. Their boxes are carefully curated with thoughtful product selections and lovingly assembled for you.
Ships to: US & Canada
Shipping Cost: $12.99
Caring Crate Subscription Details
When you sign up for a Caring Crate subscription you have 3 options to choose from. You can opt for the monthly subscription, or you can choose the 3-month or 6-month options. With the 6-month option you save $2 per month, which is kind of nice.
This will be my third review for Caring Crate and I have really enjoyed all of them so far. I really like the idea behind the box, even though I wasn't sure about it at first. They include some really fun items in each box, all of which I have kept for myself – no gifting here.
Mini Buddha Board
Designed by the Zen idea of living in the moment, the Buddha Board lets you paint anything you want with water. When the water evaporates, the design will disappear, leaving you with a blank slate.
This is why I like this box. They find the cutest little items that are perfect for self-care. Where on earth do they find these things, and what will they come up with next. I am going to save this for my new office (we just bought a house) and use it when I need a break between blog posts.
Anchor Me Lost at Sea Cuff Bracelet
A beautiful brass bracelet to wear as a reminder. The morse code design says "strength".
Ummm…..I am in LOVE with this bracelet. It is small enough to fit my tiny wrist, it adjusts easily and the saying is hidden. I don't always like things that are right in your face. This is fun because you will know what it means, but no one else will.
Two Blooms Organic Lip Balm
Made with ethically sourced and natural ingredients like avocado and coconut oils, this lip balm is really moisturizing. Handmade on Vancouver Island.
Lip balm is always a good idea……enough said.
SeaLuxe Seaweed Face Mask
Made in White Rock, British Columbia, this mask contains wild harvested kelp, spirulina, and bentonite clay to nourish tired skin.
Mask are a nice excuse to take some time for yourself. I've said this before, but they give me a reason to relax. I keep meaning to have an at home spa night, maybe I need to make it happen sooner than later.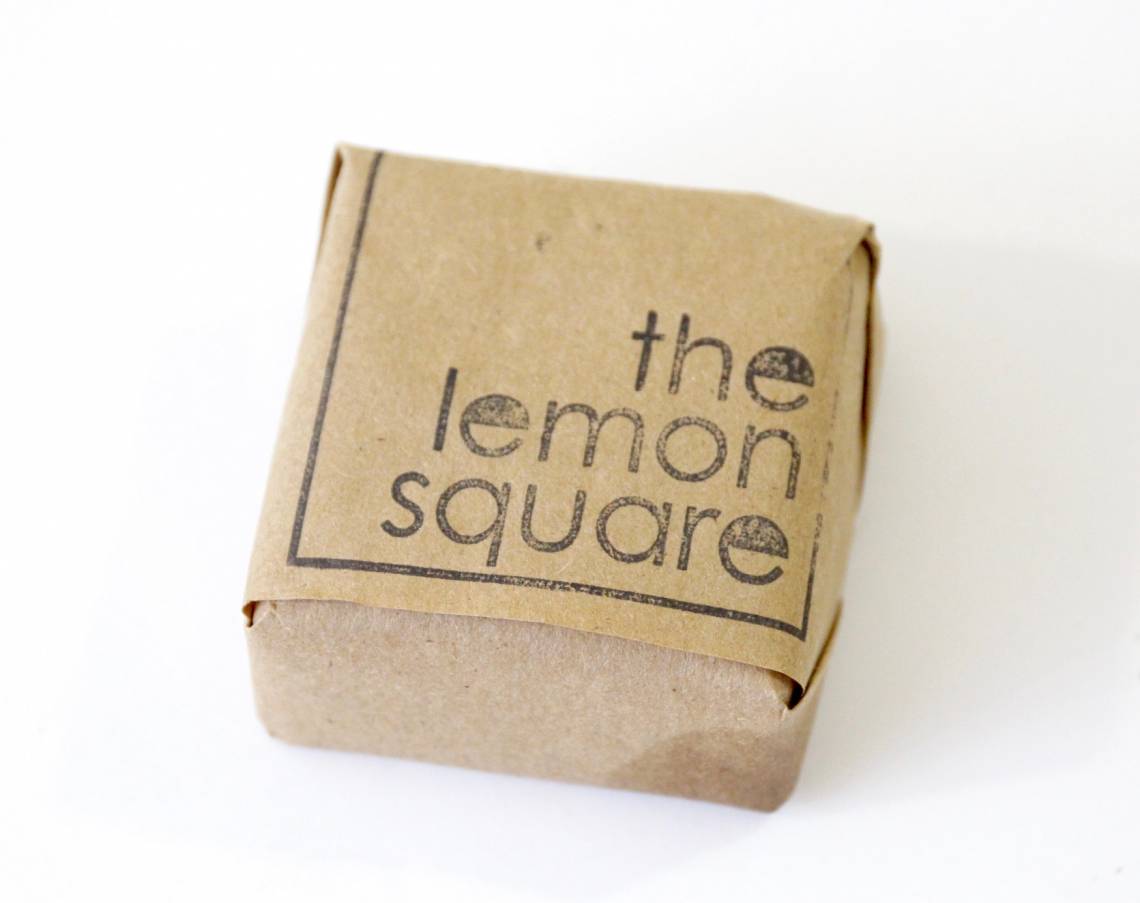 The Lemon Square
This delectable lemon square is handmade in Vancouver BC with fresh lemons, BC Butter and graham wafers, all dusted with coconut.
This little bar sounds absolutely amazing. There's something nice about a lemon square. It's the perfect amount of sweet and sour. And when you are having "a day" it's kind of nice to have a special little treat like this to enjoy with a cup of tea. Something to look forward to and get you through the afternoon.
Caring Crate Review August 2016 – Final Thoughts
I just really, truly, enjoy this subscription. Like I mentioned above, it is a pleasant surprise. It's not too over-the-top or crazy. It is pretty, and simple. I don't get overwhelmed when I open the box, like I do with some of my lifestyle subscriptions. And I always have a happy feeling when I am done going through it. It's kind of like Goldilocks and the Three Bears – it's not too much, it's not too little, it's just right.
XOXO