Caring Crate Review January 2018
Caring Crate is a unique, monthly subscription box service for those dealing with mental health issues, chronic illnesses – or anyone who needs a little extra self-care. From mood enhancing aromatherapy and teas, to personal journals and healthy snacks, Caring Crate is the perfect solution to indulging in a little self-care, or gifting a thoughtfully curated box to friends, family & loved ones. They kindly sent us this box for review.
I haven't reviewed Caring Crate since the summer and I've really missed it!  This is such a beautiful box with a great message to it.  It can be so tough to be hit in life with those unexpected illnesses or down turns.  Treating yourself to a subscription like this assures that you will always have something arriving at your door to help chase those blues away!
Red Lemon Caffeine-Infused Eye Serum
Whether you've had a rough night or just need something to soothe tired, puffy eyes, this serum will do the job!  Vitamin C, retinol, and Gamma Linolenic acid (sourced from pure rose hip oil) help to stimulate collagen production and protect the skin against free radical damage, while caffeine and Cypress help to repair the skin and increase circulation.
It's so easy to feel down when you look down!  I hate having puffy eyes after an emotional night.  There is nothing worse and it's impossible to cover up.  This little guy looks like just the trick!  I can't wait to see how it performs.
Twinkle Apothecary Dry Shampoo
For days when a shower just isn't happening.  This dry shampoo makes it easy to freshen up.  Because it's made with rice powder, it becomes translucent when it comes in contact with the oils in your scalp, meaning it works on any color hair and leaves no white residue.  Twinkle essential oil fragrance blends also means you get a lovely dose of scent!
Dry shampoo is a life saver on so many levels!  I love it because I don't like stripping my hair of its natural oils in to many washes.  It's also the perfect product to pop in the gym bag.  For those who are just needing a fresh look without the morning routine, dry shampoo can really be your best friend!
Ecoderma Energizing Bath Salts
Made with epsom salts and calendula flowers, this bath soak is designed to help relieve muscle tension and pain.  The cinnamon and citrus essential oils help to provide a bath that is revitalizing.
Baths can really turn a bad day into a good day and it really helps when you have something fun to put in that bath.  I'm a big user of bath salts and often go through my stash way too quickly.  These bath salts combined with the eye serum could really start a day off right, or turn one around.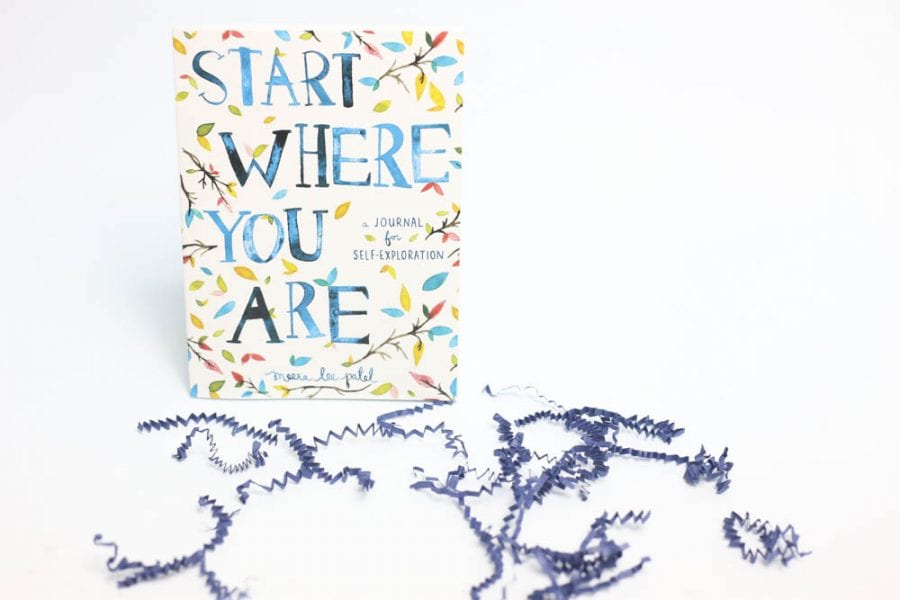 Start Where You are: A Journal for Self-Exploration
With gorgeous hand-lettering and pictures, this journal is designed to inspire creativity, mindfulness, and self-exploration.  Take some time to reflect as you work through this journal with open-ended questions, lists and more.
I'm a big believer in journaling, but sometimes you really need a prompt to get the juices flowing!  This book is beautifully designed and really inspiring in its graphics and questions.  Mindfulness is often the first step out of our own heads and into a new reality!
Caring Crate January 2018 – Final Thoughts
Such a beautiful and simple box this month!  I really liked how the majority of the products were focused on your body and image.  I always say, when you look well you start feeling well.  It's for this reason when I'm sick I will put a little extra effort into my make up and outfit.  When you don't look well it can be hard to motivate yourself to get out of the house and on with the day.  The dry shampoo is for sure my favourite item in this box, as this is a real game changer for changing up your look and starting the day right.  The serum is really interesting to me and I can't wait to try it.  The bath salts will probably get used up tonight and I'm definitely going to start paging through the journal to see if anything inspires me.  Like I said, I haven't reviewed Caring Crate since August and I really did miss it!
-Shonah