Caring Crate Review July 2017
Caring Crate is a unique, monthly subscription box service for those dealing with mental health issues, chronic illnesses – or anyone who needs a little extra self-care. From mood enhancing aromatherapy and teas, to personal journals and healthy snacks, Caring Crate is the perfect solution to indulging in a little self-care, or gifting a thoughtfully curated box to friends, family & loved ones. They kindly sent us this box for review.
Last month's Caring Crate really impressed me. It was definitely one of their best boxes. The curation was perfect and they sourced some really great items. I'm still amazed by some of the products they have been able to find. There's definitely value in the fact that they find things I never would have found on my own. Unique, and fun!
Subscription Details
From the website:
Our care crates are curated to give you the "tools" for self-care. 
Each box subscription offered by Caring Crate includes a carefully curated selection of products. From healthy snacks and wellness products, to journals and aromatherapy, there's a little something for everyone in every Caring Crate box. 
Unlike other box subscription services, Caring Crate is focused entirely on your well-being. We skip the roundup of one-use products and instead provide you with the "tools" you need to care for your own well-being. Think of it as a gift to yourself, sans guilt. 
When you sign up for a Caring Crate subscription you can choose from the following options:
Monthly-to-Month Subscription
3-months Subscription
6-month Subscription
Gift Subscription
Here's a closer look at the items we received in the July 2017 box…..
Whimsy by Lindsay Cooling Menthol Foot Scrub
Refresh with this cooling foot scrub to soothe tired feet. Natural jojoba and raw turbinado sugar exfoliate skin while cacao butter, shea butter and sweet almond oil lock in moisture. Vegan and cruelty-free. 
Have you ever actually used a foot scrub? I mean like really used a foot scrub. I didn't try one for the first time until a couple years ago. I went my whole life without knowing how amazing a good scrub is. It's even better if you can talk the BF or Husband in to applying it for you, but even if you have to do it yourself there's really nothing like it. Make sure you sit in a comfortable position. Perching on the edge of the sink just won't do. Get comfy and massage away…..trust me, you will love it!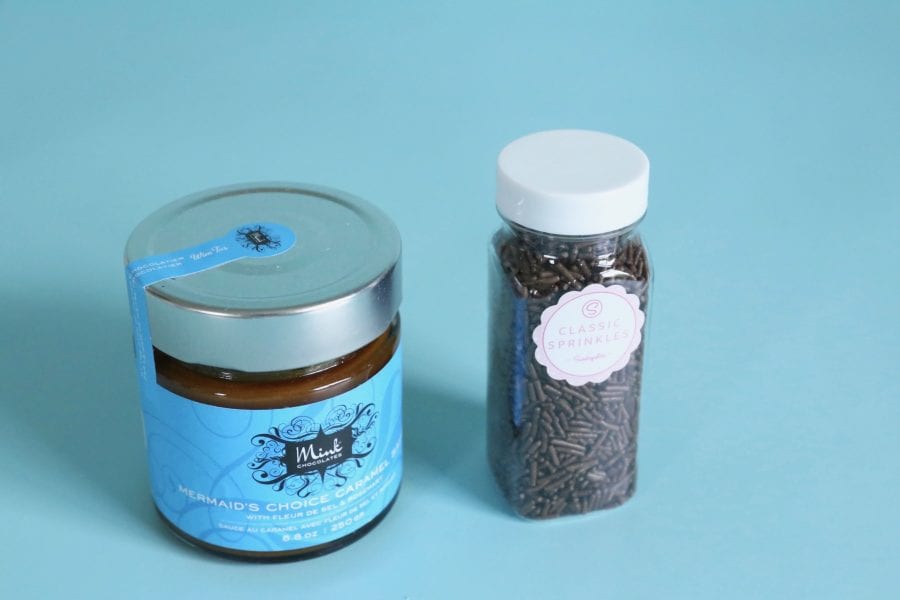 Mink Chocolates Mermaids Choice Caramel Sauce
Handcrafted in Vancouver, this delicious combination combines caramel with fleur de sel and a touch of rosemary. In addition to an ice cream topping, its also delicious on pancakes, french toast, or fresh fruit. Refrigerate after opening. 
Sweetapolita Chocolate Crunchy Sprinkles
Candy sweet, these chocolate sprinkles contain a touch of cocoa and are yummy on their own as well as on an ice cream sundae. Vegan and gluten-free. 
Is this not the BEST idea for a Summer box?! An adorable little package of ice cream toppings. I couldn't help but smile when I pulled this out of the box. Ice cream is the best Summer snack. Take some you-time at the end of a long day, make a mini ice cream sundae, sit on the deck and talk with a loved one……does it get any better?!
Bonus Idea: Cut an apple into wedges, dip in the chocolate sauce and then in the sprinkles……or do the same with bananas, place on the end of a popsicle stick and freeze for 2-4 hours……..you're welcome:)
Canvas Candle Co. Bug Be Gone Candle
Enjoy your relaxing summer evening bug-free with this soy candle hand poured in Port Moody, BC. Citronella essential oil keeps bugs away naturally while the fresh lemongrass scent is super relaxing. 
You don't know how happy I am to see this in the box. I've been meaning to buy a citronella candle, and here it is. Our friend has the most amazing view from their deck but last time we sat out there we were attacked by mosquitos. This will be the perfect hostess gift next time I go there for dinner. And……I just happen to LOVE Canvas Candle Co.
Mes Amies Soaps Facial Mask Bar
This facial mask bar is made with a selection of ingredients to care for your skin: activated charcoal and kaolin clay to remove impurities, aloe vera and shea butter to soothe and moisturize, and frankincense to renew dry, and tired skin. 
This is genius!!! What a great idea for a face mask…..a bar! I have really been loving all the powdered masks I have been receiving lately but find them very messy and time-consuming to use. I love that we can just wet this one, rub it on our skin, leave on for 15 minutes and remove with a washcloth. WAY easier than trying to mix the powder and water in my hand.
Caring Crate Review July 2017 – Final Thoughts
What a lovely box. I am so pleased with this month's Caring Crate. You can absolutely tell that a lot of care and attention goes in to selecting the products they send us each month. I find that so refreshing. I can tell right away if a box company hasn't put thought into their box and this has NEVER been the case with Caring Crate. There has been passion and care behind each and every box. I absolutely LOVE the Summer Evenings theme this month. It couldn't be more perfect. Caring Crate is lovely…….that's the best word to describe it…..absolutely lovely.
XOXO