Caring Crate Review June 2017
Caring Crate is a unique, monthly subscription box service for those dealing with mental health issues, chronic illnesses – or anyone who needs a little extra self-care. From mood enhancing aromatherapy and teas, to personal journals and healthy snacks, Caring Crate is the perfect solution to indulging in a little self-care, or gifting a thoughtfully curated box to friends, family & loved ones. They kindly sent us this box for review.
Wow! I just realized that we have been reviewing Caring Crate for a year now. We received our very first box back in June of last year, and we were impressed with it from the get go. Seeing as today is a bit of a milestone, let's go over some of the subscription details to get you re-acquainted with this wonderful little self-care box.
Subscription Details
From the website:
Our care crates are curated to give you the "tools" for self-care. 
Each box subscription offered by Caring Crate includes a carefully curated selection of products. From healthy snacks and wellness products, to journals and aromatherapy, there's a little something for everyone in every Caring Crate box. 
Unlike other box subscription services, Caring Crate is focused entirely on your well-being. We skip the roundup of one-use products and instead provide you with the "tools" you need to care for your own well-being. Think of it as a gift to yourself, sans guilt. 
When you sign up for a Caring Crate subscription you can choose from the following options:
Monthly-to-Month Subscription
3-months Subscription
6-month Subscription
Gift Subscription
Here's a closer look at the items we received in the June 2017 box…..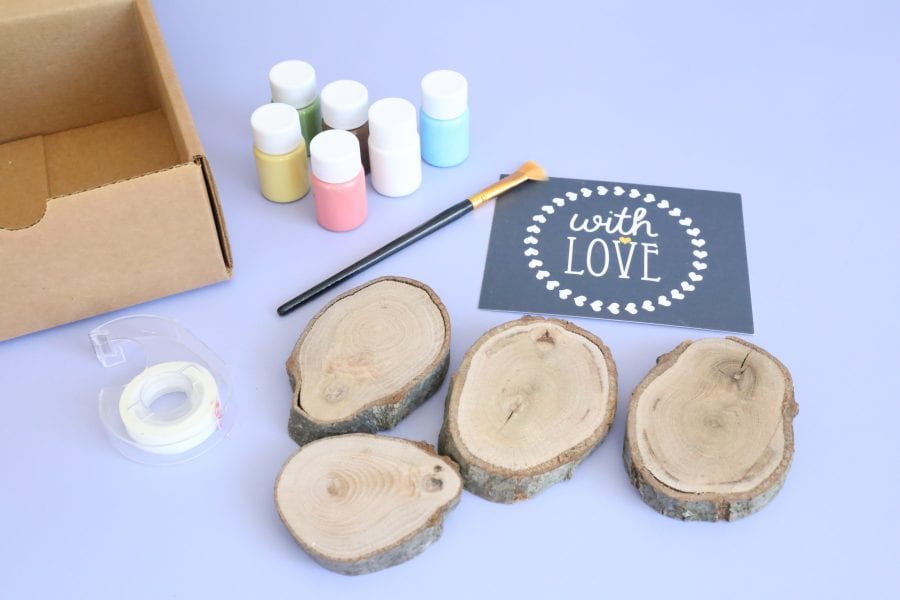 With Love D.I.Y. Wood Coaster Kit
Enjoy this simple project, which contains everything you need to make a set of 4 wooden coasters. The pretty pastel color scheme will help brighten up any room.
Ummm….kind of freaking out right now! I have received a few DIY kits over the years, but this one beats them all. This is MY kind of D.I.Y. kit. I love that the end results is a stylish, functional, home decor item. I love how easy the craft process is, while still being hands-on enough to be satisfying. I guarantee I will be making myself some coasters this weekend….
Lo and Behold Naturals Rose and Ginger Hand Salve
Handmade in North Carolina, this natural balm combines the soft scent of rose with the zesty scent of ginger. In addition to your hands, this salve can be used on any dry skin, and is even gentle enough for your face. Shea butter helps heal irritated skin, while beeswax and Vitamin E help protect skin.
This is one of those products that just needs to go in your purse. The tin says to rub on hands, feet or any dry areas. I will probably also use it on my cuticles and my lips. Multi-tasking products like this are good to have on hand at all times.
Kismet Essentials Flower Child Floral Mist Spray
Gentle rose water is combined with refreshing peppermint for a rejuvenating mist! This mist can be used as a facial spray or as a room spray whenever you need a little pick me up.
Rose and peppermint together in one bottle! This is the picture of perfection. Rose and peppermint happen to be two of my favourites. I never use to like the scent of rose, but over the last few years it has grown on me, and now I can't get enough of it. I have this spray sitting beside me on my desk shelf as we speak.
Zimt Chocoalates Peppermint Nib'd
This creamy raw chocolate is handcrafted in Vancouver and is made with organic and vegan cacao nibs, cocoa butter, and coconut sugar. This chocolate bar also gets a touch of refreshing flavour from peppermint essential oil.
This little bar of chocolatey goodness rounds out the box perfectly. It's 80% cacao, and it's made with coconut sugar. This is my kind of chocolate bar. I will keep this in the freezer and break off a piece anytime I need a chocolate pick-me-up.
Caring Crate Review June 2017 – Final Thoughts
I absolutely love this month's Caring Crate. The DIY coasters definitely put it over the top. I can't wait to set aside some time to make these. I plan on spending most of the long weekend at home re-energizing myself, so these couldn't have arrived at a better time. I see a weekend of Netflix, peppermint tea, chocolate, rose spray and crafting in my future. Caring Crate really is the perfect little self-care box. I feel happier just having unboxed it. Happy Anniversary Caring Crate! I can't wait to see what you have in store for us over the next year.
XOXO