Caring Crate Review March 2017
Caring Crate is a unique, monthly subscription box service for those dealing with mental health issues, chronic illnesses – or anyone who needs a little extra self-care.  Caring Crate is the perfect solution to indulging in a little self-care, or gifting a thoughtfully curated box to friends, family & loved ones. They kindly sent us this box for review.
What You Get: Each subscription box you receive on your doorstep each month will contain 4-5 products related to health and wellness. Their boxes are carefully curated with thoughtful product selections and lovingly assembled for you.
This is my first time reviewing Caring Crate.  Sarah has reviewed the past months of this box and I have to say, each month has looked amazing!  I was pretty excited to receive my own Caring Crate and can't wait to show you what was received.
Himalayan Salt USB Lamp
Plug this lamp into a USB port and enjoy the soft, soothing light.  Pink Himalayan Salt lamps have been shown to help purify the air, improve mood, and boost concentration.
Love, love, love!  I have a giant one of these in my office, but not one for home.  This is such a cute tiny size!  It's the perfect size for a night stand or small home office.  I have heard a lot about the benefits of pink salt lamps and can't wait to get this one going.  I think I'll keep it on my night stand where I plug my phone in.  They say your phone should be at least six feet away from you when you are sleeping… who does that am I right?  I think I'd feel better with this lamp plugged in all night long.
Organic Cotton Candy
Indulge your sweet tooth with this fun treat with a modern spin!  This cotton candy is organic, all-natural and we love the pairing of strawberry with vanilla bean.  Hand-spun in Victoria, British Columbia.
So fun!  Sometimes you just need a little sugar as a pick me up.  There's something about cotton candy that inspires fun!  I think of the fair or carnival when I think of cotton candy.  This cute little tub would be the perfect indulgence in the tub!
Turmeric Facial Scrub
Refresh and renew your skin with this facial scrub made in Ontario.  The turmeric acts as an antioxidant, helping to sooth the skin and even out skin tone.
Love turmeric!  The health benefits seem to be endless.  I'm becoming big on scrubs lately and have been sourcing a lot of different coffee scrubs.  I'm looking forward to expanding my knowledge with turmeric scrubs!
52 Lists for Happiness
Using the power of lists, this beautiful journal is designed to help bring more joy and balance into your life.
I am a huge list person!  I'm that person that will add something I've already done to the list just so I can check it off!  You too?  You're my people.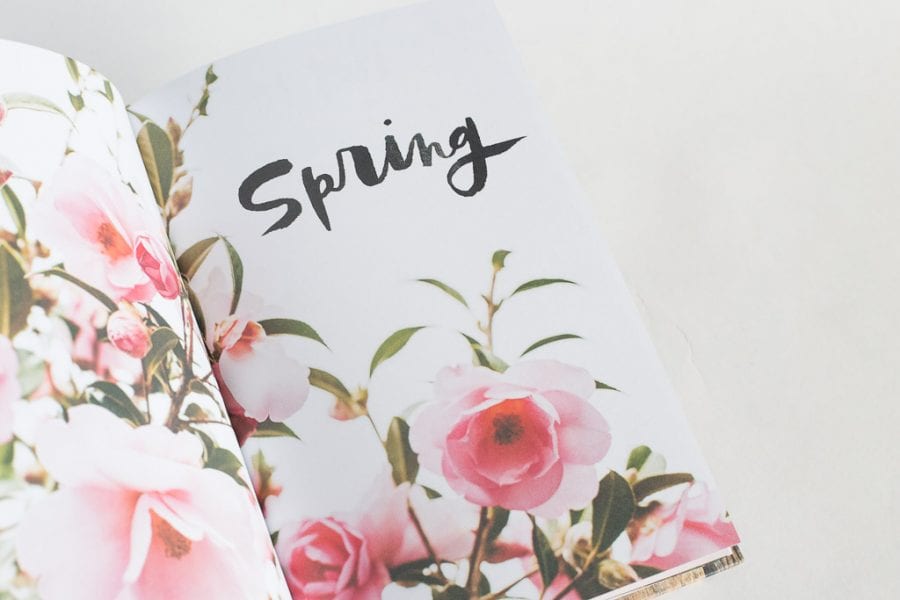 This journal is so beautiful inside and out!  Each list is so inspiring and motivating.  If you struggle with focusing on positive outlooks I would highly recommend listing thankfulness, gratitude, ways to have fun and all the people who brighten your day, which is exactly what this journal encourages you to do.  I could see something as simple as this journal be a real game changer for someone and their mindset.
Boost your mood with this natural perfume, which is both lively and discrete.  The scent has notes of lemon, lemon verbena, sage, and green tea, and is designed to energize and awaken you.
Love the scent combination here!  If I wear scent I will always go for the citrus and a light feel.  This is one I'm going to tuck into my purse and pull out on those days when you need the two-o-clock boost in your day.
Caring Crate March 2017 – Final Thoughts
I love this box!  What a great idea.  The items are useful, simple and thoughtful.  If you feel you lack in the area of self-care this is the box for you.  Can't think of even how to start taking care of yourself?  Let someone else do the job for you.  For someone practical like me it can be hard to set aside part of my day or week to take care of myself.  I'm also not big into fluffy items and would rarely or never purchase items like this; however, Caring Crate has hit a few of my soft spots with very practical items.
-Shonah