Caring Crate Review May 2017
Caring Crate is a unique, monthly subscription box service for those dealing with mental health issues, chronic illnesses – or anyone who needs a little extra self-care. From mood enhancing aromatherapy and teas, to personal journals and healthy snacks, Caring Crate is the perfect solution to indulging in a little self-care, or gifting a thoughtfully curated box to friends, family & loved ones. They kindly sent us this box for review.
Caring Crate does a really nice job of providing self-care products that can help you get through a hard time physically, emotionally or mentally.  It's also just a great box if you lack the time to purchase those little items for yourself to enjoy and can teach you how to create space for self-care in your busy life!
Lesley Saligoe Botanicals Calm Balm
Rub this moisturizing balm with the soothing scents of lavendar and ylang ylang into tight temples or achy shoulders whenever you need a moment of calm.  Each balm also contains a hidden amethyst, a stone that is said to be associated with peace and calm.
This smells so relaxing.  I already feel calmer.  I can't get enough of the smell of lavender.  This would also make excellent massage balm.
Carmellas's Jewelry You Are Enough Adjustable Mantra Ring
This beautiful, hand-stamped ring provides the perfect reminder: You are enough
Love this item!  I'm really into rings lately, but it can be hard to find nice rings that complement the ones you are styling already.  This one fits perfect with the others I've chosen to wear on a daily basis.  I didn't find I needed to adjust it at all and I wear a 7 1/2 on my ring fingers (give or take).
Bed of Nails Acupressure Strap
Each strap contains 1848 rounded acupressure nails designed to help relieve pain and tension and increase circulation.  The strap design allows you to apply targeted treatment whenever you need it.
Ok, I'm so curious about this.  I had to look it up and read a couple of reviews.  Anything I read seemed to give it rave reviews!  It's recommended for use from everything to headaches, back pain, neck pain, de-stressing, period cramps, relaxation, simulation and energy providing.  Can't wait to try this out!
Paint by Sticker Book
Allow your mind to focus as you find the sticker, peel it, and place it in the right place to create beautiful "paintings".
Get out of town!!!  Are you kidding me??  How did I not know this existed?  I was a sticker enthusiast as a kid and would have been lost for hours on something like this.  I think this idea might take over as the new grown up colouring book.  Here is a quick look inside…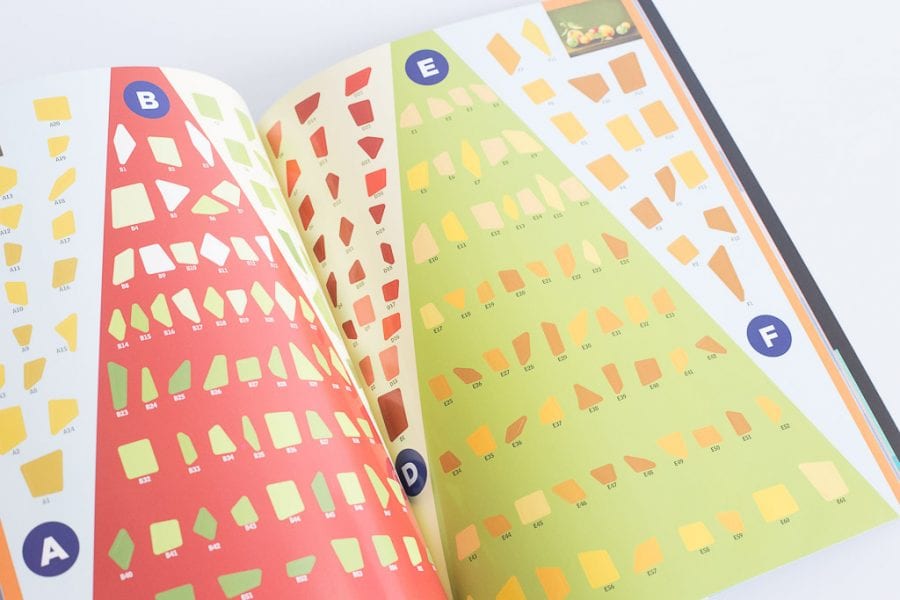 I could literally spend hours upon hours doing this.  I often like to have something to do while watching TV and this could be the perfect answer.  Seriously so cool.  Didn't even know this was a thing until now.
Caring Crate Review May 2017 – Final Thoughts
I really loved all of the items provided in this month's box; however, I felt a little underwhelmed by it, as the packaging left a lot to be desired.  They had to provide a bigger box to make sure it could fit the Paint by Sticker book, but the tissue inside and wrapping on a couple items was done poorly.  It made the box feel a little cheep and empty.  Once all the items were out and I looked through them, read up on them and explored them I was truly happy with the box!  Just the first glance and impression was a little disappointing.  Packaging is so much of the experience that you just can't afford to skip out on this.  I can't wait to try out every product and the ring provided has been on my finger ever since I opened the box!  I think Caring Crate is doing some great things, but would love to see some improvement to the presentation of it.
-Shonah