Caring Crate Review November 2016
Caring Crate Review November 2016
Last month's Caring Crazy was AMAZING! Oh my goodness. It was definitely my favourite Caring Crate to date. We received the cutest Gratitude Jar. It was probably one of the best items I have ever received in a subscription box. It's one of the reasons I love Caring Crate so much. They manage to find some really amazing products. It's always very exciting to open this box, I never know what I am going to see inside.
Caring Crate Details
If you aren't familiar with Caring Crate it is a unique, monthly subscription box service for those dealing with mental health issues, chronic illnesses – or anyone who needs a little extra self-care. From mood enhancing aromatherapy and teas, to personal journals and healthy snacks, Caring Crate is the perfect solution to indulging in a little self-care, or gifting a thoughtfully curated box to friends, family & loved ones.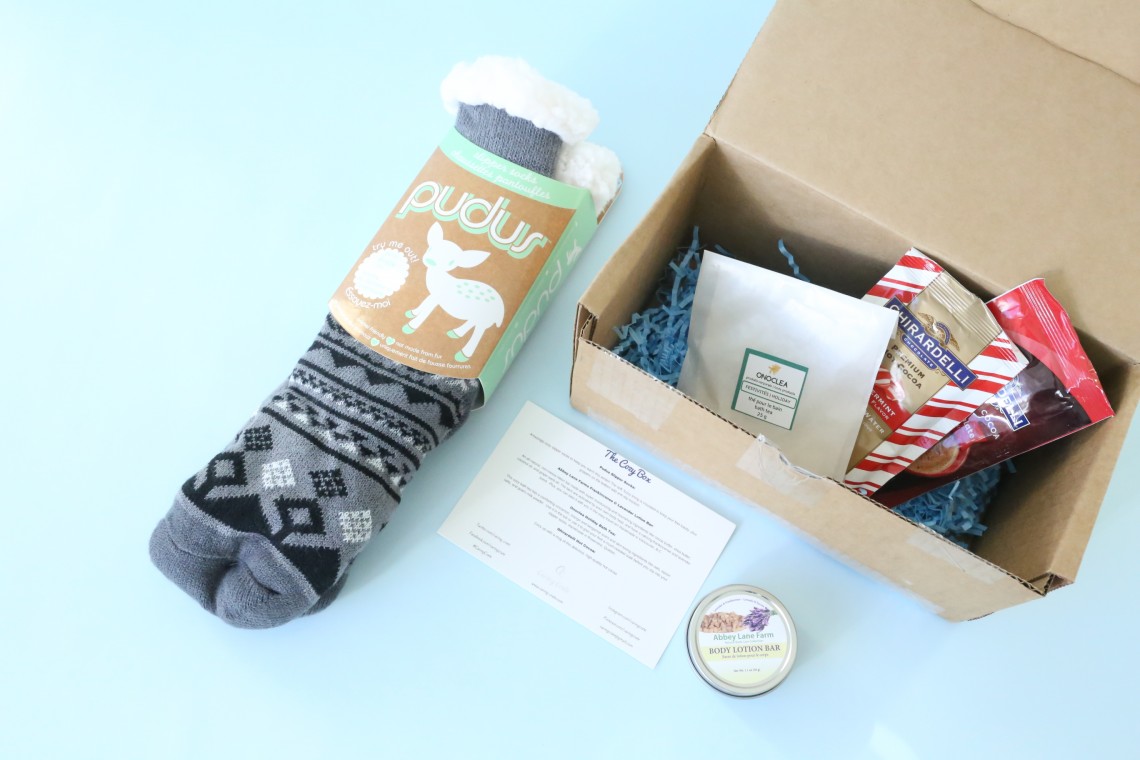 November Theme – The Cozy Box
This month's Caring Crate is called "The Cozy Box". Just seeing the word "cozy" makes me happy. It's all I can think about this time of year. Cozy sweaters, cozy blankets, cozy pjs….etc. Let's see what kind of cozy items they included in the box for us.
Pudus Slipper Socks
Amazingly cozy slipper socks to keep you warm this winter! The soft fuzzy lining is insulated to keep your feet toasty, plus grippers on the bottom add anti-slip traction.
Oh my goodness! These are awesome! This is what I mean when I say that Caring Crate includes some of the best products in their boxes. I never receive items like this. These fuzzy socks are absolutely perfect for the cozy theme. I'm not sure why more subscription boxes don't include items like this.
Abbey Lane Farm Frankincense & Lavender Lotion Bar
An all-natural, non-messy lotion bar made with super moisturizing and nourishing ingredients like cocoa butter, shea butter, coconut oil, and grape seed oil. The bars are activated by your own body heat, and have a calming frankincense and lavender scent. Plus, you can take it with you in the easy travel tin!
I am very familiar with this brand and absolutely love it. If I remember correctly, I think they use plants from their garden to create their products…..such a great idea. And…..I am a huge fan of frankincense, especially this time of year.
Onoclea Holiday Bath Tea
This cozy bath tea has a comforting cinnamon, orange and bergamot scent and skin-loving ingredients like oats, epson salts, and goat's milk powder. Use it in the tub or use it to give your feet a much-needed soak before you slip into your slipper socks.
This is another item that fits the cozy theme perfectly, and it smells AMAZING!! Oh my goodness, I can't stop smelling it. I think it might be the bergamot, but it's making me want to go take a bath right now.
Ghirardelli Hot Chocolate
Cozy up with a mug of this delicious, high-quality hot cocoa.
Such a cute little idea for this month's box. Who doesn't like hot chocolate this time of year. I have already added these to my coffee/tea/hot chocolate bar. I will make sure to post a photo on IG as soon as it is done.
Caring Crate Review November 2016 – Final Thoughts
I have to say, the cozy slipper socks were an AMAZING idea!! I will be wearing them all the time over the next couple months. I mentioned it above, but I am so surprised that more boxes don't includes items like these in their boxes. Other than that, I love the box (as I always do) but I kind of feel like it was missing one more "wow" item. Don't get me wrong, I absolutely love the other items they included, and will be using all of them, but maybe they needed to switch one of them out with a different product? Or…..am I just being too hard on them. This really is an amazing box, maybe I'm just being overly picky because Caring crate is so awesome and I am holding them to a higher standard than all of my other boxes……that's a good thing right?
XOXO