Cate & Chloe Review September 2016
Cate & Chloe Review September 2016
Have you been following my Cate & Chloe reviews? I will put the link down below, but you should definitely check them out if you haven't already. I have been very impressed with the last few boxes. Yes, I received a couple of pieces that weren't my style, but on the whole, I am loving this jewelry subscription box. All three pieces I received last month were AWESOME, and the necklace from my July box is on constant rotation. I definitely like the gold pieces better than the silver, but at the same time, it's nice to receive a mixture and show you guys a few different styles.
Cate & Chloe Details
If you aren't familiar with Cate & Chloe it is jewelry subscription service. Each month their stylists will pick the most popular styles to send to you. Styles include earrings, bracelets, bangles, necklaces and more to keep you up to date on the latest trends.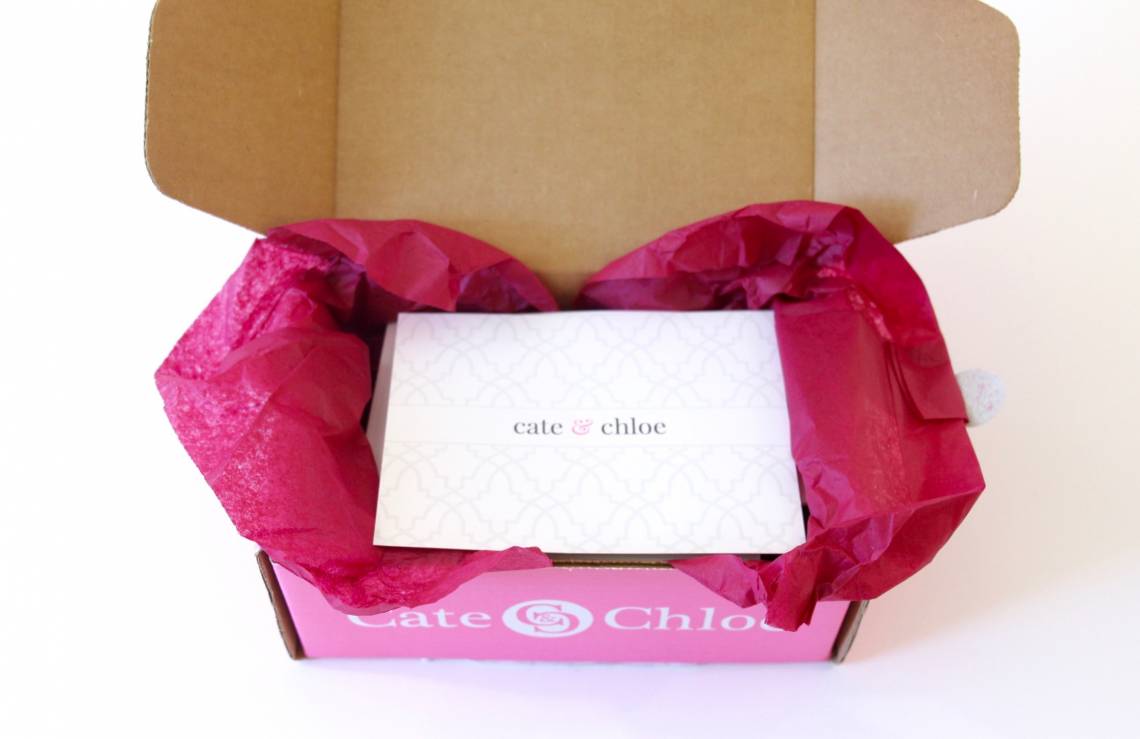 The Box: Cate & Chloe
Cost:
Full VIP Status – 3 pieces of jewelry + monthly bonus item = $39.99/month
Double the Fun – 2 pieces of jewelry + monthly bonus item = $29.99/month
The Starter Package – 1 piece of jewelry + monthly bonus item = $19.99/month
What You Get: Depending on the plan you choose, you will receive 1, 2, or 3 pieces of Cate & Chloe jewelry plus a bonus item every month.
Ships to: US & Canada
Shipping Cost: FREE
Monica "Intuition" 18k Gold Plated Stone Necklace
Your natural stone obsession just got better with our Monica necklace featuring an earthy blue tone and rectangular design. Follow your intuition and let natural stone do all the talking this season. 
Gorgeous! I don't own anything like this. The stone is so darn pretty, and it makes the necklace very versatile. I feel like you could wear this with both dressy and casual outfits. It's plain, but not plain. I love the understated look and feel. Basically I am just loving it. Period.
Karlie "Stunning" Ring Set
A playful and rustic ring set meant to turn heads everywhere you go. Each ring in this 5-piece set is unique with three pieces having touches of CZ and trendy geometric shapes. 
Eeek! These rings have my name written all over them. I love the gold, I love the stones, and I love that you can stack them or wear them separately. And, they fit my tiny little fingers perfectly. There's a little wiggle room, but that is ok. I put them on earlier while I was taking the photos and haven't taken them off. Cate & Chloe definitely have their ring game figured out, last's month ring was equally amazing.
Lillian "Pure" Geometric Earrings
Lillian adds enough uniqueness and edge to any ensemble. It can be played up with any casual outfit and be stand out statement for a fun night out.
These earrings are not my style at all. To me they look a little dated, but some subscribers will love them.
Manna Kadar Shadow – Bonus Item
This is a popular little brand right now. I've received the bronzer/highlighter split pan in a few subscription boxes. But this is the first time for a shadow. I really like this color. I can definitely see myself wearing this.
Cate & Chloe Review September 2016 – Final Thoughts
The earrings are a total miss for me this month, but other than that I love my September Cate & Chloe. I talked about this in my YouTube video, but I never get bent out of shape when I receive something in a subscription box that isn't to my liking. I feel like we all get a little too wrapped up in needing to love everything, but that's not how subscription boxes work. They are meant to be a "surprise" and by signing up for them we take the risk of receiving a few items that we might not get use out of. Luckily this month I LOVE the rings (I am wearing them right now) and the necklace is gorgeous. Not to mention the fact that they are kind enough to include a bonus item for us every month, how fun is that! I really, truly, enjoy this subscription box. They have definitely come into their own.
XOXO
Explore.
Save.
Enjoy!
Sign up for a free account on A Year of Boxes to receive exclusive offers, be added to our monthly mailing list, and much more! We are always adding features to improve the experience for our users, from their valuable feedback!
Join Today!