CAUSEBOX Review Spring 2019
CAUSEBOX is a quarterly curation of socially conscious lifestyle products for women. Every box is filled with products that have a story and make a difference! Inside of CAUSEBOX you'll find the best jewelry, homewares, skincare products, accessories and more each season. And they tell you the stories behind each brand. Many of the products are exclusive CAUSEBOX collaborations that you can't get anywhere else! They kindly sent us this box for review.
To say that I was excited about today's review would be an understatement. CAUSEBOX is a subscription I've had on my radar for quite some time. I've spent a lot of time on their website and I've seen a few of their past boxes, and let's just say……I was a fan even before I received my first box. Today we are having a look at the Spring CAUSEBOX and so far it's everything I was hoping it would be. Just look at the design of the box itself. If that doesn't scream "SPRING" then I don't know what would.
Subscription Details
When you sign up for a CAUSEBOX subscription you can choose to pay seasonally or annually.
Each season, you will receive a limited edition curation of beautiful and useful products from socially conscious brands — each box is filled with at least $200 in value!
You can pause or cancel your subscription anytime.
Here's a closer look at the items we received in the Spring 2019 CAUSEBOX….
Glass Ladder & Co. The Megan Portfolio Clutch
An exclusively-designed and Farm Sanctuary-approved vegan leather portfolio clutch, stylishly designed for work and play.
Let's start things off with a bang….shall we? This is easily my favorite item in the box. This vegan portfolio clutch is beyond gorgeous. It will be the perfect accessory for client meetings and coffee dates. It fits all my work essentials – laptop, notebook, phone, earbuds, iPhone, pen, etc….. It's the perfect color for Spring as well. I usually prefer black accessories but I can't help but love this lovely shade of pink.
Cleobella Silky Scarf
An ultra-versatile lightweight spring scarf made from vegan silk, inspired by global designs and female empowerment.
Next up we have a wonderful little accessory for the Spring season. This silky scarf is pretty and on-trend. You can wear it a number of different ways – as a headband, tied around your pony, around your neck, tied on your favorite tote, etc…..
Marina de Buchi Luxe Gold Plated Bracelet
A gold-plated bracelet that symbolizes freedom, and supports the effort to abolish human trafficking through charity partner, The A21 Campaign. Reinforced with welded loops for added durability and an adjustable fastener made to fit all wrist sizes!
This little bracelet is adorable. I love the moon and star charms. They are just the right size, not too big. It's a piece that I would definitely wear on its own. I wouldn't want to stack it with any other bracelets, it needs to stand alone.
Altru Macrame Plant Hanger
This gorgeous and versatile pot and plant hanger can also hold a fruit bowl in your kitchen! Proceeds from this product went to plant 8,000 trees in parts of California that were damaged by recent wildfires.
I'm tempted to say this is my second favorite item in the box. I'm making an effort to add more greenery to my home. I love the look and feel of plants in a house and this will be the perfect decor piece for my next plant purchase. I already have a spot picked out.
Kalos Mist Congeniality Elixir Toning Mist
A natural and organically derived toning mist that donates a percentage of every sale to girls education programs!
I have finally jumped on the face mist train. I put it off for quite some time, but now that I've tried it there's no going back. I love the feel of a quick mist in the morning after applying my face oil, in the middle of the day when I need to freshen up, and at the end of a long day before going to bed.
Wyld French Pink Clay Konjac Sponge
A beautiful, plant-based, vegan, and biodegradable exfoliating facial tool.
This is a skincare trend I haven't quite caught on to. But, with that being said, I feel like my skin would really benefit from an exfoliating facial tool such as this. I've heard nothing but great things from ladies who use a Konjac Sponge on a regular basis. I really should give it a try.
Cosmedix Glow Bamboo Brightening Mask
A two-in-one exfoliating scrub + deep cleaning mask — made by clean skincare pioneers.
I love a good scrub, and the fact that this one is also a mask has me intrigued.
Ettitude Bamboo Lyocell Eye Mask
An extremely sustainable solution for perfect beauty sleep.
Ok…..so I have a confession. I've never used an eye mask so I actually just finished Googling "how to use an eye mask" and it was actually quite interesting. It might sound odd to Google something like this but I have so many questions. What is the best mask to use, can I add essential oils, will it really help me sleep, etc…..
Here's 7 benefits of using eye masks:
They're cheaper than blackout curtains
They improve your sleep quality
They might help your insomnia
They're safer than medication or alcohol
They might help prevent dry eyes
They can be good for your skin
There are lots of kinds to choose from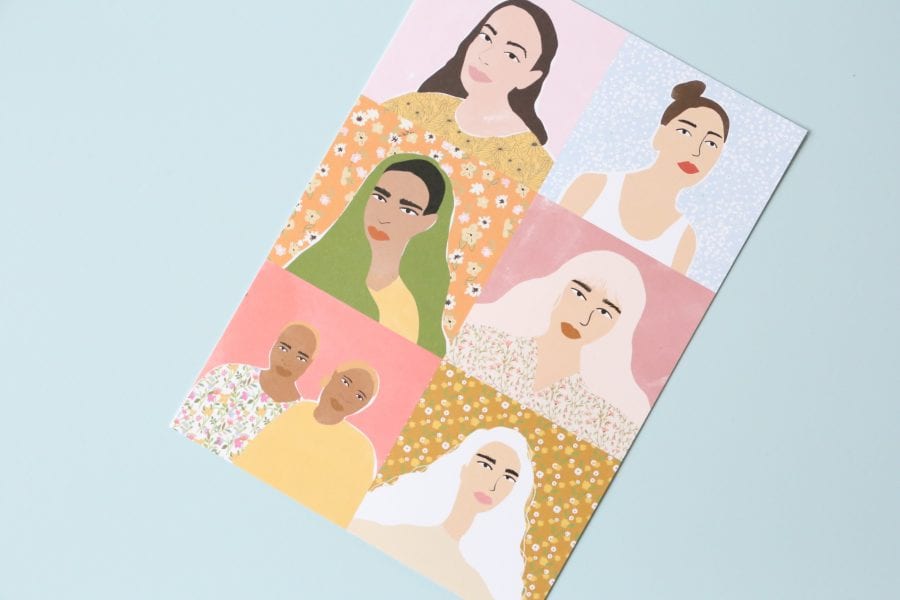 Alja Horvat Spring Artist Exclusive Print
A CAUSEBOX exclusive art print by Slovenian illustrator Alja Horvat.
Lastly we have an exclusive print specifically for the Spring CAUSEBOX. I think this is a great way to decorate your office or bedroom. You can switch out one of your current prints or photos and add some Spring vibes to your home.
CAUSEBOX Review Spring 2019 – Final Thoughts
There's just something about CAUSEBOX that I love. Maybe it's the custom design of the box each season, or the fact that it's a curation of socially conscious lifestyle products, or maybe it's the quality of each item we receive, or the total retail value of the box. I feel like I could go on, and on and on. Let's just put it this way….I am in LOVE with CAUSEBOX. My very first box was a total hit. I love each and every item we received. The curation is on point and the quality of each product is exactly what I would expect from such an amazing box. I am a HUGE fan and can't wait to see spoilers for the Summer box!
-AYOB
Explore.
Save.
Enjoy!
Sign up for a free account on A Year of Boxes to receive exclusive offers, be added to our monthly mailing list, and much more! We are always adding features to improve the experience for our users, from their valuable feedback!
Join Today!