CAUSEBOX Review Spring 2021
CAUSEBOX is a quarterly curation of socially conscious lifestyle products for women. Every box is filled with products that have a story and make a difference! Inside of CAUSEBOX you'll find the best jewelry, homewares, skincare products, accessories and more each season. And they tell you the stories behind each brand. Many of the products are exclusive CAUSEBOX collaborations that you can't get anywhere else! They kindly sent us this box for review.
CAUSEBOX is one of my favorite boxes to receive, for a few reasons….
I think the price point is very reasonable for what your get.
I love the brands they work with.
I like the mixture of products we receive.
I love that they offer customization options.
This is a box I always recommend for gifting because I think anyone would be happy to receive it.
Subscription Details
When you sign up for a CAUSEBOX subscription you can choose to pay seasonally or annually.
Each season, you will receive a limited edition curation of beautiful and useful products from socially conscious brands — each box is filled with at least $200 in value!
You can pause or cancel your subscription anytime.
Here's a closer look at the items we received in the Spring 2021 CAUSEBOX….
NIMBLE – CHAMP Lite Portable Charger
Power on the go. This portable charger will give you two full phone charges, fast. Nimble is making tech more sustainable with their eco-friendly materials and one-for-one tech recovery project. A $49.95 value.
I've been meaning to get a portable charger for a little while now. I used to have one but misplaced it. I think this is a great item to keep in your purse or work bag.
Glassladder Katherine Tech Organizer
Made in sleek, 100% cruelty free vegan leather, the tech organizer roll keeps all your gadgets organized (tangled cords, no more!), preventing them from getting lost in the bottomless abyss that is your purse (looking at you, AirPods).
This tech organizer is so pretty and much needed. I feel so much more productive when I am organized. This will hold my charger cables, SD cards, flash drive and more. Right now those items are thrown in a box somewhere and there's nothing pretty or organized about that.
Canvas Market Tote – choose your color
With tons of handy pockets, compartments, and features both inside and out + made with 100% cotton canvas and brass/gold plated hardware, the Market Tote is your carryall for anything, anywhere. Even better, 3 meals are donated to children in need for every tote made for this partnership.
I love, love, love this tote! It was available in 3 colors and I received Sea Blue. I really like the size and that it has a flat bottom. I also love all the pockets and compartments.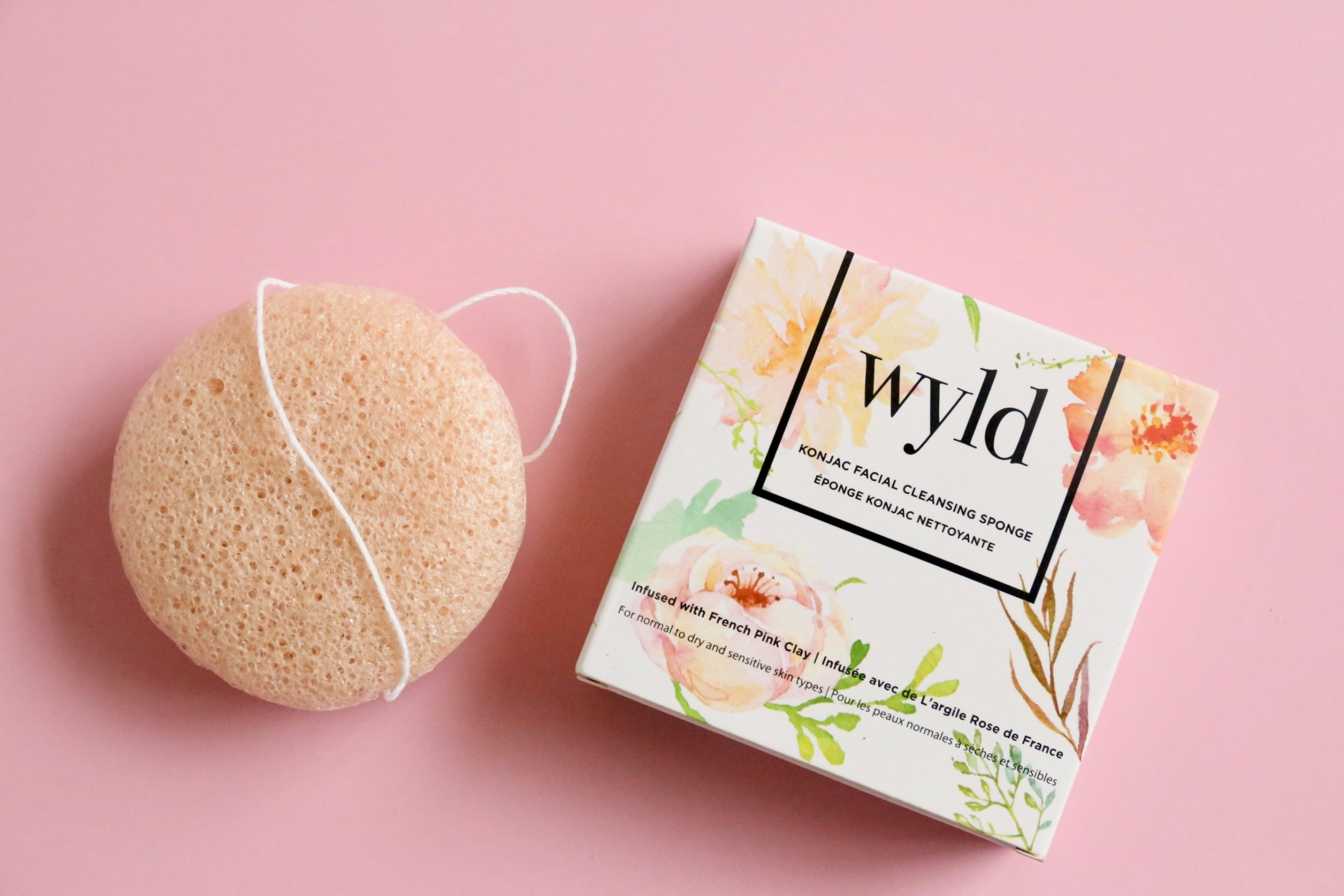 French Pink Clay Konjac Sponge
A powerful-yet-gentle exfoliating facial sponge made from renewable plant root and French pink clay. A $16.90 value.
This is the only item in the box that I'm not overly excited about. I just can't seem to get in the habit of using a Konjac Sponge, but to be totally honest I haven't really given it a fair try so maybe I should.
Regenerating Exfoliator + Resurfacing Mask
Made with all-natural ingredients, this versatile vixen of a skincare product can be used in many different ways, leaving skin refreshed and rejuvenated. A $36 value.
Province Apothecary is a brand I have received before and am alway happy with. Here we have an exfoliating mask, it has a blend of 6 raw organic ingredients that gently polish the surface of the skin. You simply mix with water, apply to face, let sit for a few minutes and rinse. It can be used every 3 days.
Stress Check Sleep Spray
Put your stress and anxiety to bed. Made with 100% natural essential oils, spritz your pillow with this sleep spray and enjoy its naturally calming and relaxing effects. A $25 value.
I have received this sleep spray before but I gifted it to a friend. She absolutely loved it so I'm really happy to receive it again so that I can test it out for myself this time around. I will use this with the bamboo pillow cover from my Winter box and have the best sleep.
CAUSEBOX Review Spring 2021 – Final Thoughts
CAUSEBOX always has, and always will be one of my favorite boxes to receive. From the packaging, to the price point, and everything in between, they just do such an amazing job. I love that they offer customization options, but not too many. Some boxes offer a ton of options and I find it a little overwhelming. The Spring box specifically has provided me with some much appreciated products – 2 of which are perfect for my work bag. The tote will be used on a regular basis as will the sleep spray. Overall I am extremely happy with what I received.
-AYOB Sarah