CAUSEBOX Review Summer 2020
CAUSEBOX is a quarterly curation of socially conscious lifestyle products for women. Every box is filled with products that have a story and make a difference! Inside of CAUSEBOX you'll find the best jewelry, homewares, skincare products, accessories and more each season. And they tell you the stories behind each brand. Many of the products are exclusive CAUSEBOX collaborations that you can't get anywhere else! They kindly sent us this box for review.
CAUSEBOX is one of my favorite boxes to receive and there are a few reasons why…..
it's reasonably priced
each product has a story and makes a difference
they work with some amazing brands
we receive a wonderful mixture of items
they are consistent in their offering
they usually include home decor items (one of my faves)
Subscription Details
When you sign up for a CAUSEBOX subscription you can choose to pay seasonally or annually.
Each season, you will receive a limited edition curation of beautiful and useful products from socially conscious brands — each box is filled with at least $200 in value!
You can pause or cancel your subscription anytime.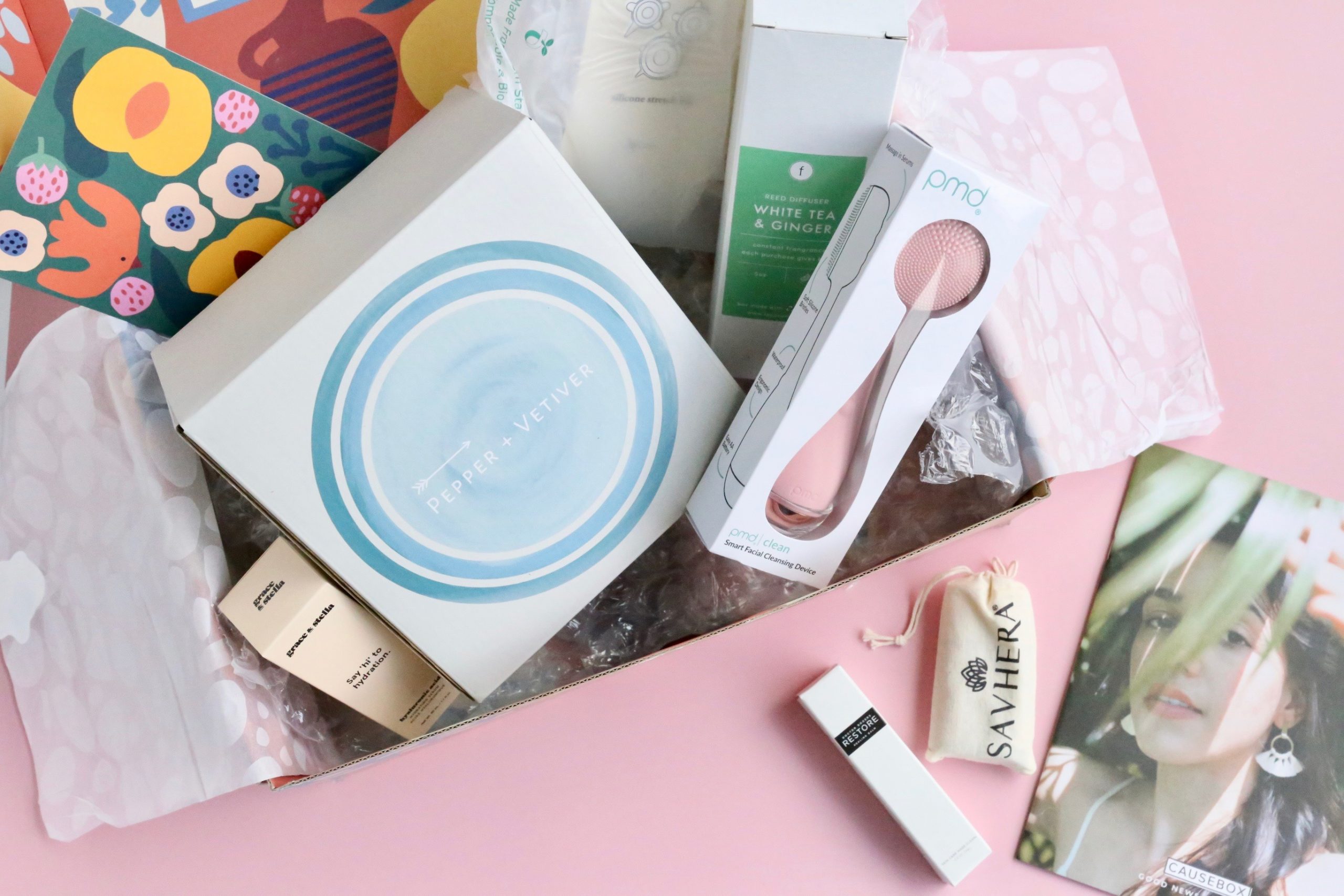 Here's a closer look at the items we received in the Summer 2020 CAUSEBOX….
Custom Print
Each season we receive a gorgeous new print. Perfect for framing. I think this is my favorite design to date.
Feya Candle Co. Reed Diffuser ($35)
Bringing the scents of summer to your home. With each purchase, Feya Candle Co. gives meals to those in need.
Subscribers could have received one of two different scents. I received White Tea & Ginger and I am in LOVE! It's fresh and energizing and will be perfect for the kitchen/livingroom area. Every diffuser purchased provides clean water to places that need it most…..I may need to purchase one for every room!
PMD Beauty PMD Clean ($99)
A smart facial cleansing device that helps firm skin while you clean. Loved by beauty connoisseurs internet-wide.
I've never used one of these devices and to be honest I don't know much about them. Apparently it uses SonicGlow technology, it has 7,000 vibrations over minutes, and it cleans deeply to remove skins impurities. It has 4 customizable modes which makes it good for all skin types.
Doctor Rogers RESTORE® Healing Balm ($30)
Keeping it simple with only three ingredients. Great for healing chapped lips, fresh tattoos, scrapes, and more.
This is the kind of product I LOVE to have in my purse. You just never know when a dry skin emergency is going to pop up. It has a simple ingredient list and it's the perfect size. I may even keep it in my diaper bag so baby and I can both use it.
Pepper + Vetiver Set of 3 Nesting Bowls ($36)
Designed in partnership with LA-based artist Erin Wolf. Featuring blended blue-green hues and textured, undulating shapes.
How gorgeous are these nesting bowls?! I can't decide if I want to use them or put them on display. Perfect for tabletop or entertaining. I just can't stop looking at the calming blue-green hues and the beautiful pattern. And they pair perfectly with the next item…..
Set of 6 Silicone Stretch Lids from AltCooking Hub ($8)
Created to reduce plastic and food waste in the kitchen. Durable, reusable, and leak free. Say goodbye to cling wrap.
I'm tempted to say that these stretch lids are my favorite item in the box. I've been wanting something like this for the longest time but COVID and having a new baby at home limits my time spent shopping. I already know that I am going to get a ton of use out of these. Perfect for covering leftovers, fruit, salad and more!
Savhera Essential Roll-On Duo ($30)
Two essential oils with very distinct personalities. While Tracy's Grace adds a note of calm, Secret Zest energizes.
I'm kind of obsessed with essential oil roll-ons right now. They can be used for so many different things – headaches, sleep, energy, and so much more. Tracy's Grace is a calming blend made with lavandin and rosemary. Secret Zest is a happy blend made with ylang ylang, lemon and geranium.
Grace & Stella Hydrating Serum
Improve your skin's moisture balance and texture with our Hyaluronic Acid Serum. Super lightweight and amazing for all skin types, this serum can reduce fine lines and wrinkles, dark spots and blemishes while brightening and protecting your skin.
Serum is something I started using about a year ago and have realized I can't live without. I like to apply a serum under my face oil which is exactly what I will try with this one. It claims to keeps skin hydrated and supple to minimize fine lines and wrinkles as well as help improve skin texture and tone.
CAUSEBOX Review Summer 2020 – Final Thoughts
Don't you just love CAUSEBOX?! They always do such an amazing job and work with such amazing brands. The items that stand out the most in the summer box are the stretch lids, the bowls and the serum. But I can also see myself using the balm and the roll-ons quite often. I maybe would have liked to see a fashion accessory or jewelry item as one of the products all subscribers received but other than that I am extremely happy. And I can't forget about the reed diffuser…..I'm excited to put it in the living room for the Summer as it will add such a fresh scent to the space. As per usual CAUSEBOX is a subscription I would highly recommend!
-AYOB Sarah
Explore.
Save.
Enjoy!
Sign up for a free account on A Year of Boxes to receive exclusive offers, be added to our monthly mailing list, and much more! We are always adding features to improve the experience for our users, from their valuable feedback!
Join Today!