Celebrate States Review February 2022
Celebrate States allows you to explore U.S. states, support small businesses and take a mini vacation without leaving home!
Take a trip with us across the US to celebrate a different state each month with quality goods from local, small US businesses plus interactive and fun information on each "celebrated" state. Each box contains 6 to 7 full sized items. You will receive delicious foods, household items, and useful items all made from small businesses in that state. They kindly sent us this box for review.
Celebrate States is such a fun box to receive. I can see this being a great option for families. Each month you can learn about a different US State together and sample some local products.
Subscription Details
Celebrate States boxes are packed full of fun items from small businesses in each state. You will receive items, made in the "Celebrated State" that are foods, beauty, and home goods. The boxes also contain interactive material and travel material about the state.
Learn about different U.S. States!
Support small and family owned businesses across the U.S.
Great fun for everyone in the family! Individual one time gift boxes also avaialble!
High quality new releases each month!
Makes a great gift too!
There are 3 subscription options to choose from:
Monthly Pay Subscription
Three-Month Subscription
Six-Month Subscription
Here's a closer look at the February Celebrate States….
Slap Ya Mama Cajun Seasoning
Slap Ya Mama Original Blend Cajun Seasoning is a great mixture of spices that can be used on any dish. Not too spicy and full of flavor, everyone will love how it enhances their food!
I love a good seasoning. I'm thinking I might try this on some roasted veggies or maybe even some fried tofu.
New Orleans Necklace
New Orleans is definitely on my bucket list. I think it would be such a fun place to visit. This necklace is just a fun little trinket to hold on to or maybe hang on my bucket list board.
Famous Praline Company – Mardi Gras King Cake Praline
The Mardi Gras King Cake Praline is a celebration in each bite! A classic Creole praline is sprinkled in Mardi Gras colors with purple, green, and gold sugar like a traditional New Orleans King Cake.
I love testing out classic locally-made goods. It's something totally different than what I would be able to go out and purchase in my hometown so it ends up feeling like a special treat.
Louisiana King Cake Granola – Mardi Pardi
Ummmm….how good does this sound?! Cream cheese, whiskey and cinnamon? I am so intrigued and can't wait to try it!
Essentially NOLA King Cake Bath Bomb
In case you haven't noticed it yet….there's definitely a "King Cake" theme going on so here's a little more info for you…..
KING CAKE – A blend of coffee cake and cinnamon roll, king cake is usually iced in yellow, green and purple – the colors of Mardi Gras — and is frequently packed with fruit fillings and decadent cream cheeses. Hidden within these season sweets also lie a special surprise: a plastic king cake baby to continue the fun.
LOVE Tea Towel
Here we have a very festive, New Orleans themed towel. It's not something I would necessarily put on display but it's definitely getting me excited to learn more about Louisiana.
Tiger Sauce – Original
And lastly we have Tiger Sauce which is definitely something I will use…..
"Tiger Sauce is an exotic, moderately spicy blend of Ingredients in a cayenne pepper base. With a touch of sweet and sour, it's perfect for meats, seafood and poultry. Delicious on sandwiches, in dips and soups."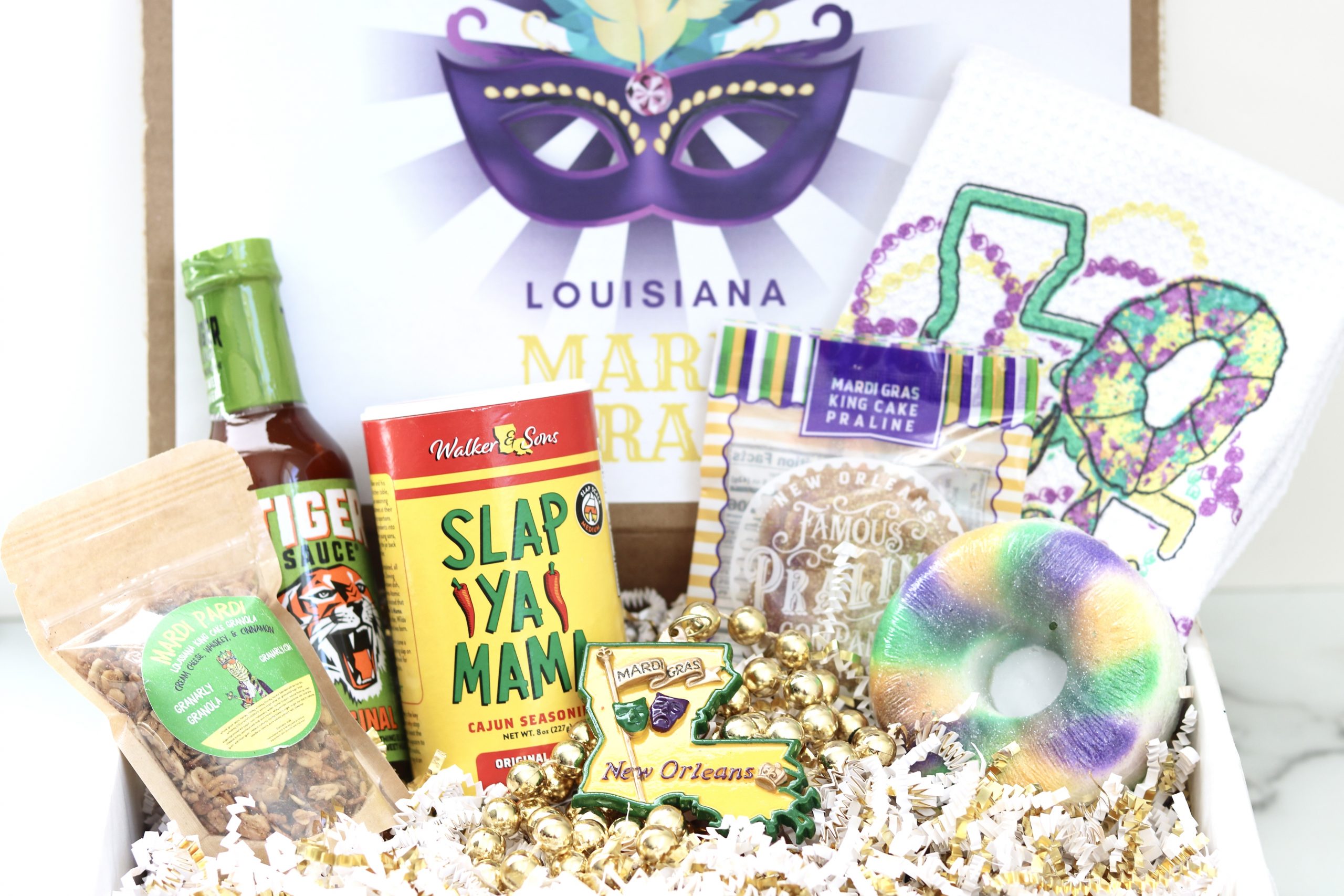 Celebrate States Review February 2022 – Final Thoughts
I always have so much fun going through my Celebrate States boxes. This one in particular was pretty great because I have always been intrigued by New Orleans, Mardi Gras, etc…. It's definitely on my travel bucket list but until that can happen I will enjoy learning more about Louisiana via the local goods and info sheets I received in this month's box.
-AYOB Sarah