Celebrate States Review October 2021
Celebrate States allows you to explore U.S. states, support small businesses and take a mini vacation without leaving home!
Take a trip with us across the US to celebrate a different state each month with quality goods from local, small US businesses plus interactive and fun information on each "celebrated" state. Each box contains 6 to 7 full sized items. You will receive delicious foods, household items, and useful items all made from small businesses in that state. They kindly sent us this box for review.
I am especially excited about this month's Celebrate States because they embraced the holiday and put together a Halloween themed box! I love Halloween, almost as much as Christmas, so I love to see subscription boxes filled with creepy crawly goodies!
Subscription Details
Celebrate States boxes are packed full of fun items from small businesses in each state. You will receive items, made in the "Celebrated State" that are foods, beauty, and home goods. The boxes also contain interactive material and travel material about the state.
Learn about different U.S. States!
Support small and family owned businesses across the U.S.
Great fun for everyone in the family! Individual one time gift boxes also avaialble!
High quality new releases each month!
Makes a great gift too!
There are 3 subscription options to choose from:
Monthly Pay Subscription
Three-Month Subscription
Six-Month Subscription
Here's a closer look at the October Celebrate States….
For the month of October we are visiting Massachusetts – or Massa-BOO-setts! They have included a product card, map and Salem Haunted Happenings pamphlet.
Black & Blue Jam – Bonnie's Jams
Some of the items in the October Celebrate States scream Halloween and others give off a subtle Halloween vibe, with this jam being one of them. We received a wonderful jar of peach jam in the May box and I finished it a couple weeks ago so this arrived at the perfect time.
Black Lava Sea Salt Caramels – McCreas Candies
Another item with a subtle Halloween vibe – these black lava caramels sound amazing! I don't indulge in sugary treats often but every now and then I like to have something sweet with my afternoon tea. These will be perfect for that.
The BOO Bag – Southern Crafted
This adorable Boo Bag is my favorite item in the box. It was the first thing I saw when I opened the box and it really set the tone for the unboxing. I love the bead detail and the orange tassel. I want to use this in a way that will allow people to see it…….it is an item that needs to be on display:)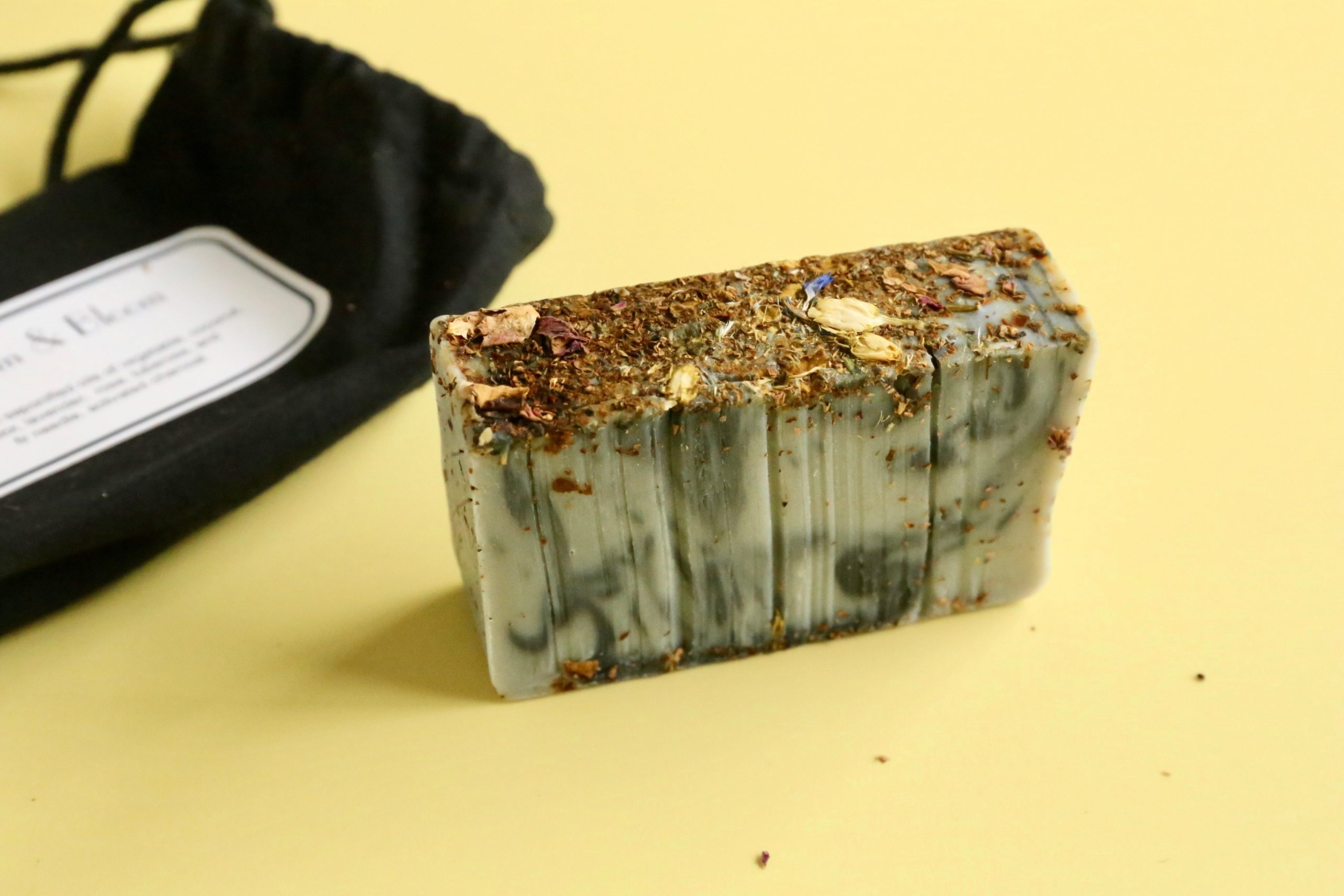 Doom & Bloom Soap – Red Antler Apothecary
Don't you just love the name of this soap? And don't you just love the look of it even more! This would be such a fun addition to your guest bath if you decorate it for the holiday. But I also want to just keep it for myself and use it in my own bathroom.
Halloween Lollipops – Melville Candy Company
These little lollipops are just too cute for words. I kind of wish little Steven was old enough to enjoy these. What a fun treat they would make. Especially for an afternoon spent inside watching Halloween shows.
The BOO Candle
This Halloween themed candle is absolutely perfect. It smells yummy (kind of like candy) and it is the perfect little decor item for our entry table.
Featured Fall Item – Fall Tumbler
Here we have our Featured Fall Item. Subscribers could have received different items. Mine is a plastic Fall tumbler, which I love, and I think I spied a Halloween themed coffee tumbler on their IG page. I'm not sure how many different options were available but I am more than happy with mine.
We also received this super cute little Halloween craft. Steven isn't old enough for this yet, so I am going to do it myself……and I'm actually quite excited about it:)
Celebrate States Review October 2021 – Final Thoughts
The October Celebrate States was an absolute delight to receive. I love holiday themed boxes and I really think they did a great job incorporating a Halloween vibe into the regular monthly delivery. I love each and every item we received. I will honestly use all of them. I'm also very excited to read through the Salem pamphlet, as it's a place I've always wanted to visit. Fingers crossed we see a Christmas themed box for December:)
-AYOB Sarah