Chakra Love Review July 2016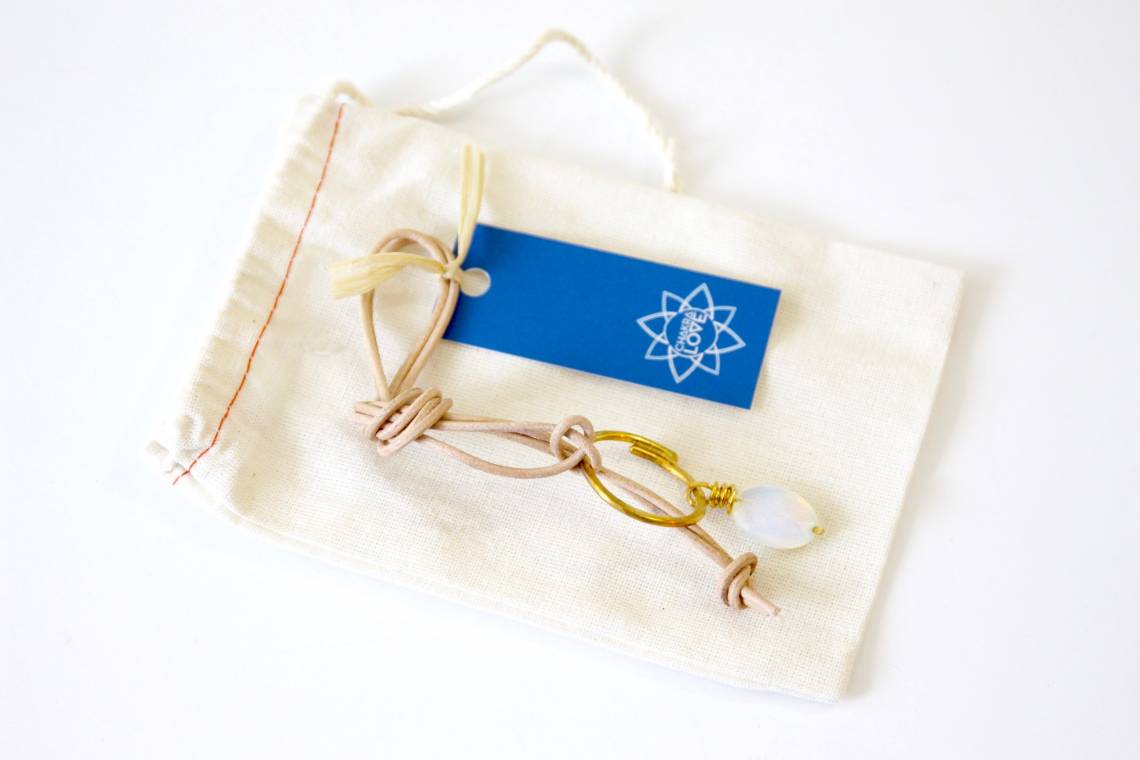 Chakra Love Review July 2016
Chakra Love Review July 2016 – I didn't think I was going to like my Chakra Love subscription as much as I do. It has easily become a favourite subscription, due to the fact that it is so different from almost all of the other boxes I receive. I like things that are different, and I like things that open your mind to new experiences. I wasn't familiar with healing jewelry prior to receiving my first pair of earrings from Jeri (the owner) and am so glad I discovered her beautiful jewelry, and her new subscription service.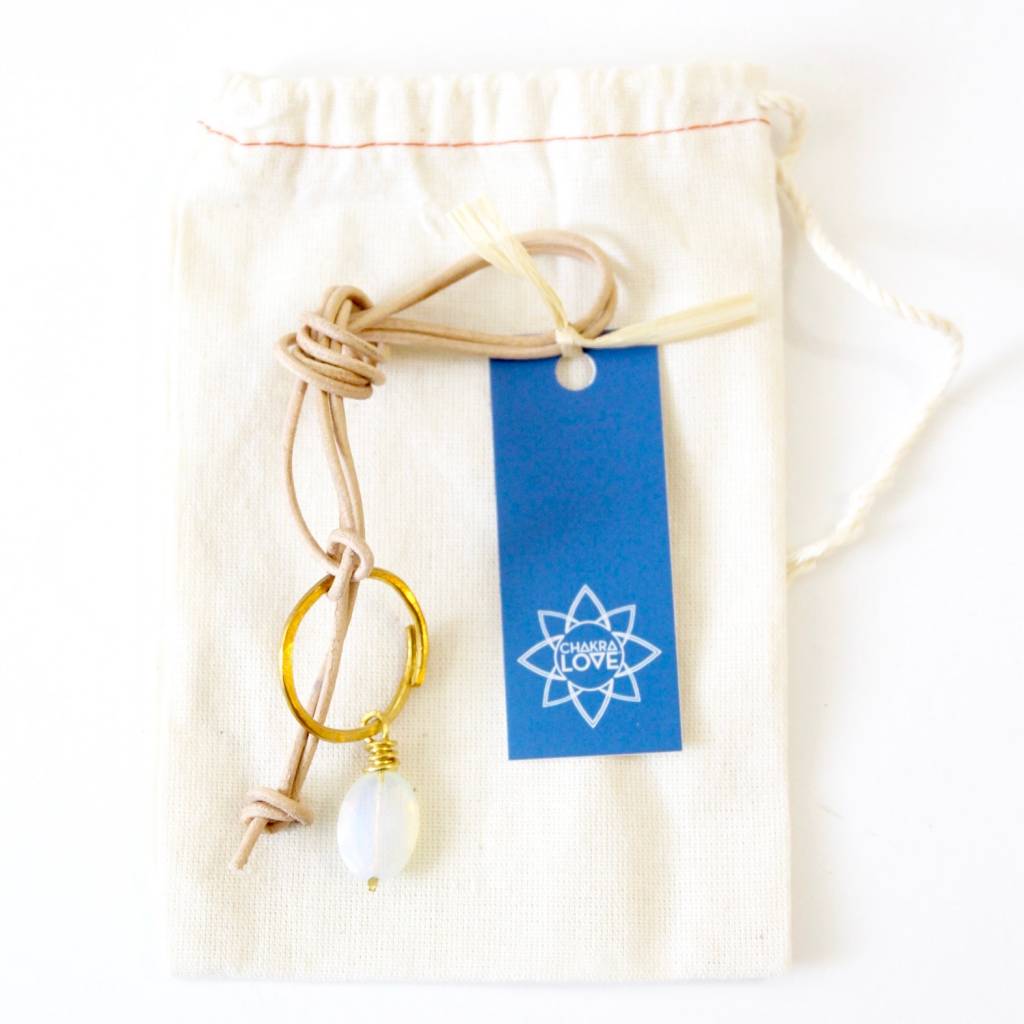 Chakra Love Details
If you aren't familiar with Chakra Love it is a monthly subscription service for healing jewelry. Each month owner Jeri Warlick intuitively selects Crystal talisman necklaces for the subscriber, so it is as if the universe brings you the Crystal that you need the most for energetic healing or manifestation work.
The Box: Chakra Love
Cost: $124 for a 3-month subscription
What You Get: Each month you will receive a petite but powerful crystal healing talisman on vegan-friendly cord or leather. Each talisman includes a stone that brings about healing and balance to a specific chakra!
Ships to: US & Canada
Shipping Cost: $5 per month to US, additional fees for Canadian shipping
Shipping Details
Chakra Love ships in a small white bubble mailer. It's simple and straight to the point. Inside the mailer we find a little white canvas bag which contains our monthly talisman. I think the only other thing I would like to see is a product card.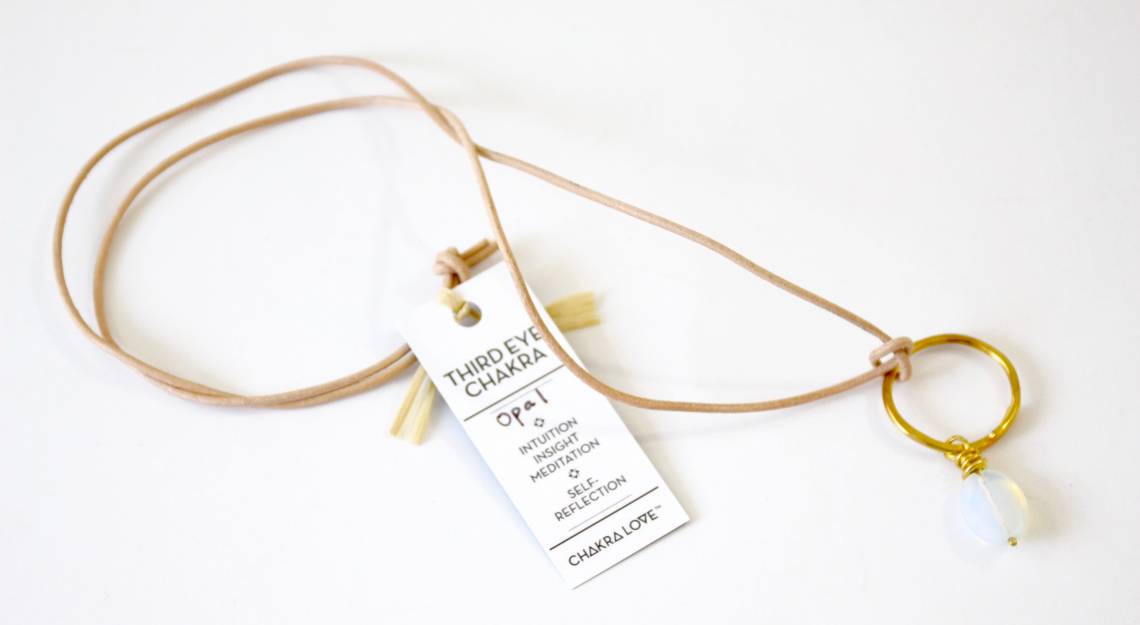 Third Eye Chakra – Opal
This month I received a pretty opal stone on a light brown cord. The card that came with it said "Third Eye Chakra" and the key words were "intuition, insight, meditation & self-reflection". I was a little confused by this month's stone as I couldn't find it on the Chakra Love website, and when I tried to research it via Google, I discovered that there are a number of different opal stones with a number of different meanings.
I found out that the Third Eye Chakra allows us to experience clear thought as well as gifts of spiritual contemplation and self-reflection. I also found out that Opal (in general) is a stone of inspiration which enhances the imagination and creativity. It helps one release inhibitions and enhances the memory. It is also said to be a very spiritual stone, and can help one be "invisible" in situations where they don't care to be noticed.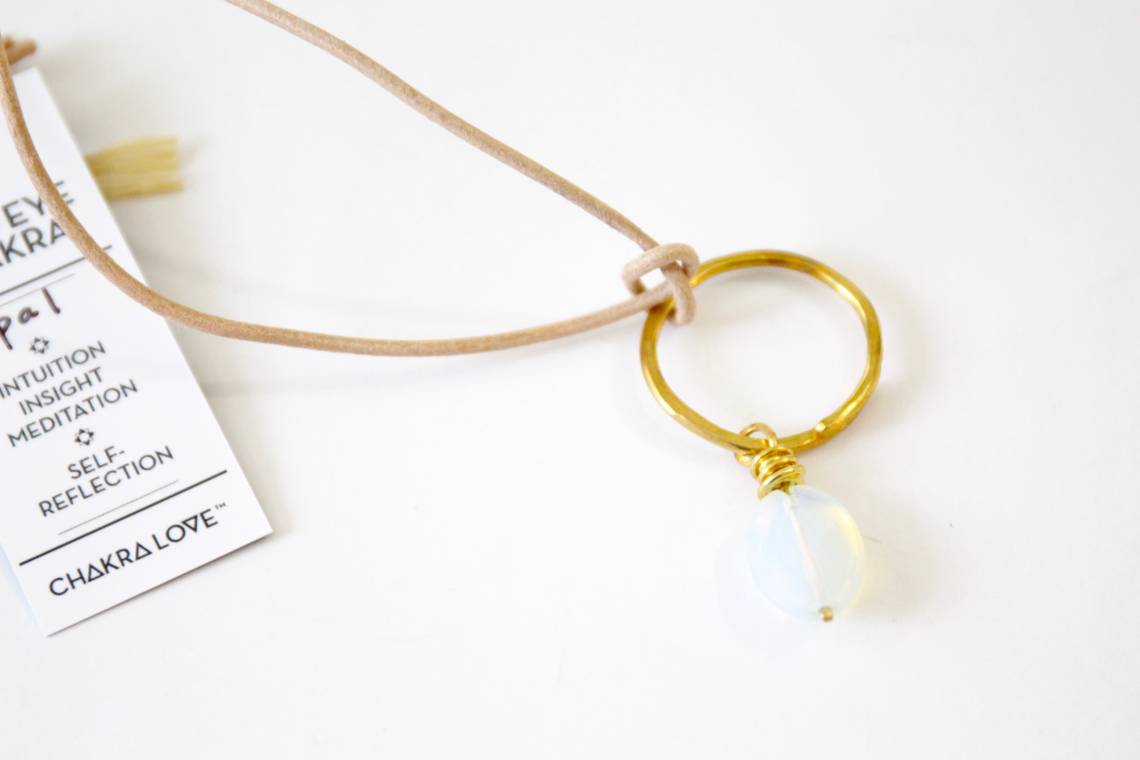 Chakra Love Review July 2016 – Final Thoughts
As much as I adore this subscription, I am not feeling as knowledgeable as I would like to when it comes to the stone I received this month. Last month I received Citrine, which is a naturally occurring yellow quartz that energizes all of the lower chakras, especially the Solar Plexus. It boosts confidence, optimism and an exuberant enjoyment of life. And the month before I received Coral which is organically found in the sea. It can bring about deep emotional healing and release of past hurts/blockages. It can also help you integrate new awareness by assisting with the wearer allowing change into your life.
I love that I was able to find the first two stones on the Chakra Love website as it gave me a little more information on the healing proprietress of the stones. I will just have to do some more research on the Opal stone I received this month and see what I can figure out. Regardless, I really like this subscription and love ALL of the necklaces I have received. I never thought I would love healing jewelry as much as I do. I wear them on a regular basis and would definitely recommend this subscription to anyone who is open to the idea of energetic healing or manifestation work.
XOXO
Explore.
Save.
Enjoy!
Sign up for a free account on A Year of Boxes to receive exclusive offers, be added to our monthly mailing list, and much more! We are always adding features to improve the experience for our users, from their valuable feedback!
Join Today!