Chococurb Review March 2017
Chococurb is a monthly chocolate discovery experience. They help people discover extraordinary chocolate with their monthly subscription boxes and through their shop, where you can purchase incredible products. They kindly sent us this box for review.
It has been a few months since my last Chococurb review and I was honestly starting to go through withdrawals. I absolutely LOVE this subscription box. But then again, I have an addiction to chocolate. I come by it honestly. It runs in the family. You should see us at family gatherings when the chocolate comes out. It's like moths to a flame.
Any who…..today is a very exciting day because I get to review the Classic Box…..or in other words, the BIG box! Chococurb has two different subscription options to choose from:
Chococurb Mini – Get a personalized assortment of 3 gourmet, premium chocolate items each month.
Starting at just $20/month.
Chococurb Classic – Get a personalized assortment of 5-7 gourmet, premium chocolate items each month. Starting at just $35/month.
Here's a look at the items we received in the March Classic Chococurb Box:
Vivra Orange Passion – Value $7.00
Enjoy amazingly bright orange notes, enhanced at the finish with a passion fruit halo, all in a smooth and rich 65% artisan dark chocolate.
Orange chocolate reminds me of Christmas. It's one of my favourite chocolate flavor combos. I find that you either love it or you hate it. I happen to love it…..this will be enjoyed with red wine.
Cappuccino Crunch with Almonds by Seattle Chocolates
Crunchy toffee, slivered almonds and Turkish ground decaf espresso are the perfect combination, especially when blanketed with milk chocolate. 
Peanut Brittle by Seattle Chocolates
Candied peanuts and buttery toffee with a hint of sea salt in our classic dark chocolate.
I have received Seattle Chocolates a few times now, and they never disappoint. I would love to have a big ol' bag of these in the freezer.
Pacari Andean Mint Chocolate Bar – Value $5.50
Delicious mild mint from the Andean Mountains in a Dark Organic Fino Aroma Bar.
There are times in life when I crave a good mixture of dark chocolate and mint. It's not all the time, but it does happen. There's something really nice about mint/chocoalte flavor combo. Absolutely perfect for after dinner.
Dolfin Caramel au Beurre Sale Milk Chocolate Bar – Value $5.99
Creamy Belgian milk chocolate and decadent salted butter caramel swirl together for an indulgent experience.
I use to be afraid of salted chocolate, but now I love it. Especially when it is combined with caramel. They nailed it with this one.
Mayana Coconut Dream Bar – Value $8.00
Boasted as the new favorite the Coconut Dream Bar is a must have! Crispy Coconut Cookie, Salted Caramel, Creamy Coconut with 66% Dark Chocolate. 
Umm……..I think this just might be the best bar I have ever received in a Chococurb box. Coconut anything is a good idea, but combine it with chocolate, caramel and crispy cookie and you have a little piece of heaven.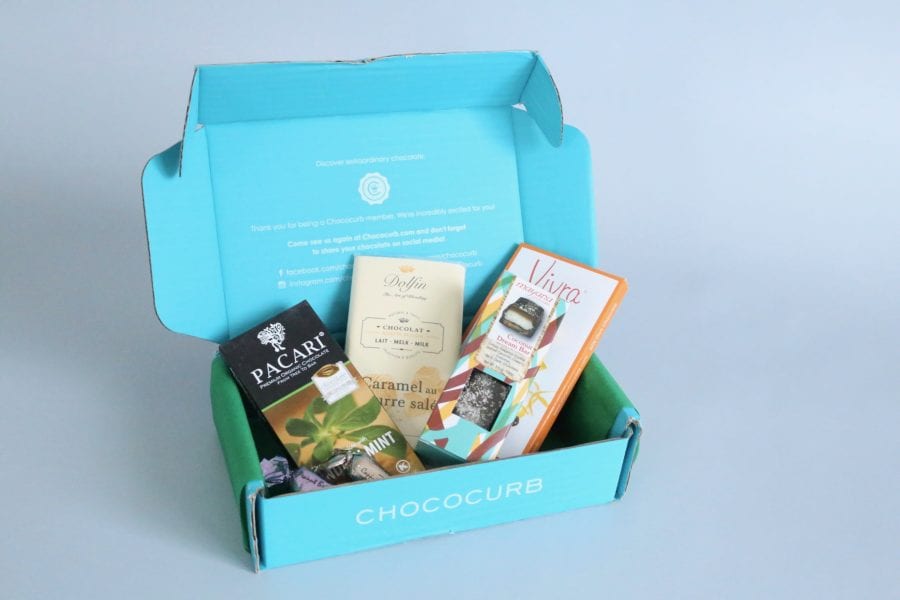 Chococurb Review March 2017
This little blue box just made my day! I needed a chocolate fix this week. Things have been extremely busy, and a little stressful, and the best way to combat stress is a glass of red wine and a piece of quality chocolate at the end of the day. I have always been a fan of Chococurb. I think it is a wonderful way to get your chocolate fix every month. Not to mention the fact that I get to discover new brands, and test out quality chocolate. You aren't going to find bars like this at the grocery store…..no ma'am. This may be a little expensive for some people, but for a true chocolate lover the value is in the quality and uniqueness. Chocolate lovers rejoice!
XOXO
Explore.
Save.
Enjoy!
Sign up for a free account on A Year of Boxes to receive exclusive offers, be added to our monthly mailing list, and much more! We are always adding features to improve the experience for our users, from their valuable feedback!
Join Today!