Chocolate Orange Cardamom Crepes – Hamptons Lane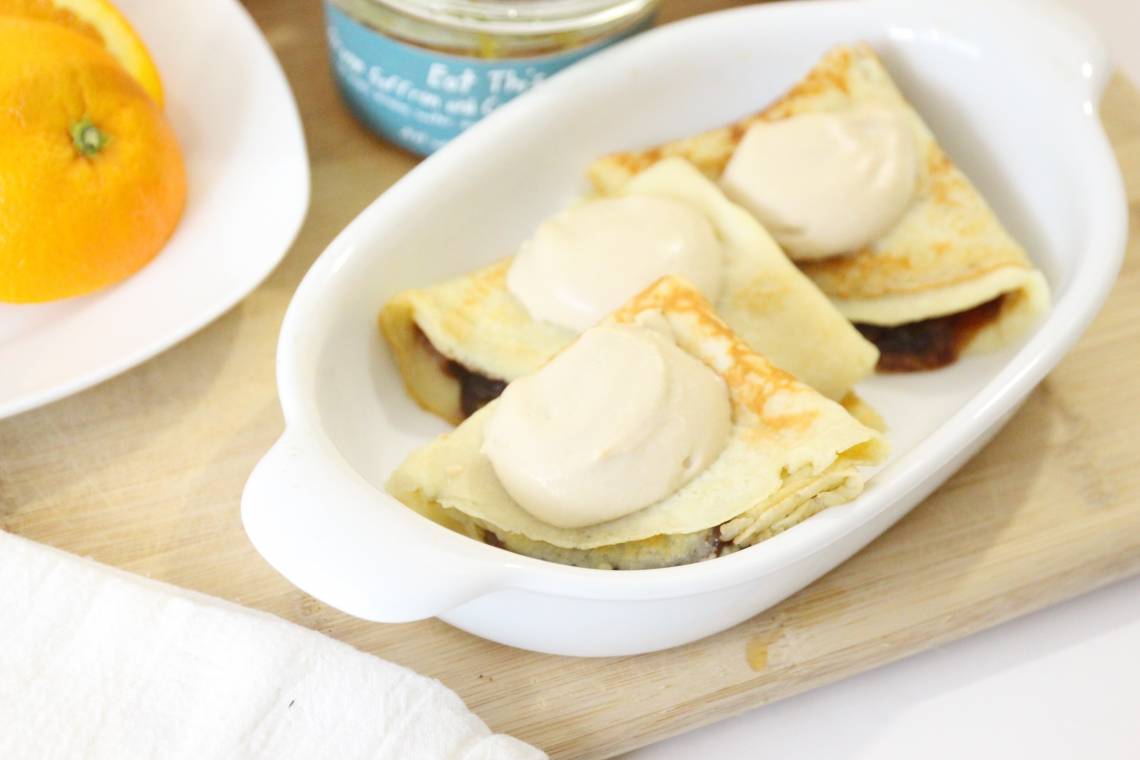 Crepes are a comfort food for me. They bring me back to my childhood when Mom would bring them home as a special treat and let us fill them with ice cream and chocolate sauce. As much as I love them though, I don't think I've had them since I was young. Imagine how excited I was when I received my Hamptons Lane box for March and discovered that it was all about Crepes! Seriously, I feel like I fall in love with this subscription box a little more with every passing month. We received everything we need to whip up a batch of these wonderful little pancake-like breakfast pastries. As per usual, I was a little intimidated, and seeing as it's too early for wine at 8am in the morning, I put Baileys in my coffee instead……and put on a really cute apron…..
Recipe: Chocolate Orange Cardamom Crepes
Ingredients:
Crepes
Toppings

Cashew Cream
Orange slices
Directions:
combine all crepe ingredients in bowl and whisk until smooth, chill in fridge for 30 minutes
melt butter in crepe pan, add 1/4 cup crepe mixture and quickly spread out
cook until top looks dry, flip and cook for another 15-20 seconds, remove and let cool on rack, repeat until all the mix is gone
for the cashew cream I soaked 1 cup of cashews overnight, the blended them with a little bit of water, 1 tsp of vanilla and a little bit of agave nectar, this will make a whip cream like mixture
fold crepe in half, top with chocolate sauce and marmalade, fold in half again, top with cashew cream and a slice of orange
Notes:
I found that 1/4 cup of crepe mixture was a little too much so I reduced it to 1/8 cup in order to make the crepes really thin
once I reduced the amount of mixture they cooked really fast so you will definitely need to keep an eye on them
I kept a little bowl of melted butter beside the pan and would brush a small amount of butter on the pan before I made each crepe, make sure to brush it up the sides of the pan
the chocolate sauce and marmalade are from my Hamptons Lane box but you could easily substitute Nutella and regular marmalade
XOXO
Explore.
Save.
Enjoy!
Sign up for a free account on A Year of Boxes to receive exclusive offers, be added to our monthly mailing list, and much more! We are always adding features to improve the experience for our users, from their valuable feedback!
Join Today!