Clean Crate Review June 2022
Clean Crate is a Subscription Box for Everyday Green Cleaning Essentials. A curated selection of top-quality daily cleaning products sourced exclusively from Canadian brands. All eco-friendly, non-toxic and free of harsh chemicals so they are safe for your children & pets. They kindly sent us this box for review.
I'm sure I have told you this in my last couple Clean Crate reviews but I am absolutely LOVING this box, and I never thought I would say that about a subscription dedicated to cleaning products. But…..there's just something so fun about receiving a box full of green cleaning products. I am having so much fun testing out all the different brands/products and I love that my house is being cleaned in the process!
Subscription Details
What You Get: Your first Clean Crate order is curated for you, all subsequent deliveries can be customized. Choose a delivery interval that works for you: Monthly, bi-monthly, seasonal or semi-annual deliveries are available.
Shop for Add-Ons to your Clean Crate that will ship free with your delivery.
Pause. Skip. Reschedule. Anytime. Free shipping in Canada.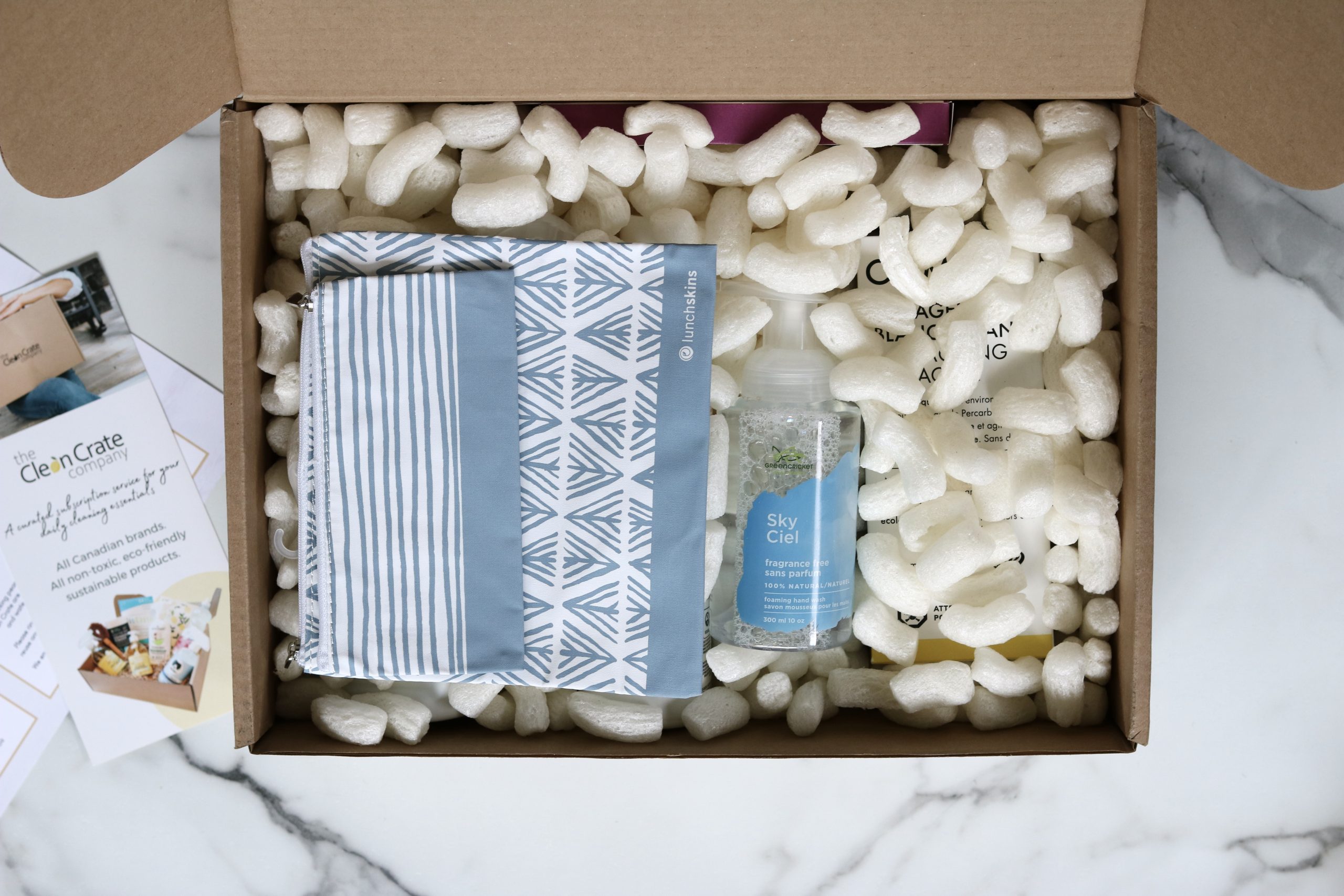 Here's a closer look at our June Clean Crate delivery….
Abeego Food Wrap: Ok…..I have a confession…..I have received these wonderful little food wraps a few times over the years and am yet to actually use them. I am going to dig them all out, make myself a dedicated area in the kitchen to store them, and vow to use them going forward. It's a genius idea and a product I really should be using on a regular basis.
Attitude Dishwashing Liquid: Dishwashing liquid is perhaps the product I use most so I love to receive it in each box. This particular liquid is one I haven't tried yet. The scent is Citrus Zest and it smells SO good!
Lunchskins Reusable Pouch: I love, love, love this set of reusable pouches. First of all, I love the colors/patterns, and I also love that we received a set of 2. The smaller one is perfect for trail mix or crackers and the bigger one is perfect for sandwiches.
The Bare Co. Stain Buster: I only recently started using stain remover bars and so far I am loving them! I keep one beside our sink in the laundry room and use it to remove stains from Steven's clothes. This is a brand I haven't tried yet so I am excited to test it out.
Osmose Bleaching Agent: I am SO excited to test out this bleaching agent. I keep meaning to buy something to use on our white towels and this just might be the product I have been looking for. Now….I need to do a little research in regards to using it in a front load washer. I'm thinking I will mix it with some water and add it to the bleach dispenser?
Aspen Clean Bathroom Cleaner: Lastly we have a bathroom cleaner which is awesome because our bathrooms are the area I clean most often. The scent is Lavender & Lime and I will use it for the sinks, toilets, and bathtubs.
Green Cricket Foaming Hand Wash: It has been forever since I had a foaming hand wash in the house, which is kind of funny because I actually prefer a foaming wash to a regular wash. I also think this will be a great one for little Steven's bathroom.
oNature Odor Eliminator: Here we have a spray that will eliminate odours naturally. You simply spray directly on the source of the odour until slightly damp. On the back of the bottle it shows pictures of where you can use it – litter box, garbage, car, sofa, bedding, etc…..
Clean Crate Review June 2022 – Final Thoughts
I had so much fun going through this month's Clean Crate box. After writing the product descriptions above I actually had some time to try each product and I am in LOVE with everything. I used the bleach powder on our white bed sheets this morning and it worked wonderfully. I am also really loving the stain bar and the reusable pouches. Now excuse me while I go clean our bathrooms……
-AYOB Sarah