Clean Crate Review March 2022
Clean Crate is a Subscription Box for Everyday Green Cleaning Essentials. A curated selection of top-quality daily cleaning products sourced exclusively from Canadian brands. All eco-friendly, non-toxic and free of harsh chemicals so they are safe for your children & pets. They kindly sent us this box for review.
I got to review Clean Crate for the first time last month and I absolutely fell in love with this subscription. I LOVED all of the products I received in my first box and have been using them on a regular basis. Especially the all-purpose spray and the dish cloth, I literally use them every single day. Clean Crate has made cleaning fun again and that is why I am so in love with this subscription!
Subscription Details
What You Get: Your first Clean Crate order is curated for you, all subsequent deliveries can be customized. Choose a delivery interval that works for you: Monthly, bi-monthly, seasonal or semi-annual deliveries are available.
Shop for Add-Ons to your Clean Crate that will ship free with your delivery.
Pause. Skip. Reschedule. Anytime. Free shipping in Canada.
Here's a closer look at our March Clean Crate delivery….
Nature Clean Stink Bombs
Get the stink out! Our Odour Remover Pacs naturally destroys foul odours and unwanted smells. This product works powered by mineral zinc, by trapping and neutralizing odour without the use of enzymes, alcohols, masking agents like perfumes and fragrances. This product is also biodegradable and not tested on animals.
I have seen this product before and have always wanted to try it. These little Stink Bombs will be perfect for my hubby's work clothes, my gym clothes, and dish cloths. You simply pop one into the washing machine before adding clothes and wash as usual.
Attitude Orange Leaves Deodorant
ATTITUDE's plastic free natural deodorant uses an innovative biodegradable all-paper packaging designed to reduce single-use plastic. Because caring for the planet and your body should be a daily thing, our aluminum-free deodorant is made from natural ingredients such as arrow root and cornstarch that absorb moisture and eliminate unpleasant odours naturally. Our EWG VERIFIED™ deodorant provides long-lasting protection – without plugging up the body's natural temperature regulating sweat system.
In addition to cleaning products Clean Crate also has a few self-care goodies of which you can add to your crate deliveries. Here we have a natural deodorant and let me tell you…..it smells AH-MAZING!
Live for Tomorrow Clean Mitts Hand Soap
Clean your hands and relax your mind with Live for Tomorrow (LFT) hand soap "Clean Mitts" in Lavender. We use only use 100% pure essential oils to scent our products. LFT's perfectly balanced plant & mineral based Lavender hand soap formula is soft, subtle, and *sigh* worthy.
The handsoap beside our kitchen sink gets used 100 times per day…..well maybe that's an exaggeration, but pretty darn close. So…..I like to have a couple extras on hand at all times. I'm still finishing up the hand soap from my February box so I will tuck this one under the sink. And can I just say….LOVE the packaging!
Elva's All Naturals Lovely Laundry Wash
If you're looking for a low-waste, cost effective and yet totally organic laundry detergent, look no further! 1.5 L size yields up to 150 loads. All natural yet highly concentrated, use just 10 ml (@ 2 tsp) per average load!
LOVELY Laundry Wash is 100% biodegradable & septic safe. It contains only certified organic and biodynamic ingredients, herbs and plant extracts. POUR LIGHTLY – you really don't need much. 🙂
I am SO excited to try this liquid laundry soap, because believe it or not, I have never used a liquid detergent before. This one is lavender scented, it smells SO good, and the bottle will look so cute sitting on my laundry shelf.
Pure Kitchen & Bathroom Cleaner
Effective for cleaning the countertop, sink, appliances, cabinets, microwave-oven, floors, ceramic tiles, stainless-steel, chrome, fiberglass and porcelain surfaces. This product deodorizes areas and is ideal for removing odors from garbage, empty trash cans, basements, toilets and other odor-prone areas caused by microorganisms.
This kitchen and bathroom cleaner is a complete multi-tasker! I love that I can even use it on stainless-steel. It has a peppermint scent, which I love, love, love and it will work perfectly with the microfibre cloths I just purchased.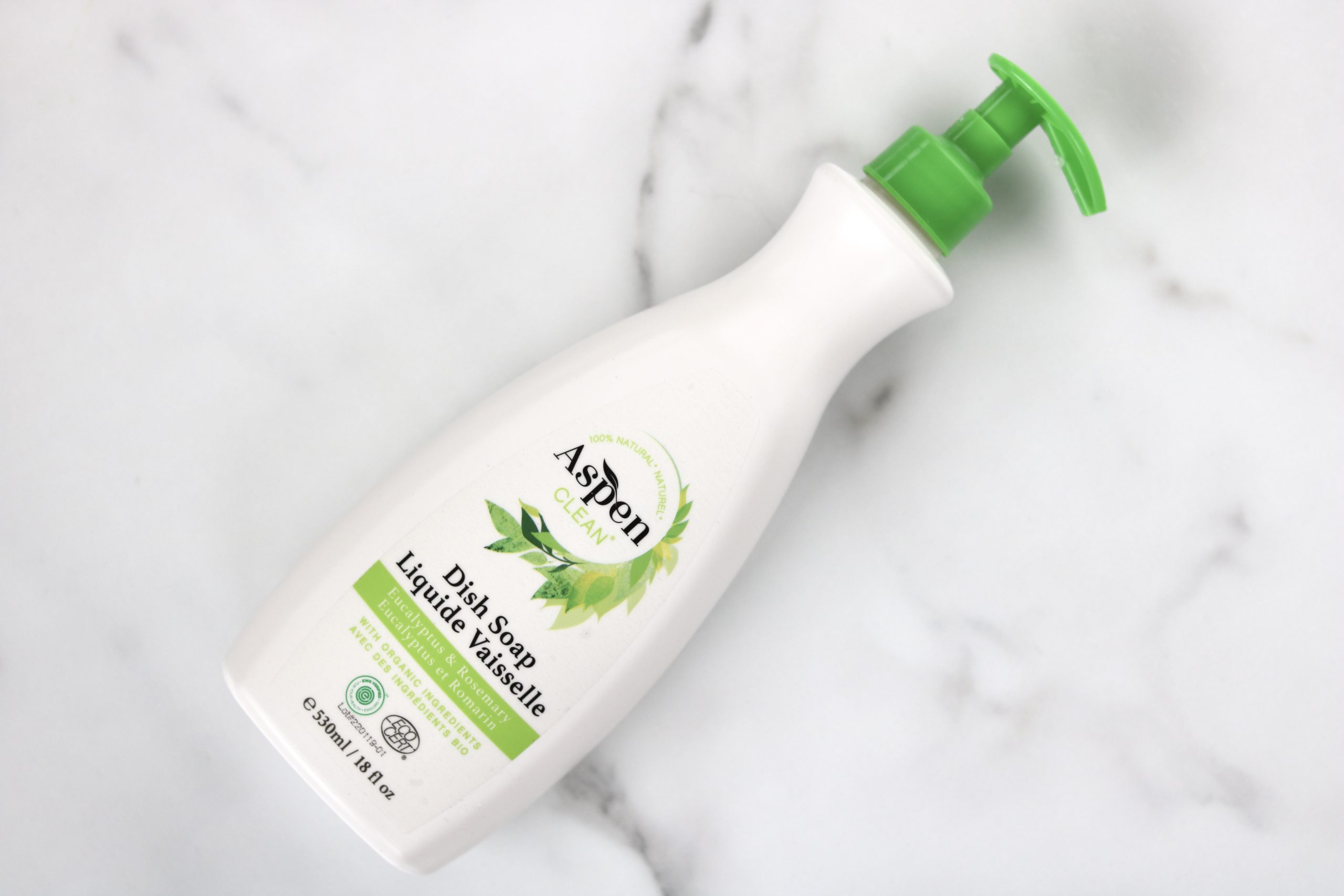 Aspen Clean Dish Soap
Our Eucalyptus and Rosemary Dish Soap liquid is made with organic essential oils. It's natural, non toxic, rated A by EWG. It is tough on dirt and grease, but soft on your fingers. The hypoallergenic formula is strong, septic safe, sustainable and 100% safe for you and your family, leaving no toxic residues on the surfaces you eat from – for a safer, healthier household.
Dish soap is a cleaning product that I have a love/hate relationship with. I am constantly trying new brands with the hopes to find one that works, is natural, smells good, doesn't linger on dishes…..etc. So, I absolutely LOVE trying new brands and this is one I haven't yet tested. Also, huge bonus points for the scent, eucalyptus makes me so darn happy!
KlIIN Reusable Towel
Our new trendy KLIIN Rolls Collection will brighten up your home with a splash of colour and fun, eye-catching prints. A great addition to your décor and a wonderful gift for a loved one… and the planet. Each roll contains 5x 9,5" x 10" sheets that are thinner than our regular KLIINs making them a very close replica of the conventional paper towel. With the same great features and benefits than our regular KLIINs, they are even more flexible but as useful, eco friendly and R-E-U-S-A-B-L-E !
I am so, so, so excited to try these reusable towels. I have always wanted to find a paper towel alternative and here it is. I love that they are reusable, washable and so versatile. I also love the pattern. They are wonderful for wiping down counters because they are so absorbent. I will probably end up getting more of these.
Compressed Sponges
Try our new pack of 100% biodegradable compressed sponges! A perfect addition to washing dishes or other household tasks. So thin when they arrive, but their volume increases 13 times as soon as you put them in water.
100% BIODEGRADABLE
Made of natural cellulose
Dishwasher or laundry safe
Very absorbent
Sold in packs of 3 units (two green and one white)
This is a genius little product! And absolutely perfect for my under-the-sink cleaning box. I love to have at least a few sponges on hand at all times and these take up such little space.
Clean Crate Review March 2022 – Final Thoughts
I have to tell you, and I am being 100% honest, since receiving my first Clean Crate box last month I am actually enjoying the time I spend cleaning. Having the right kind of cleaning products on hand, and ones that are environmentally friendly, really does make cleaning more fun. I was extremely happy with my first Clean Crate box and just as happy with my second box. I decided to let the Clean Crate team choose my products this month and they did an amazing job. I love everything I received and I am SO looking forward to putting each product to use. Clean Crate is quickly becoming a favourite!
-AYOB Sarah