Clean Crate Review: The Scented Signature Crate
Clean Crate is a Subscription Box for Everyday Green Cleaning Essentials. A curated selection of top-quality daily cleaning products sourced exclusively from Canadian brands. All eco-friendly, non-toxic and free of harsh chemicals so they are safe for your children & pets. They kindly sent us this box for review.
We just added a new Canadian Subscription Box to our directory and I am SO excited to share it with you! Clean Crate is a box I've had my eye on for a little while now. I am ALL about green cleaning products so this is a box I will get a ton of use (and enjoyment) out of. Funny enough, I find pleasure in cleaning and organizing. It's something that makes me happy, and therefore I find a TON of value in a box like this.
Subscription Details
What You Get: Your first Clean Crate order is curated for you, all subsequent deliveries can be customized. Choose a delivery interval that works for you: Monthly, bi-monthly, seasonal or semi-annual deliveries are available.
Shop for Add-Ons to your Clean Crate that will ship free with your delivery.
Pause. Skip. Reschedule. Anytime. Free shipping in Canada.
Here's a closer look at our very first Clean Crate delivery….
ATTITUDE Citrus and Thyme All-Purpose Cleaner
I use an all-purpose cleaner on a regular basis now that we have moved in to the new house. I am having so much fun organizing, cleaning and decorating our new space. I find myself wiping down the kitchen counters, island, dining table and bathroom counters almost daily so this is a product I very much appreciate.
It features plant-based ingredients, the scent is wonderful, and it can be used on all different surfaces.
How to Use: Spray and wipe. To disinfect hard nonporous surfaces (e.g. countertops, walls, bathtubs, toilet bowls, etc.), let stand for 10 minutes before wiping. It is advisable to test on an inconspicuous area. Rinse all food contact surfaces with clean water after treatment. For heavily soiled areas, a pre-cleaning is required.
Lemon Aide Fresh Lemon Kitchen Hand Wash
I use the hand soap beside our kitchen sink at least 3 times each day….if not more. Having a toddler means I am in the kitchen most of the day and I am constantly washing my hands. So I am very happy to have an all-natural, essential oil based hand wash. It smells lovely and the packaging is cute.
Green Cricket: Grapefruit Dishwashing Soap
Dish soap is something else I use multiple times each day. I am constantly washing little Steven's snack bowls and sippy cups. This one is made in Canada, it is free of all the "nasties" and it is made with coconut-based cleaning agents. I also really love the subtle grapefruit scent.
The Unscented Co: 60 dishwasher 3-in-1 Water-Soluble Tabs
Here we have a lovely reusable bag filled with dishwasher tabs. Did I mention that I am constantly doing dishes?? In addition to hand washing a million cups and bowls each day I also run the dishwasher every night before I go to bed. I am going to get a cute glass jar from the Dollar Store and use it to store these tabs under the sink. I might even get crafty and make myself a cute little label for the jar.
Tru Earth Fresh Linen Eco Laundry Strips (64 loads)
I was VERY excited to see these Tru Earth Laundry Strips in the box because this is what I use to wash Steven's clothes. I discovered these strips about a year ago and have since fallen in love with them.
Lemon Aide Fruit and Veggie Spray
Yes, yes, yes!!!! I have been on the hunt for a fruit and veggie spray for quite some time now. We eat a lot of fruits and veggies in our house and I am very conscious when it comes to cleaning said fruits and veggies. This particular spray is family and pet friendly and it harnesses the naturally-antibacterial properties of pure essential oils.
How to Use: Spray onto fruit or vegetables and wash under running water. For a deeper clean, spray fruit or vegetables and add a sprinkle of baking soda and wash under running water.
Ten and Co. Vintage Lemon Compostable Kitchen Cloth
Last but not least we have this adorable little lemon kitchen cloth. I have received these cloths before and I absolutely love them. I like the lemon print because it is giving me Spring vibes and it is going to brighten up my kitchen. It also matches the packaging for the veggie wash and the hand wash, and I LOVE matching products.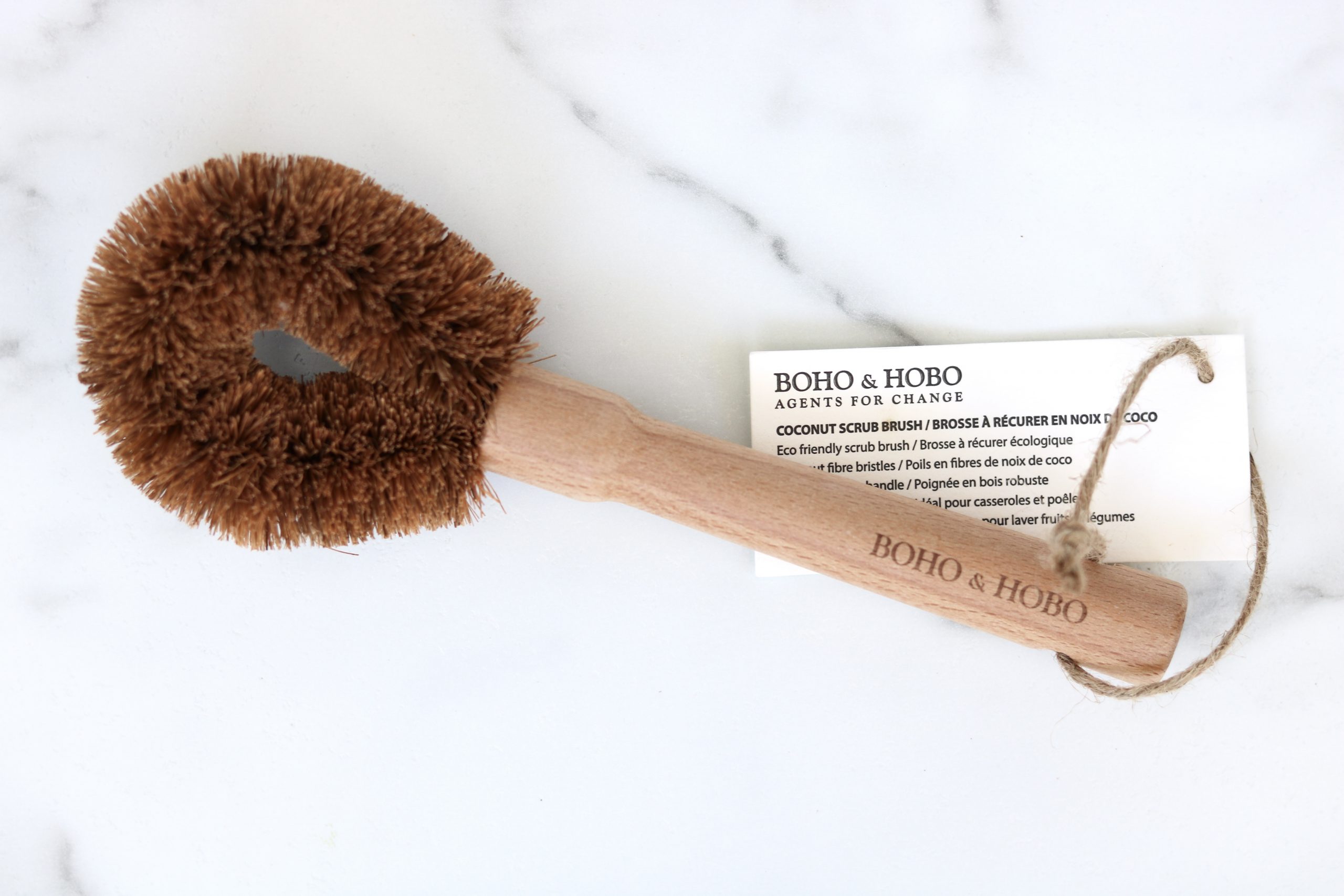 I also received this coconut scrub brush to share with you which is what subscribers will receive in their first crate if they sign up for the "no dishwasher" option. You would receive this in place of the dishwasher tabs.
Clean Crate Review – Final Thoughts
Clean Crate is a subscription that fits perfectly into my lifestyle. I value green cleaning products and very much appreciate receiving them in the mail as I don't often have the time to go out and shop for them on my own. Finding the right natural cleaning product takes time and energy so I find value in the curation of this subscription and am SO happy to have discovered it.
The Scented Signature Crate is a great starting point for my cleaning needs as it provided me with the everyday essentials. I can then expand on my cleaning needs with my next crate. I'm already excited for it to arrive:)
-AYOB Sarah