Club Evoq Review April 2016
Club Evoq is a brand new Men's Subscription box, and you all know how I feel about men's subscription boxes….I love them! I don't know why, but the men's subscription boxes always have the best packaging, and you'd think it would be the other way around. I also have to mention that this is a Canadian Company, so they get bonus points for that……….yes I am biased.
If you aren't familiar with Club Evoq it is a brand new men's subscription box of perfectly coordinated premium accessories. This box was provided complimentary for review and may include affiliate links.
The Box: Club Evoq
Cost: $49 per month
What You Get: A coordinated monthly package of premium accessories.
Ships to: Worldwide
Shipping Cost: FREE to Canada, International fees determined at checkout
Coupon Code: use code "AYOB10" to get 10% off your first box – CLICK HERE
My very first Club Evoq arrived in a simple, navy, logo'd box, so far so good. Upon opening it, everything was arranged perfectly on a nice little piece of felt material…..still looking good, and all of the items in this month's box are coordinated nicely in a navy color theme, which just happens to match the shipping box…..I'd say they passed my first impression test. Now on to the items…….
The Power Tie – This is a safe tie for their first box. I happen to love navy suit accessories, simply because they look so sharp with a crisp grey suit. It has a fun pattern, but it's not too out there.
Four Panel Pocket Square – Now this is great idea! The pocket square goes perfectly with the tie, and it also follows the "safe" theme, but it has a little oomph, thanks to the multi-pattern thing it has going on. This allows it to be worn a few different ways…..smart.
Stainless Steel Tie Clip – I'm a huge fan of tie clips and personally think they should be worn at all times. I'm so glad to see one in the box….more bonus points for this.
Wolf Socks – This is a new brand for me, I've never received it before, but I'm really liking the color scheme, and the pattern.
Union Hair Pomade – And last but not least we have a grooming product which I always like to see in my men's subscription boxes. I'm not familiar with this brand so I can't say much about it.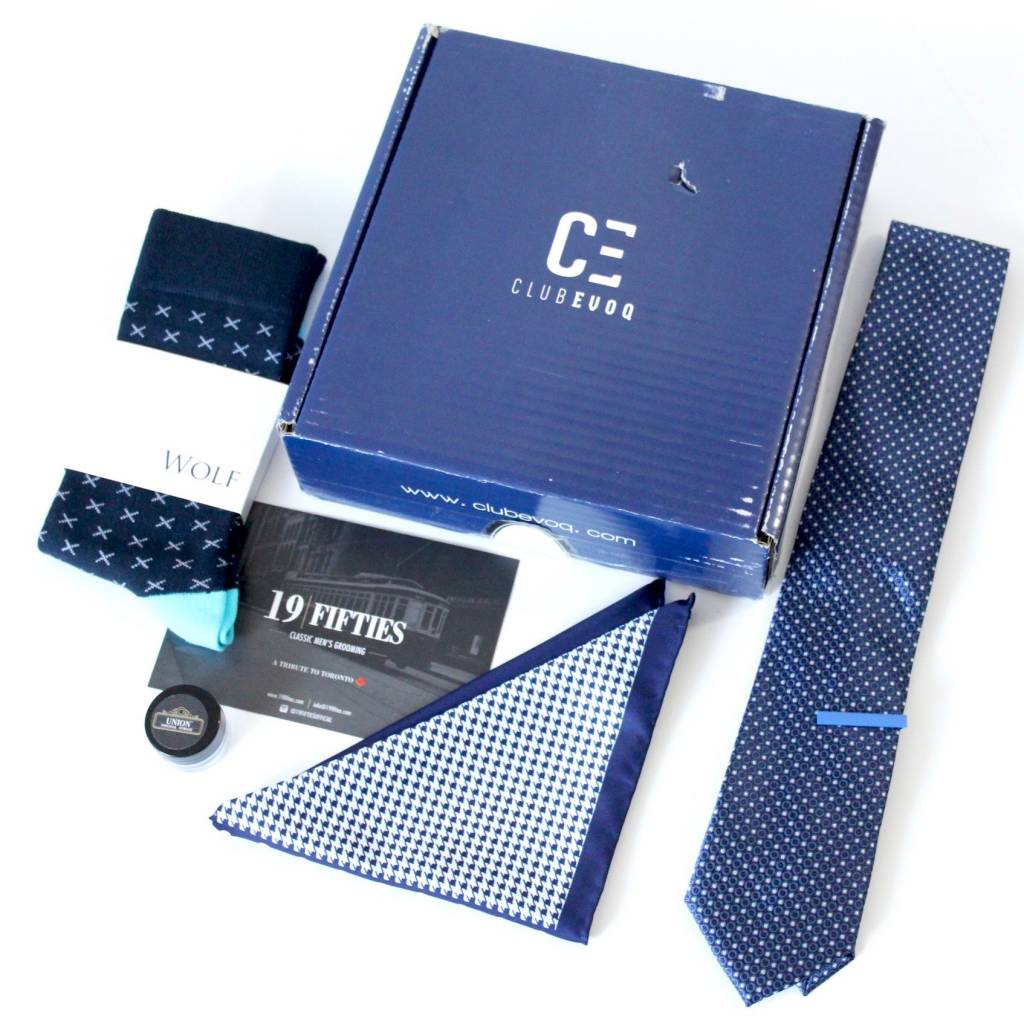 Thoughts: Well…..we I'm happy to say that us Canadians have yet another great box to add to our subscription list. It's nice to see a company put out such a great box their first month on the market. The packaging is great, the product mix is on point, and the price point is reasonable. It's a little more expensive than other boxes in this category, but the good thing is, we don't have to factor in the exchange rate or shipping costs. If I am being EXTREMELY picky then I would say that this was a safe box for their first month, but a very good one nonetheless. Sometimes it's good to play it safe until you are confident enough to take a few risks. I can't wait to see what the next few boxes are like; their website mentions that we might see things such as belts and wallets. Great job Club Evoq!
What do you think of Club Evoq?
XOXO