Beachly Review Fall 2018
Beachly (formerly Coastal Co.) is a quarterly curation of beach-inspired lifestyle products. With a women's box and a men's box to choose from, the only decision to make is how quickly you can sign up everyone you know! Reserve now to bring that #beacheveryday mentality straight to your door. Tailored to the season and your location, the Coastal Co. tribe is rocking the best in beach style year-round. Each box contains a mix of accessories, beauty/skincare products, apparel, lifestyle products and more!
Oh my goodness!!! I have been waiting to get my hands on this box! As soon as I discovered Beachly (formerly Coastal Co.) a few weeks back I knew it was the perfect box for me.
Subscription Details
Beachly (formerly Coastal Co.) has subscription options for both men and women. Here are the details for the women's subscription:
Join the Co. – Become a member for just $99 per season. 4x per year, we'll send you a box of premium, beach-inspired products valued at $200+ or more.
Curated Coastal Style – Each box contains 6-8 premium pieces of apparel, accessories & lifestyle products from the coastal brands you love and the hottest newcomers you haven't found yet!
Delivered to Your Door – Every 3 months, a new box arrives at your door with savings of up to 50% off retail price — the good vibes are free.
Here's a look at the items we received in the Fall Beachly (formerly Coastal Co.) box….
Nixon Facet Watch ($200)
When you're living the beach life, it's easy to lose track of time. That's why we've teamed up with our friends at Nixon to deliver a beautiful watch to all of our sun kissed members. That's $200+ in value alone! PLUS you get 5 additional beach-inspired products straight to your door. PS. It comes in four stunning colors, so we haven't totally ruined the surprise!
Let's start things off with a bang…..shall we? Can you believe this first item?! I am a huge fan of Nixon watches and have been for years. They are superior quality and the styles are timeless. I can't believe we received such a gorgeous item in a subscription box. If this is what we can expect from Coastal Co. on a regular basis then I will be a lifetime subscriber.
S'Well Destination Collection Bottle ($35)
You can't go wrong with a S'Well Bottle! I kind of wish these bottles showed up more often in subscription boxes. I love that they included one, and from the looks of things subscribers could have received different styles. I received Labradorite from the Elements Collection.
Inspired by nature, the Elements Collection features a shiny, high-gloss finish that mimics the lustre and sheen of organic materials culled from ancient quarries. Each bottle is one-of-a-kind, just like the individual who carries it.
Maui Escape Limited Edition Print ($25)
This print is from photographer Richard Podgurski Jr and I am absolutely loving it. Normally I'm not a fan of prints but this one is speaking to my heart. We recently took a road trip to the ocean and this is bringing back memories of our stay by the water. I will definitely be framing this beauty and displaying it somewhere I can see it everyday……probably in my office.
Lira Clothing Twin Palms Thermal Top ($45)
Here we have a super soft navy thermal shirt from Lira Clothing. I love that even though this is a beach-inspired subscription they took the time of year into account when curating this item. This is a great top for Fall as it will be perfect for layering. It will go perfectly with a vest, denim jacket or cardigan.
Formulary 55 Beachy Bath Fizzy ($6)
Our sparkling bath fizzies are made of ground dead sea salts mixed with our signature fragrance blends. When placed in a full tub of water, the tablet fizzes and distributes the fragrance and skin soothing oils throughout the water. I recommend one tablet per bath, although you can break each one up.
It has been a long time since I received a Formulary bath fizzy. I still remember the first time I received one of these and I have been waiting to receive another one. I love these bath fizzies. They smell amazing and they are so relaxing.
Knotty Tropical Lapel Pin ($9)
Here we have a palm leaf shaped lapel pin accented with colorful inlaid enamel. It's a small item but it fits the box perfectly and it's pretty darn cute. I'm not really one for lapel pins but this one is too cute not to display.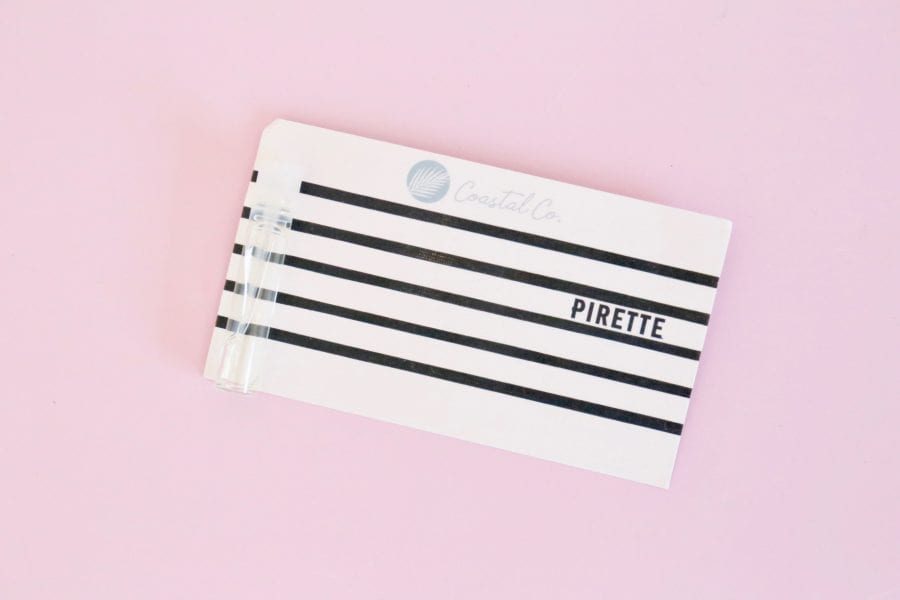 Pirette Fragrance Sample
Lastly we have a little perfume sample. I don't count this towards the value of the box, it's more of a bonus item and a way to test out a new fragrance before purchasing. It has a fresh green coconut scent which is absolutely perfect for a beach-inspired subscription box.
Coastal Co. Review Fall 2018 – Final Thoughts
Wow, wow, wow! Can you believe this box! I am a HUGE fan……with HUGE being an understatement. I had a feeling I was going to love Beachly (formerly Coastal Co.) and my feeling was right. If this is what we can expect every season then I highly recommend you sign up for an annual subscription ASAP……and get your friends to sign up as well. Keep in mind that this box only costs $99 per quarter and our hero item has a retail value of $200!!! I was sold the minute I saw the Nixon watch. I've never received anything like this in a subscription box before so I feel like Coastal Co. is setting the bar high. I am eagerly waiting for a Winter spoiler…….I have a feeling the Winter Beachly (formerly Coastal Co.) will be just as good, if not better, then the Fall box!
XOXO