DAVIDsTEA Tasting Club Review Winter 2021
DAVIDsTEA Tasting Club is the new (tea) club in town! It's like a tasting menu for teas right to your doorstep. Subscribers will receive a variety of teas (including some sneak peeks!), exclusive teaware, special offers, exclusive access to the Tea Tasting Club, and so much more!
I have kind of a fun review for you today, a review I should have shared with you quite some time ago. I say this because I subscribed to the DAVIDsTEA Tasting Club almost a year ago, I have received 3 boxes prior to this, but I am sharing it on the blog for the first time today.
Subscription Details
DAVIDsTEA Tasting Club subscribers will receive….
Get 1 box per season, delivered right to your door for a single payment of $140 or a quarterly payment of $35, and includes free shipping!
With a full variety of seasonal newness & exclusive teas, we'll feature up to 8 blends per box, which is over 50 cups of tea.
Here's a closer look at the Winter 2021 DAVIDsTEA Tasting Club….
Elf Help
Ever wonder what the elves are sipping while they wrap your gifts? Elf Help, of course! This green tea blend is made with zesty and fresh orange peel, festive cranberry and creamy coconut. Inspired by the nostalgic flavours of traditional fruitcake, this holiday tea will have you grinning all season long saying: "I just like to smile, smiling is my favourite!"
What makes it great……
This blend tastes like a traditional fruitcake dessert – minus the stuffy candied fruit.
Its caffeinated green tea base makes it the perfect wrap-a-thon sipping companion.
Buddy the Elf-approved.
Silver Bell Oolong
Ring-a-ling, hear them sing, it's oolong time in the city. Enjoy this traditional blend dressed in creamy, buttery holiday style with a light floral finish. Dotted with rolled oolong pearls, this is the perfect holiday tea for all generations.
What makes it great…..
Delicate and smooth, this oolong is a perfect traditional tea for holidays past, present and future.
This blend is inspired by the rural Chinese tradition of "monk's blend," where several teas are combined into one.
Smooth, creamy & buttery texture with floral aromas linger for a fresh feeling after every sip.
Organic Mother's Little Helper
Need to relax? Release stress and anxiety the natural way with this organic herbal tea. It's got valerian (aka "nature's Valium") to take the edge off your 24/7 reality. Plus soothing chamomile, peppermint and lemongrass for an added dose of tranquility. And pretty blue cornflowers just to make you happy. One sip of this caffeine-free tisane and you'll feel like you've spent the day at a spa.
What makes it great…..
Valerian root is known to relax nervous tension and induce feelings of sleepiness.
This tea is packed with ingredients said to help digestion and ease the mind.
Chocolate Chili Chai
Spice things up with our fan favourite chocolate black tea. Its hot secret? We laced it with ancho and Aleppo chilis and peppercorns for a surprising kick. With its sweet, rich fudgy flavour and feisty finish, this bold tea is the perfect base for the ultimate latte with a little frothed milk. If you really want to feel the heat, add a splash of cinnamon whisky. Arriba!
What makes it great…..
The combination of chocolate and chilis is very Latin American.
In its native Central and South America, the chilli pepper has a long history of use to relieve headaches and fatigue, and to improve circulation.
Capsaicin is the compound that makes peppers spicy.
Caramel Shortbread
Find satisfaction in this caffeine-free dessert tea. It's got all the melt-in-your-mouth richness of shortbread baked into a blend of willow bark, brown sugar, almond and cherry. Sweet, buttery and deliciously satisfying, you're gonna want to sip this holiday blend with your favourite teatime treats. Resistance is futile.
What makes it great….
Willow bark (aka "nature's aspirin") contains an active ingredient called salicin – a natural chemical similar to aspirin that's been used for centuries to relieve pain.
Pair this melt-in-your-mouth herbal tea with your favourite holiday cookies for the perfect afternoon indulgence.
Merry Mistletoe
Kissing under of mistletoe is a holiday tradition that dates back thousands of years. During the Roman period, enemies at war would settle their differences under mistletoe. Today, we've put that same sentiment of peace & love into Merry Mistletoe. Feel merry & bright with a tart & juicy white tea strewn with soothing mistletoe, wholesome red cranberries & a kiss of cinnamon warmth.
What makes it great….
A deliciously fruity tea with wholesome cranberries & soothing mistletoe.
Made with real mistletoe.
If you like Pomegrateful, this is another wellness holiday blend you need to add to your tea wish list.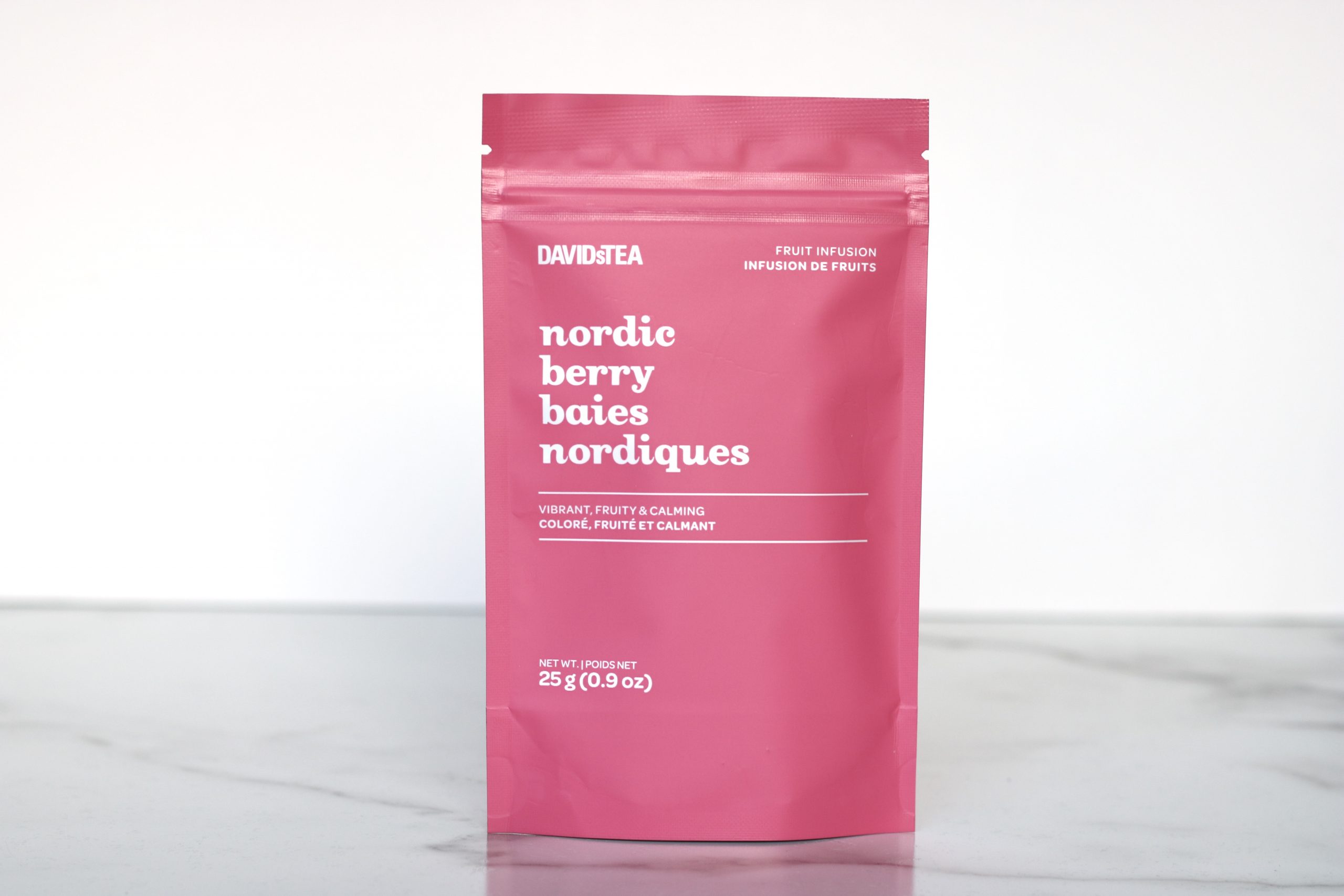 Nordic Berry
Enjoy a tea travel experience to a festive winter wonderland, without the cold. Nordic lingonberry and sea buckthorn leave you feeling rejuvenated with a fresh citrus zest. Curl up after a snowy walk and find comfort in this blend as rosy as your cheeks.
What makes it great……
The popular berry sea buckthorn is praised for its skin benefits.
Soothe your soul with calming lemon verbena, known to help reset and calm the mind.
Not too sweet, not too tart! This blend mixes both sides of the berry spectrum, making it the perfect blend for everyone.
Confetti Cup
I am in love with this adorable little confetti cup. And…..it's one of the best teaware items we have received to date. I wasn't really a fan of the tea accessories we received in the first three boxes so this is a really nice change.
We also received a couple little bonus tea samples.
DAVIDsTEA Tasting Club Review Winter 2021 – Final Thoughts
And there you have it…..the Winter 2021 DAVIDsTEA Tasting Club. I didn't give my thoughts on each tea as I would rather give you my thoughts overall. Here are a couple things I loved about the Winter box when compared to the first three boxes…..
the winter box includes a nice variety of seasonal/Christmas teas
the teaware item is the best one we have received to date
Something else I noticed is that we didn't receive a product magazine. We received one in the first three boxes and they were great. They had info on all the teas, as well as recipes, games, and other fun reads.
Overall I think DAVIDsTEA Tasting Club is a lovely subscription but it's not necessarily my favorite. Out of the 4 boxes I received the Winter box is definitely the best one but I'm choosing to cancel my subscription for the time being.
-AYOB Sarah