Decocrated Review: Christmas Add-On Box 2022
Decocrated is a home decor subscription box designed to evoke the season, keep your space feeling fresh, and work well with the pieces you already own and love. In addition to their four seasonal boxes, they put out themed add-on boxes like this Christmas one, available to subscribers only.*
*They kindly sent us this box for review
Decocrated's Christmas box is $49.99 and ships across the US.
Just like the seasonal boxes, the Christmas edition includes a product guide with styling tips for each of the items and a double-sided art print.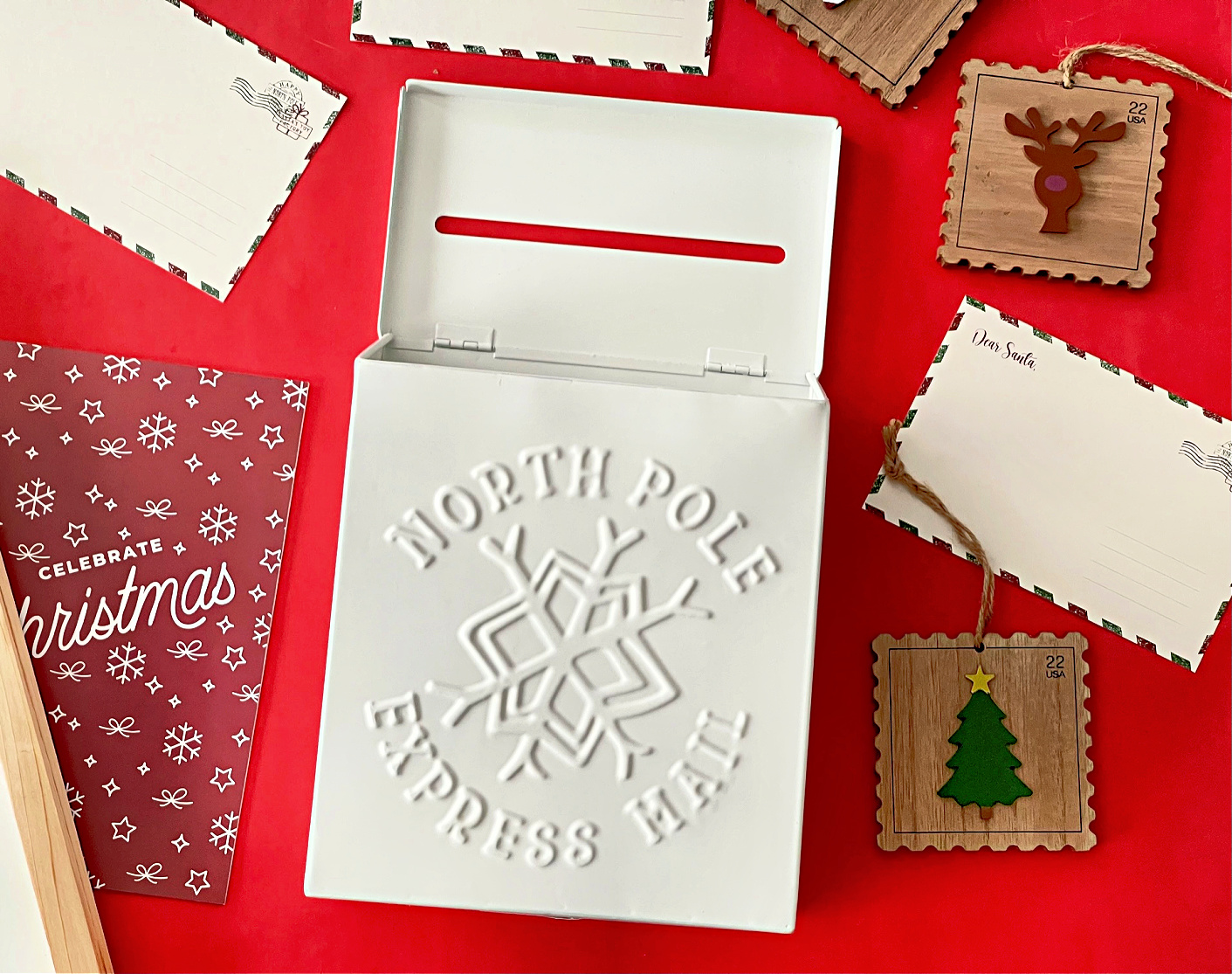 The North Pole mailbox and postcards · "Let Santa know how good you have been this year with our North Pole mailbox and postcards! This year, join in on the fun and write a postcard to the bearded man we all know and love. With three postcards that are 4″ x 6″ have your children join in on the fun. Place it on a table or hang it on a wall to add a touch of joy in your home. Once completed, place the postcards in the mailbox for Santa to receive!"
I prefer an understated colour scheme when it comes to holiday decor so I love the white on white on this mailbox and the embossed lettering effect. It's a playful piece but elegant too and so fun to style! And the postcards are a nice touch.
Three wood ornaments · "When decorating your Christmas tree this year, don't forget to add our set of three ornaments! The set includes a reindeer, a candy cane, and a Christmas tree. The ornaments are made of wood and hung with jute. All three are strong enough to hang on your tree or around you home together or mix and match. We can't wait to see what you do!"
These ornaments would make cute gift-toppers too.
Framed metal art · "Welcome in the Christmas spirit with our framed metal art! The frame has a light natural finish, and the art is printed on metal backing. Hang it up or prop it against a wall, the choice is yours. No matter the weather outside, this art print will call for sleigh rides all season long!"
A traditional, timeless piece, this print will look great with a wide variety of holiday decor styles and would be especially cute in a kids' room IMHO.
Woven pillow · "Add a fun hit of red to your couch, bed or chair with our woven pillow! The pillow is red and white on one side, and the other side is a solid red faux velvet. Decorative pom poms accent the corners. Flip the pillow around all season long to go with your decor and festivities!"
I have a thing for pillows and this cozy cover is super cute and feels well made too. I wish Decocrated had included an insert to go with it or had them on their website to order.
We have enough Christmas decor for three houses, never mind just one, but I still love to bring in a few new pieces every year. The mailbox is almost worth the price of the box alone and the holiday prints and pillow cover bring the festive without taking up much real estate (whether they're on display or socked away for another year). I think Decocrated did a great job curating this one with products that are playful, versatile and made to last. I love shopping for holiday decor but it's fun to be surprised too, and I'm pleasantly surprised by how well these pieces will go with what we already have.
Try Small Things – https://trysmallthings.com