Decocrated Review Fall 2020
Decocrated is a home decor subscription service who believes that turning a house into a home should be effortless. Decocrated is for you if you love styling your home, and you want a little inspiration. They kindly sent us this box for review.
I am beyond excited to be reviewing the Fall Decocrated today. Decorated has become one of my favorite boxes. I'm definitely thinking top 10. I reviewed the Summer box only about a week ago as it arrived late, so the fact that I received 2 boxes so close together makes it feel like Christmas.
If you love decorating your home for the seasons or need a little decor inspiration (like I do) then Decocrated is the box for you!
Subscription Details
When you sign up for a Decocrated subscription you can expect to receive 5-7 full-size items (at a price well below their retail value — you savvy shopper, you). Items may include an assortment of products, such as decorative trays, tabletop décor, throw pillow covers, table runner, small DIY projects, printed art, and more. Each box includes a Decocrated Booklet complete with product descriptions, pro tips, how-tos, and inspiration.
Here's a closer look at the Fall Decocrated…..
Art Print
This season's art print features a delicious Pumpkin Spice Latte recipe that just MIGHT give Starbucks a run for their lattes. When the bewitching season begins, flip that bad witch over and display the true essence of the season, mischievous merriment.
We receive a double sided art print in each box and the Fall prints are by far my favorite. I really, really need to find a cute frame to display these in. I'm still on the hunt for one with a burlap background and a clip to hold the print in place.
Crate
Rectangular in shape and boundless in possibilities, this little crate can go from proudly displaying your pumpkin collection to sitting pretty on your countertop. No matter how you use this fall cutie, it will always be in style and easily become your next essential.
I am loving the fact that this cute little crate came with two signs. This allows you to switch them up or match them to your decor (light or dark). I'm picturing this on the lower shelf of my entry table filled with mini pumpkins and a plaid blanket.
Basket
Weaving the perfect accessory for fall was not easy and this basket is as close as it gets. Made from intricately woven water hyacinth for a naturally textured look, this basket is sure to brighten up any space with its distinct coloration and its power of utility.
I haven't quite decided how I want to display this basket just yet but one thing is for sure….I love it! I'm leaning towards some decorative branches but still need to do a little research.
Pumpkin Decors
Good gourd these are cute! Covered in dusty teal and burnt orange flocking, these pumkpins are sure to add an enchanting touch to your classic autumnal décor. Place these beauties on your coffee table, shelf or mantle for a unique pop of seasonal color.
How adorable are these little pumpkins! And just look at the colors! These will be perfect tucked inside the crate, nestled in a pretty fall coloured blanket.
Table Runner
Adorn your table with this gorgeous runner that celebrates the beauty of fall with its simple foliage pattern. It is the perfect addition to dress your table where seasonal memories are made over a delicious array of Thanksgiving treats and good company.
This table runner couldn't be more perfect for the Fall season. I love that they went with neutral colors and a simple pattern. It's a nice way to dress up the dining table for holiday dinners.
"Our Happy Place" Metal Sign
This metal and wood tabletop sign is the perfect reminder that our home is our sanctuary. Whether its the whole house or just your bathroom, that is for you to decide. Regardless, we all have that sacred space in which we let the world melt away and we are full with happiness.
This sign is so fun and so easy to decorate with. I have so many places in mind. It would be cute on the entry table, on a shelf in the living room, a bedside table or even our downstair TV stand,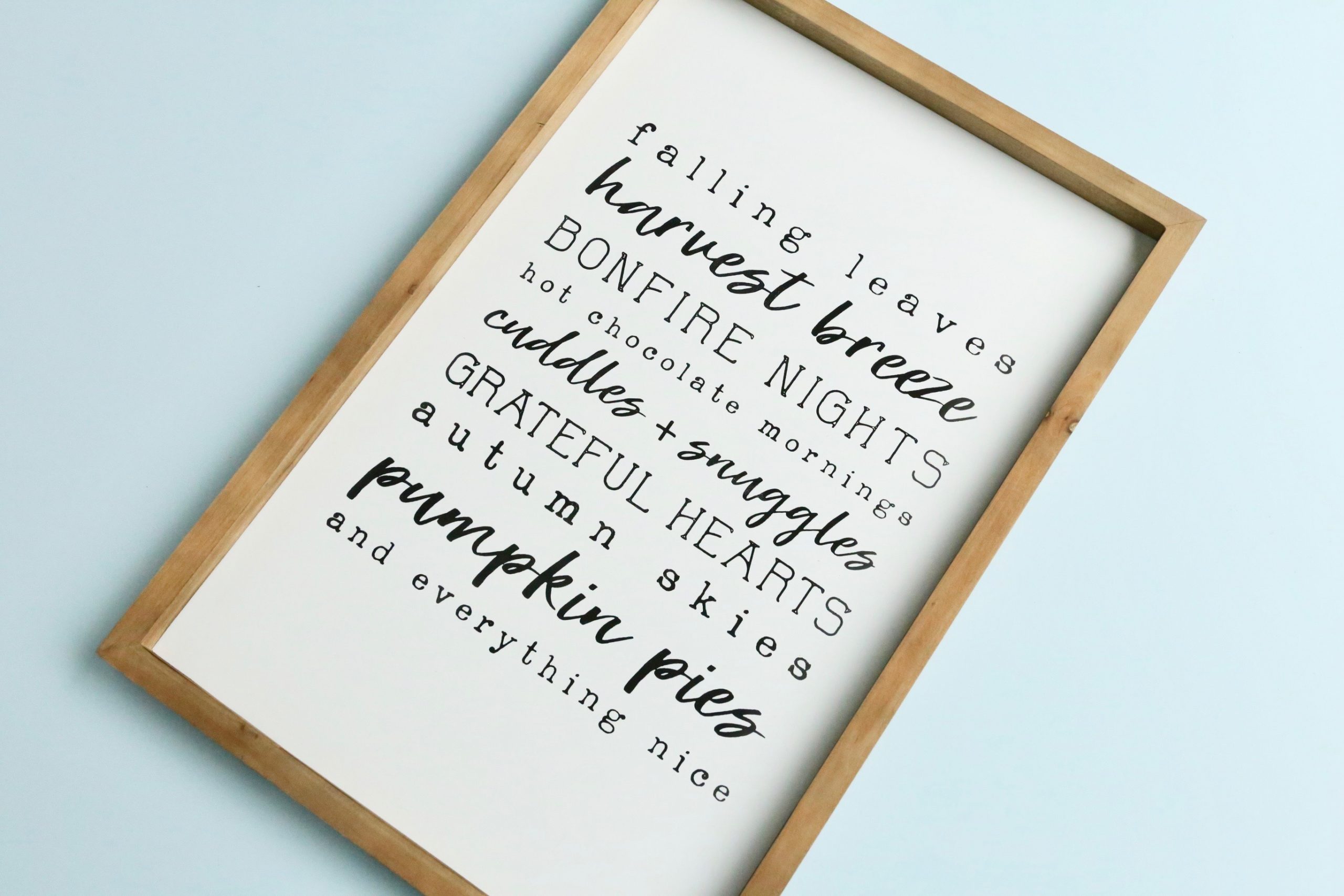 Wall Art
There are many things to love about fall and this framed wood art does just that. Celebrate all the marvelous wonders that the season has to offer by displaying this typographic décor on your entryway table or even creating an autumnal gallery wall.
This is hands down my favorite item in the box. I am in love with this art piece. I love the fall vibes, the wood frame and the simplicity. I already have it displayed in our tv room. I have it stacked with a very large art print and the wood frame mirror from the Summer Decocrated box.
Centerpiece
This centerpiece is a DIYer's dream come true. Made to be adorned and styled, create a fall tablescape by wrapping some eucalyptus around the hoop and layering with mini pumpkins. Want a hauntingly gorgeous spruce up? Add a black twig garland with dark florals for a wicked take on this everyday accessory.
Oh…..how fun is this! I love the idea of using it as Halloween decor and that's probably what I will end up doing with it. But I also love the way it looks with the Fall table runner. Either way I will definitely get use out of it.
Decocrated Review Fall 2020 – Final Thoughts
Decocrated has won a special place in my heart. I am in love with both the Fall and Summer boxes as they both provided me with some amazing home decor pieces. Most of which I have already found a place for. The Fall box is absolutely perfect. It has just the right amount of Fall inspired decor as well as some really great basics that can be used year round. The wall art is my favorite item in the box. I would love to see something similar in the Winter box. As far as home decor subscription boxes go, Decocrated is at the top of my list.
-AYOB Sarah