Decocrated Review Halloween 2020
Decocrated is a home decor subscription service who believes that turning a house into a home should be effortless. Decocrated is for you if you love styling your home, and you want a little inspiration. They kindly sent us this box for review.
Oh my goodness! It's here!! I have been waiting for this beautiful little box (well it's not so little) to arrive. It just might be one of my most anticipated boxes for October. If you are familiar with my reviews you will know that I LOVE my Decocrated boxes. But what I love even more is that they have added a new feature for subscribers this year in the form of add-on boxes.
In addition to our seasonal shipments, subscribers can also choose to purchase add-on boxes and so far they have released a Halloween add-on box (today's review) and a Christmas add-on box (review coming soon). Halloween is one of my favorite holidays so I am beyond excited for this box!
Subscription Details
When you sign up for a Decocrated subscription you can expect to receive 5-7 full-size items (at a price well below their retail value — you savvy shopper, you). Items may include an assortment of products, such as decorative trays, tabletop décor, throw pillow covers, table runner, small DIY projects, printed art, and more. Each box includes a Decocrated Booklet complete with product descriptions, pro tips, how-tos, and inspiration.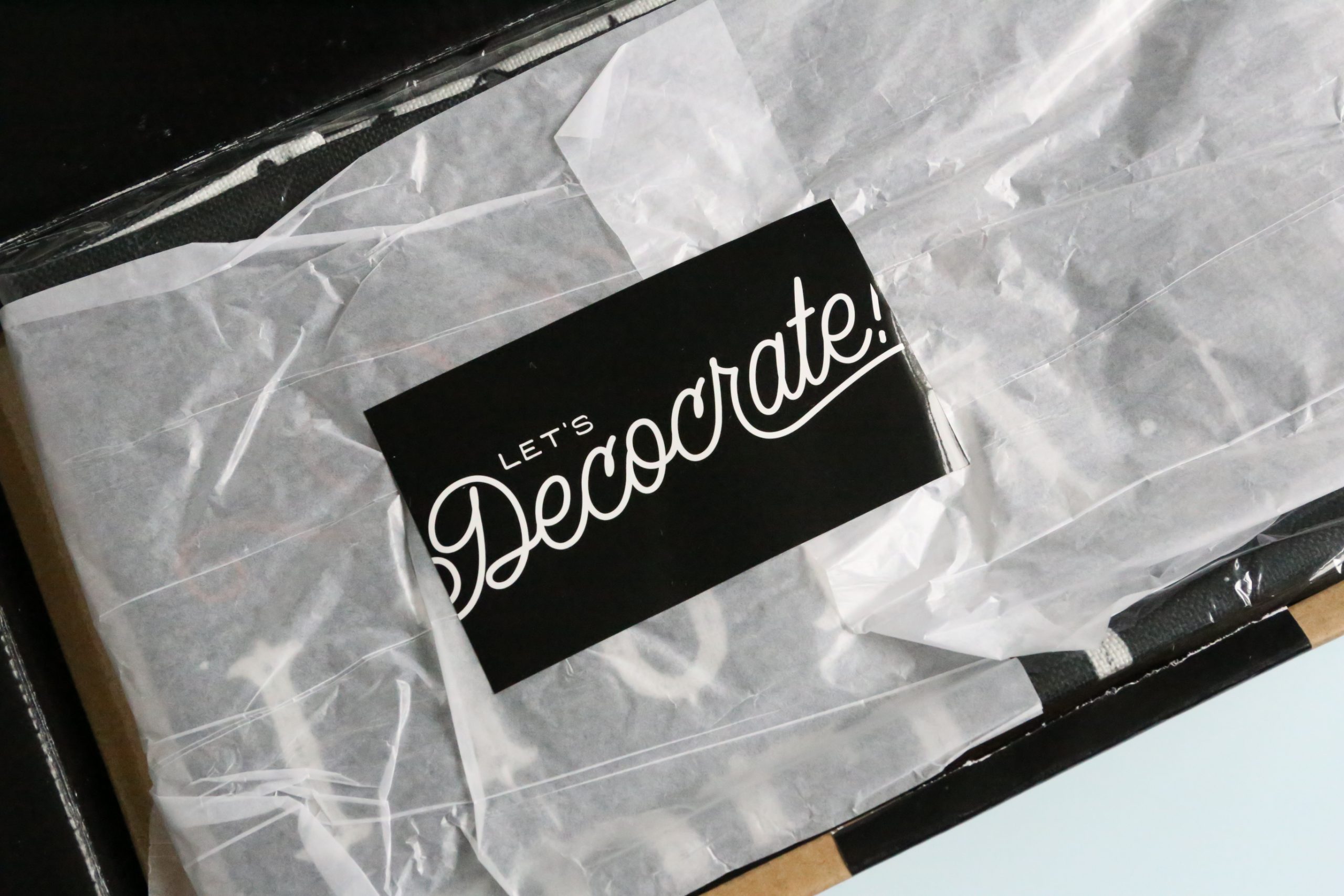 Here's a closer look at the Halloween Decocrated…..
"Something wicked is brewing and with it comes all things magical and mystical. This Halloween is all about casting a spell on your home and illuminating the nighttime with the moon and stars. Burnt orange and the ever-so-haunting black are what this supernatural and mischievous holiday is all about."
The Art Print
We receive an art print in each box and I am in LOVE with this Halloween inspired print. I need to get a frame for this ASAP because it's just that good. It's a simple little detail but I love that we receive a new print each season/holiday.
The Magical Pillow
Cast a spell with this mystical throw pillow whose very magical power is to provide double-sided goodness. One side is an enchanting proclamation and the other side is full of mischief and mystery with its iconic pattern. No matter the side, it is sure to beguile all those that feast their eyes upon it. 
Eeek! I am obsessing over this pillow! I love both sides and wish I had 2 or 3 more. I want one for my livingroom couch, my reading chair and our downstairs tv room. It couldn't be any more perfect.
The Potion Bottles
Eye of Newt and Toe of Frog, sprinkle Moon Dust and Tongue of Hog. Make me a charm of double with bubbles, Witch's Brew is all but trouble. This set of wooden potion bottles will adorn your home this season and be sure to cast a spell of jealousy. 
I saw spoilers images for these cute little potion bottles but they are so much better in person. I couldn't quite figure out what they were made of or how thick they were. I kind of thought they might be a thick card stock but they are actually wood! They are quite sturdy and will be so cute on my front entry table.
The Star Lanterns
Bring a touch of the celestial sky to your home with these matte black and gold lanterns. Made using the traditional Japanese aesthetic of wabi sabi, a world view that is centered on the acceptance of imperfection, these hand- crafted lanterns are an impeccable addition to any room. 
These lanterns are absolutely wonderful! I have so many places in mind for these but will probably end up putting them on the same table with the potion bottles. I love these mostly for their versatility. They are perfect for Halloween but could easily be used year-round.
The Pop-Up Art
No Halloween would be complete without the usual suspect, pumpkins! This framed pop-up art is a traditional nod to the classic pumpkin trio, while adding a little pop and fun in between. Boxed within a hand-drawn dotted pattern, this little spooky cutie does its best to be ghoulishly delightful. 
This framed pumpkin sign is just so darn cute and so easy to decorate with. It can be used with the other pieces from this box or you could place it with the pumpkins and wood art print from the Fall box.
Decocrated Review Halloween 2020 – Final Thoughts
Oh my goodness! What a fun box! I had high hopes for the Halloween Add-On Decocrated box and my expectations were exceeded. They did a wonderful job providing subscribers with fun pieces that are easy to decorate with and will complement all decor schemes. I love every piece in the Halloween box and will keep them for years to come. I also love that they can be used with some of the pieces from the Fall box – wood crate, velvet pumpkins and Fall art print. I don't want Halloween to be over yet but this has me VERY excited for the Christmas add-on box!
-AYOB Sarah