Decocrated Review Summer 2020
Decocrated is a home decor subscription service who believes that turning a house into a home should be effortless. Decocrated is for you if you love styling your home, and you want a little inspiration. They kindly sent us this box for review.
I'm quite late with my Summer Decocrated review but as I always say, better late than never. Especially when it comes to this box in particular as it is one of the best Decocrated boxes to date! I feel very lucky to have received the Summer box as it was highly coveted thanks to one of the main decor pieces featured this season. We will get to that in a minute…..
Subscription Details
When you sign up for a Decocrated subscription you can expect to receive 5-7 full-size items (at a price well below their retail value — you savvy shopper, you). Items may include an assortment of products, such as decorative trays, tabletop décor, throw pillow covers, table runner, small DIY projects, printed art, and more. Each box includes a Decocrated Booklet complete with product descriptions, pro tips, how-tos, and inspiration.
Here's a closer look at the Summer Decocrated…..
All of the items come packaged in their own individual box which is something I very much appreciate. I don't necessarily love the additional packaging when it comes to the environment but it does prevent the decor pieces from becoming damaged during the shipping process.
The Art Print
Pull out your ol' six string and get ready to welcome summer with this season's art print. One side vibrantly greets you with a warm "Hello Sunshine", while the other is a display worthy pattern filled with tropical greenery and citrus fruit.
Each season we receive a new art print and I always love the designs. I keep meaning to get a frame specially for these so that I can switch them out each season.
The Summer Pillows
Greet the summer solstice with these folia-icious pillow covers. One side shows off some jungle vibes with leafy vines imprinted on a warm, yellow canvas material. Want to show your more neutral side? Flip these lovelies over and voila! Regardless which side you choose, style is on your side.
We don't receive pillow cases in every box but we have definitely received them before. I always end up loving the boxes that include pillow covers because I get so much use out of them. These ones are pretty darn awesome as they are double-sided making them that much more versatile.
The Geo Planter
This gilded planter will proudly display your greenery and florals with unmatched elegance. Break all the rules and use the functionality of this beauty by using it as a bin for all your essentials.
I haven't decided what I want to do with this beauty yet, but one thing is for sure, I absolutely love it. I have seen it as a shelf display filled with flowers, I have seen in hanging in a bathroom filled with hand towels, and I have seen it on an office desk filled with stationery. I love all the possibilities but am leaning towards some sort of greenery…..maybe seaonally inspired.
The Wood Mirror
Mirror, mirror on the wall, who's the fiercest of them all? You are and this mirror is here to show you just that with it's neutral wood frame and gold link chain. It makes a great addition to your growing gallery wall or find that perfect spot to give you that last glance as you walk out the door to slay-the-day.
I am 100% in love with this piece and already have a home for it in my downstairs TV room. I have it displayed on a ledge stacked with a large wooden sign and a smaller wooden print from the Fall box……stay tuned for that review.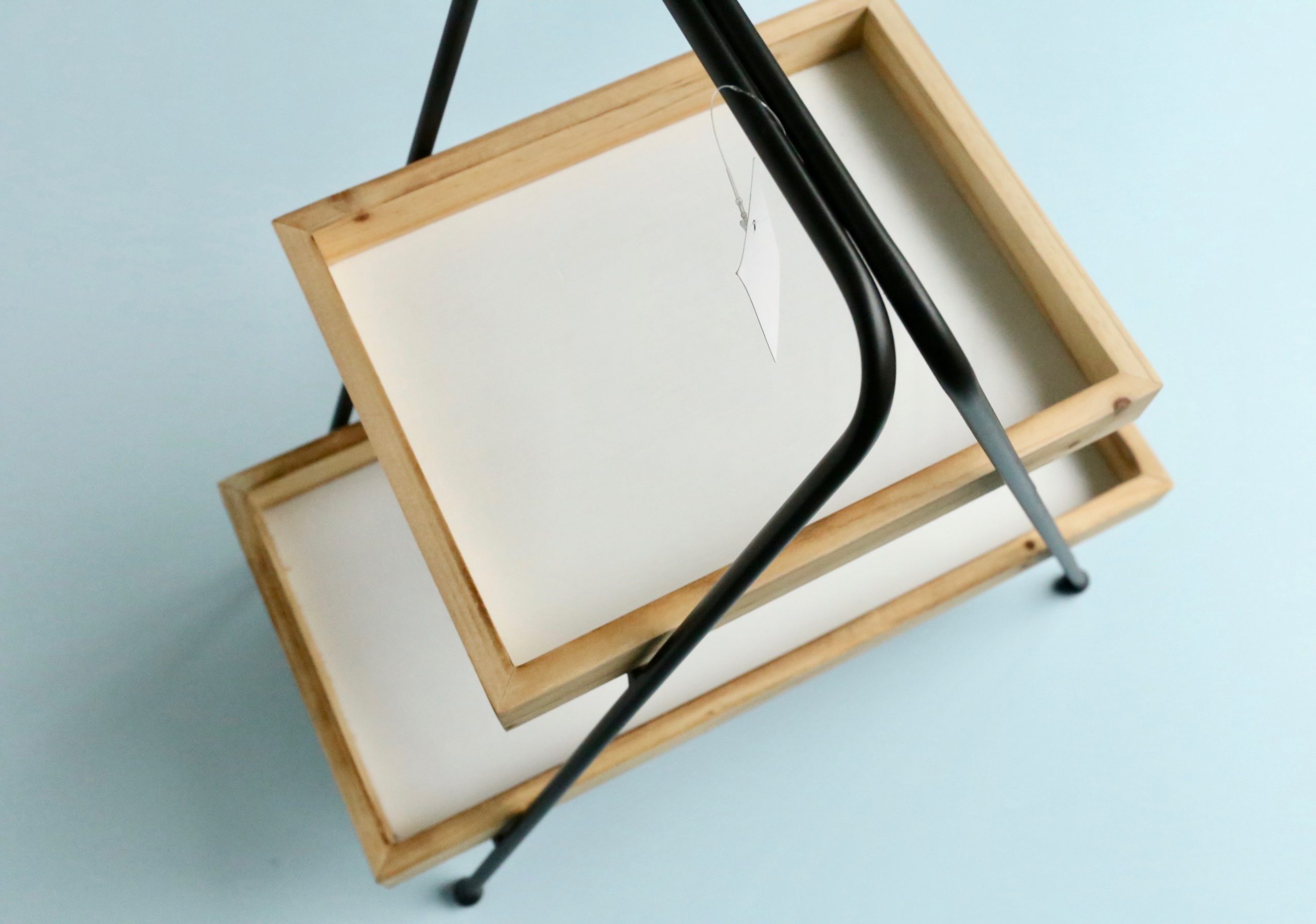 The Two Tier Tray
Start summer off right by breaking the mold with this two-tiered serving tray. Rectangular in shape and innovative in functionality, this ain't your traditional farmhouse accessory. This sweet lady can be used as a display for your summer collections or separate and serve up some goodness on a hot day.
And here it is……the most popular piece from the Summer box, and for good reason. I've been wanting a tray like this for quite some time. It is the perfect decor piece as there are so many ways you can use it. My favorite is as a seasonal piece to display smaller decor items mixed with some of my Rae Dunn coffee mugs. I also like the idea of using it on the bathroom counter to hold all your necessities.
The Summer Rug
A woven rug to collect all of summer's dirty ways. Use this as an indoor rug to add a touch of dusty blue to any room or get trendy and layer with a smaller coir rug atop for a more stylish look. No matter which way you choose to display this banded beauty, you can't loose.
I never used to appreciate woven rugs but now that I have opened my mind to all the different ways one can decorate with them I actually really love them. For example, they don't just have to be for the front door. I have plans to use this one in my TV room displayed in front of a tall mirror that I have leaning against the wall. I will place this in front of the mirror with a plant to one side. So fun!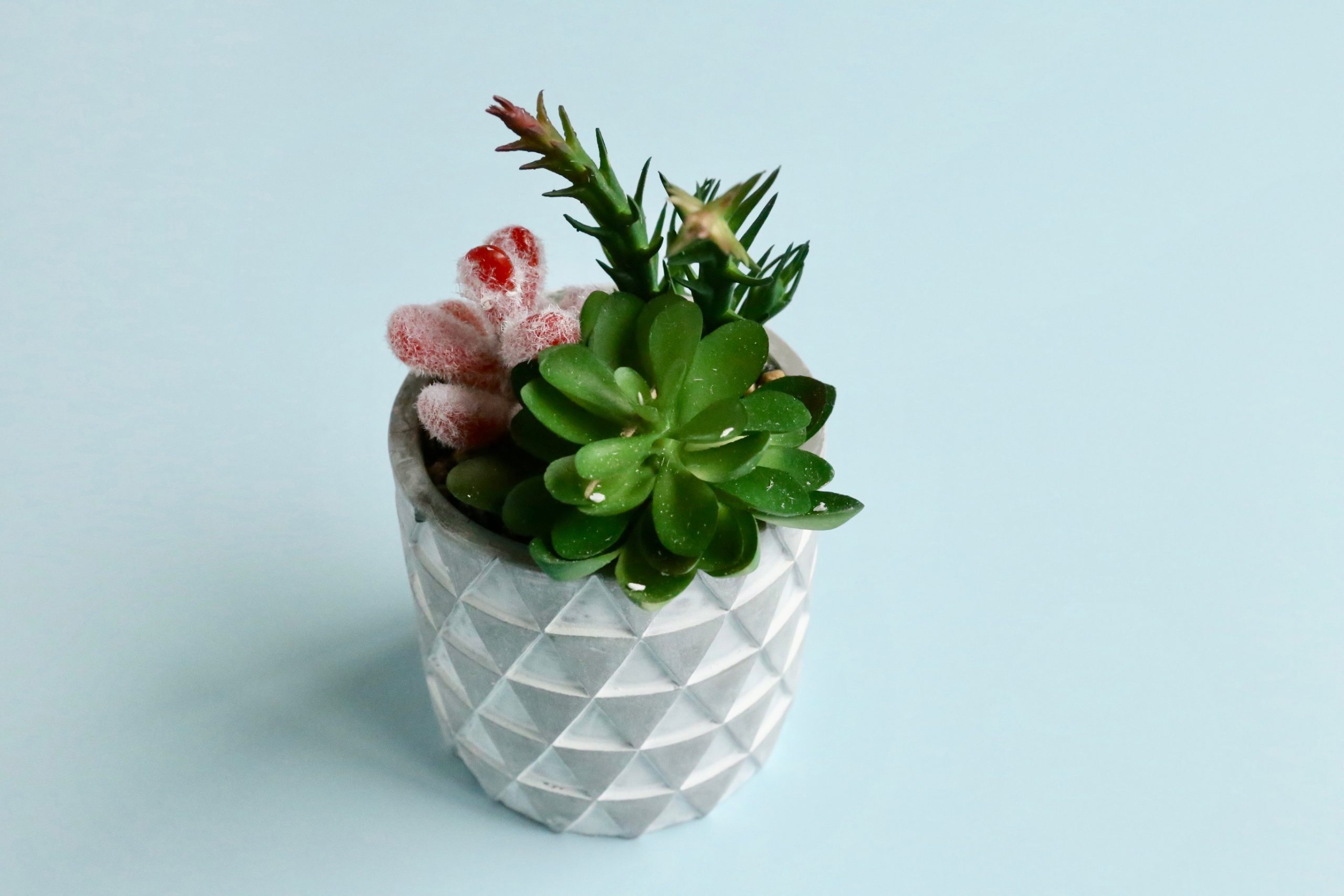 The Succulent
Breathing life into any room that is graced by its presence, this collection of faux succulents is a must-add to your decor. Encased in a geometric-stamped concrete planter, this motley crew of cacti will be doing it's thang when displayed on a shelf or coffee table.
This is another little beauty I don't have plans for as of yet, but I do really love it. I'm sure it will end up in my office on one of my shelves, but that is yet to be determined.
Decocrated Review Summer 2020 – Final Thoughts
Have I told you how much I LOVE my Decocrated boxes?! I'm sure I have mentioned it in the past but thought it was worth mentioning again, especially because the Summer box is so darn good! I truly appreciate the value received as home decor isn't something I am naturally good at. I need a little help, I need a little inspiration, and I definitely need someone else to pick out the pieces for me. Once I have them in front of me I can usually take it from there, but even if I can't I can always refer to the Decocrated style guide and/or their social media for a little help. The Summer box specifically brought with it some amazing pieces, including the highly sought after two tier tray. That alone adds value to the box.
Stay tuned as I have the Fall review coming up very soon, and it is just as good…..if not better.
-AYOB Sarah