Decocrated Review Winter 2020
Decocrated is a home decor subscription service who believes that turning a house into a home should be effortless. Decocrated is for you if you love styling your home, and you want a little inspiration. They kindly sent us this box for review.
Home decor subscription boxes are among my favorite to receive. I LOVE to decorate our home but I don't have time to shop and I need a little help in the creativity department. I know what I like, but I need a little push in the right direction. Decocrated is perfect for me because they provided me with versatile pieces, as well as style tips and inspiration. I have a lot of fun with this box and get very excited when I see it sitting at my door.
Subscription Details
When you sign up for a Decocrated subscription you can expect to receive 5-7 full-size items (at a price well below their retail value — you savvy shopper, you). Items may include an assortment of products, such as decorative trays, tabletop décor, throw pillow covers, table runner, small DIY projects, printed art, and more. Each box includes a Decocrated Booklet complete with product descriptions, pro tips, how-tos, and inspiration.
Here's a closer look at the Winter Decocrated…..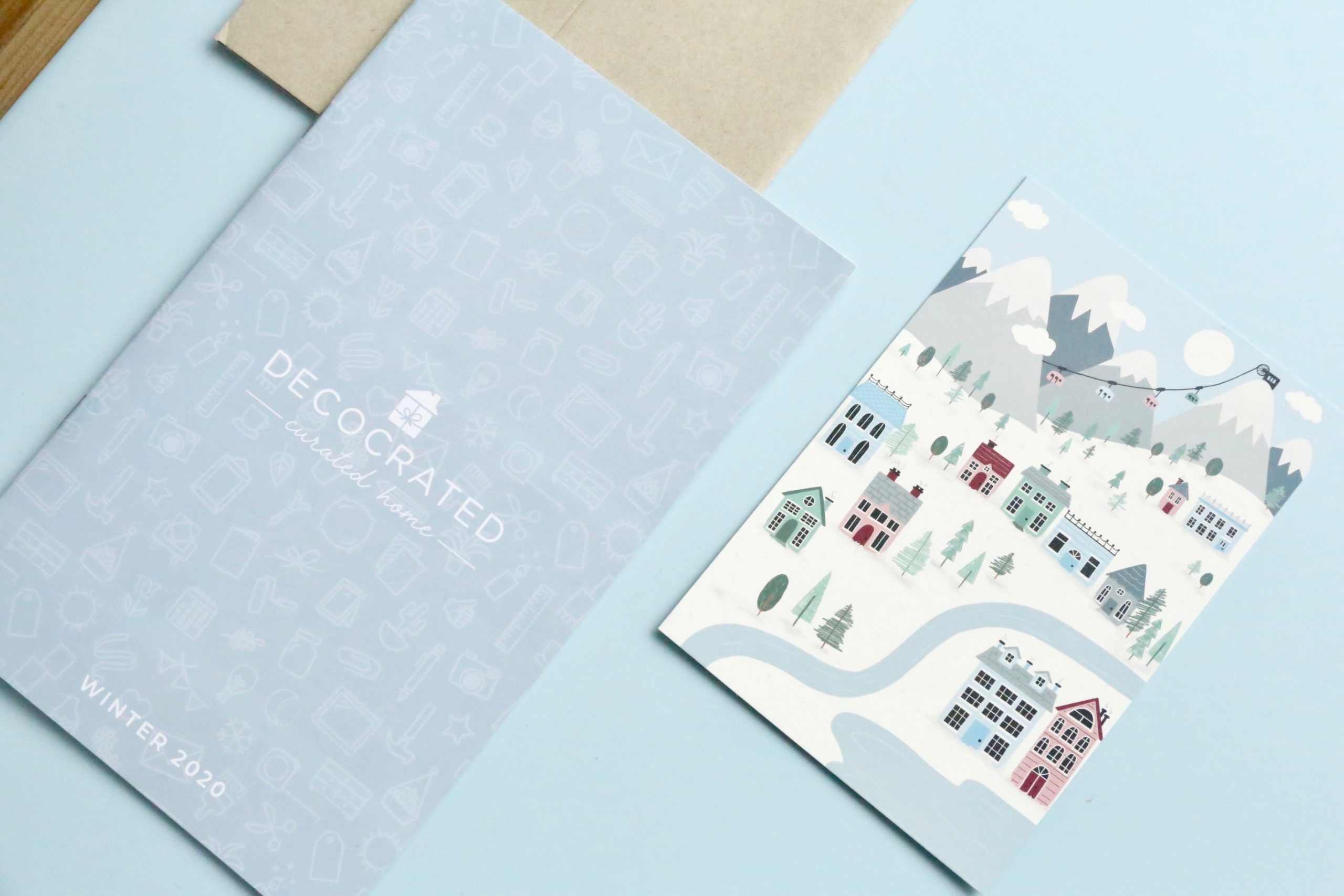 The Art Print
The magic of winter comes to life in this season's art print. One side is reminiscent of cool winter skies and icy botanicals. The other side welcomes your sense of wonder to a whimsical winter village filled with snow-capped mountains and frozen lakes.
I love receiving these little art prints each season. It's a fun (and quick) way to update your frames, and the fact that they are double-sided makes them even more fun!
The Framed Art
Cascading water-colour botanicals adorn this natural wood framed art. Curate your own holiday art collection and create a winter mantle filled with brush tress and snow-tipped greenery. Not only is this a great addition to your seasonal decor, but keep it out year-round for that touch of green to adorn your home.
We received a framed art piece in the Fall box and it's one of my favorite Decocrated items to date! I would love to see a piece like this in every box. It's so easy to decorate with. I like to stack these with a larger print and a smaller decor item.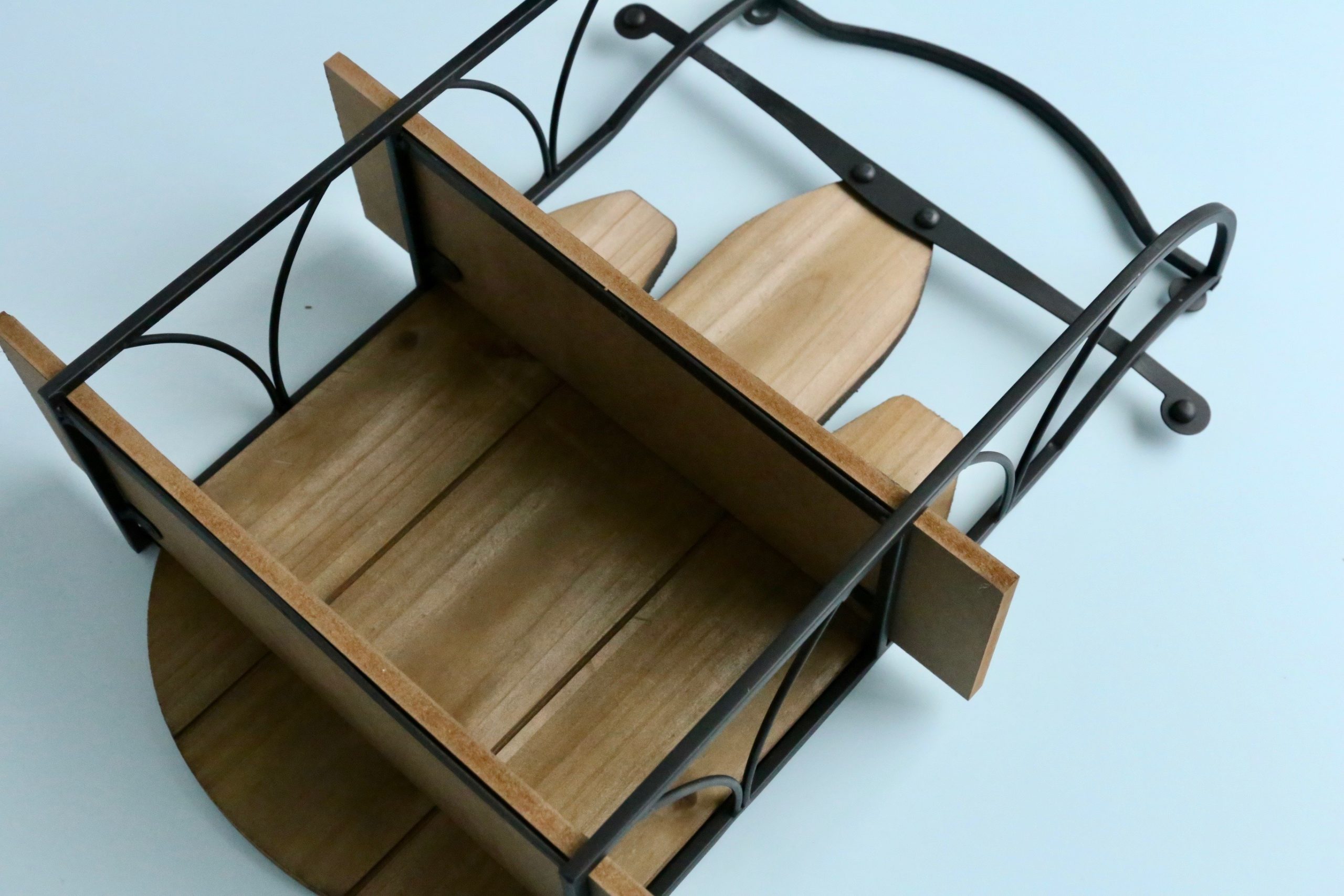 The Sled Shelf
Sleigh bells ring, are you listening to your inner kid taking an imaginary trip down a snowy mountain? This festive and adorable shelf will have you yelling your love for it as you slide down the hills into holiday fun and everyday functionality.
This sled shelf is so beautiful! I love the style tips included in the product booklet as it shows subscribers just how many ways there are to display this. It can be used year-round, and it's perfect for displaying the village house and calendar below…..
The Winter Pillow
Inspired by an evergreen forest surrounding a charming winter village, this double-sided lumbar pillow will add a touch of holiday magic to your cushions. Want a pop of color instead? Make a wish and flip it over to reveal a lovely green for your home.
Switching out 1 or 2 of your pillow covers is a quick and easy way to update your decor each season. We usually receive one (or two) in each Decocrated box and they are an item I always look forward to. So far my favorite is the one from the Halloween add-on box, but with that being said I really have loved all of them to date.
The Village Houses
The winter holiday wouldn't be complete without a picture perfect village to decorate your home. Not only are these little homes unique and charming, but they are the perfect pop of color to add to any holiday decoration of your choosing.
These little houses are just so darn cute! I love the soft colors and I LOVE that we received a tree to display with them. Once again Decocrated has provided us with a fun holiday-inspired piece (or set in this case) that is easy to decorate with. Place them on your new sled shelf, the two-tier stand from the Summer box, your entry table, shelf……the possibilities are endless.
The Tabletop Calendar
How do I love thee? Let me count the days. This perpetual calendar is the perfect tabletop accessory because of its functionality and downright cuteness. Whatever the day, wherever the locations, this everyday item is definitely a great addition to your home.
Eeek! I've always wanted one of these. My sister has one displayed in her kitchen and I admire it every time I visit. It's such a fun little piece. Now I just need to decide where to use it. I like the idea of having it in the kitchen, but I also want to use it in my office.
The Boho Snowflake
Just like a snowflake falling from the winter sky, this one is just as unique. Composed of multi-stained wood pieces and pieced together in a mosaic star pattern, this beauty is sure to guide your holiday decor in the right direction.
Lastly we have this beautiful snowflake. It goes with all the other pieces perfectly and will be very fun to decorate with. The product booklet shows it stacked with the framed art print or hang from a wall hook at the front door. I really love the way it looks with the art print so that is most likely what I will do with mine.
Decocrated Review Winter 2020 – Final Thoughts
Decocrated has done it again! They always put together the perfect collection of seasonal goodies for us home decor enthusiasts. Each box makes me very excited to decorate my house, it saves me a trip (or 5) to the store, and it provides me with pieces I never would have found on my own. I have such a lovely collection of decor pieces from my boxes over the last year, not to mention the collection of holiday pieces I have packed away that I get to bring out each Christmas. I can't say enough about this subscription. My home wouldn't look the same without it:)
-AYOB Sarah