Dermy Doc Box Review Winter 2022
Dermy Doc Box is a seasonal subscription skincare box curated by a board-certified dermatologist with the goal of bringing an affordable assortment of dermatologist-selected skincare products directly to your door.
Each Dermy Doc Box is valued at over $100 USD and includes five or more Dermy Doctor approved skin and hair products. This quarter's box is worth over $130.00!
Subscription prices are as follows (all prices in USD):
Subscribe and save – $49.99
One-time purchase – $59.99
Shipping in the US is free; shipping to Canada $17/month.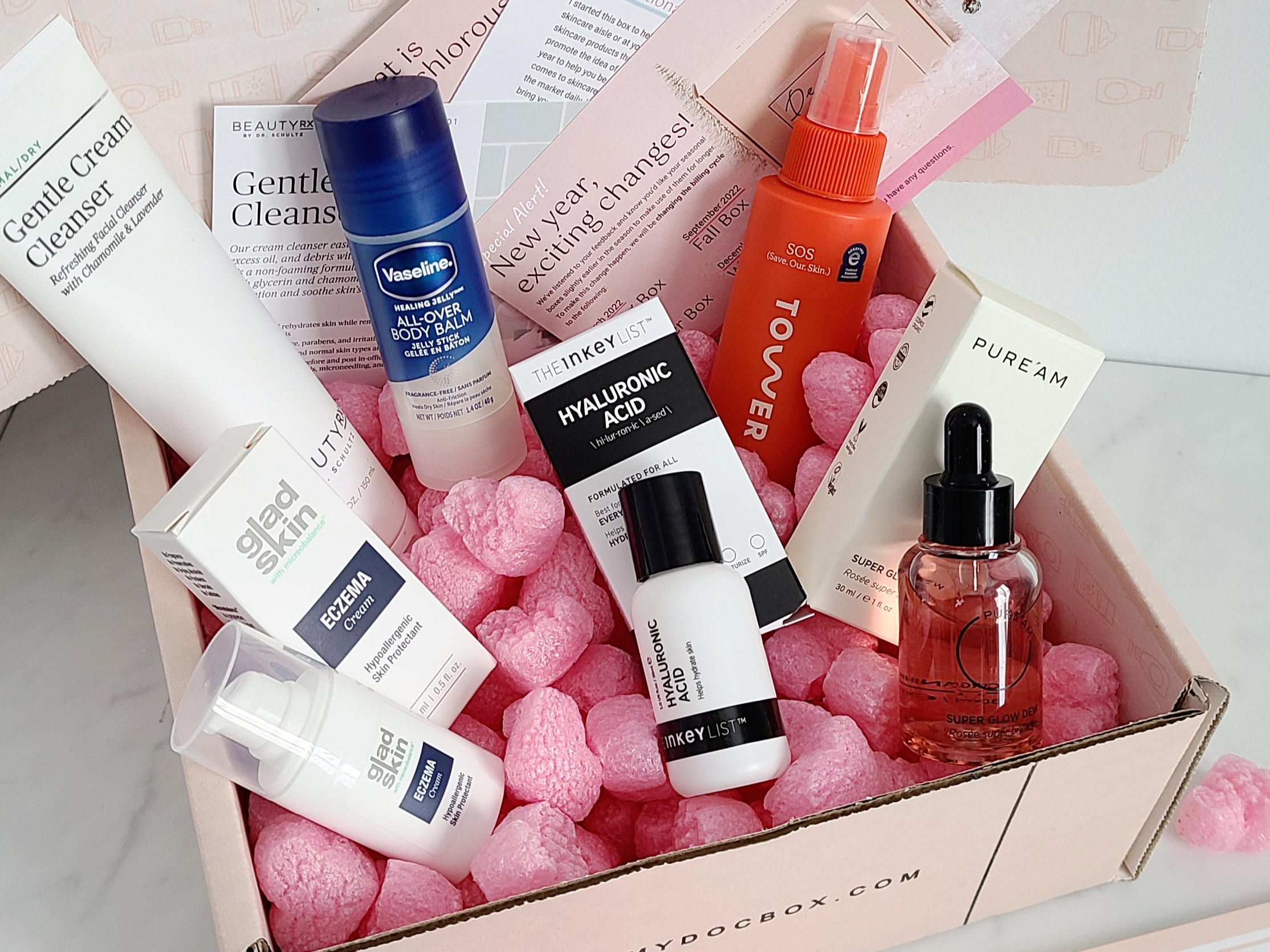 Each Dermy Doc Box includes a helpful pamphlet and card, written by Dr. Fahs, that provides detailed info on the products, directions for use, special tips and exclusive discounts from retailers. The winter Dermy Doc Box is all about being intentional with your skincare purchases and routine.
Beauty Rx – Gentle Cream Cleanser ($28.00)
I usually struggle to find a cleanser that will take off my makeup and maintain my skin's moisture barrier, but this cleanser does just that. It's probably the most gentle cleanser I've ever used and is able to cleanse my face without over-drying my skin. I also love that you only need a dime sized amount to completely remove surface dirt and debris.
Pure'am – Super Glow Dew ($45.00)
I was thrilled to see this lightweight face oil in this month's Dermy Doc Box: talk about luxury! Packed with vegan squalane and the purest organic oils, this beautiful bottle of youth feels amazing on my skin as a last step of my skincare routine. My skin feels brighter already.
Tower 28 Beauty – SOS Daily Rescue Facial Spray ($28.00)
I have been struggling with maskne since the early days of 2020, and I thought I would have to live with it until the mask mandates had been lifted. But this facial spray has quite literally SAVED my skin. Used daily, it has soothed and calmed my irritated and red skin beneath my mask. I really love that while it can be used in the AM and PM as a part of my routine, it also can be used throughout the day over your makeup to refresh the skin. My only wish is that this product also came in a travel size so I can keep one in my purse!
The Inkey List – Hyaluronic Acid Serum ($7.99)
I have wanted to try out the Inkey List products for ages and i'm thrilled that it's their hyaluronic product. If there is any reason why my skin has remained even remotely moisturized it's because of hyaluronic acid. This serum is easy to apply, goes on smoothly and bonus – you only need a little tiny pea sized amount to hydrate and plump the skin. I love a product where only a little dab will do ya.
GladSkin – Eczema Cream ($19.00 sample/$35-$55 full-sized)
After the birth of my son, I developed a touch of eczema on my arm that just will not go away. I feel like I have tried everything, but that itch just won't quit. This product looks promising and can be used anywhere on the face and/or body. I've now been using it for a few days and I think I'm actually noticing a difference. If you have a stubborn eczema patch that just won't go away; this may be the product for you!
Vaseline – All-Over Body Balm Stick ($5.99)
After a winter walk with the family, our cheeks are always red, cold and exceptionally dry. I brought this balm stick with us on our last few family trudges in the snow and was able to easily apply it before and after our outings. I truly think if my son could talk, he would have thanked me. Having something that was healing while locking in moisture made our time in the great outdoors a little less painful. I'm unsure why I've decided to live in a province where the air hurts my face – but at least I have some amazing products to get me through to summer.
Skincare Organizer ($24.99)
I am always thrilled by what is inside the Dermy Doc Box – but I definitely did not expect to find this 360 degree rotating adjustable skincare storage acrylic organizer. It has made storing and organizing my skincare so easy and saved so much space on my bathroom counter! I found it easy to assemble with the provided instructions and while mine did arrive with the top tier chipped off, it is still functional and looks great. Now I need more skin care products to completely fill it up….
Dermy Doc Box Review Winter 2022 – Final Thoughts
As always, I enjoy all of the products found within this season's Dermy Doc Box and I love that all the included products have been selected with such intention from Dr. Fahs, a board-certified dermatologist. The detailed pamphlets are full of product descriptions and tips of how the Doctor, herself, would use the products. I feel as if I am being recommended products by a trusted (highly educated) friend.
Kylie Smith – https://www.kyliesmithable.com