Dispatch by Breakout Review May 2019
Dispatch by Breakout will bring you on awesome adventures of mystery solving and real life stories. You will feel immerse as if you were part of the story and deeply involved in the case brought to you. Fan of "Escape the room" type of games and well thought games, this box is for you.
I played lots of "escape the room" games, so Dispatch was really calling to me. My husband and I love to unravel mysteries and were very pleased to have the opportunity to try this subscription box.
Dispatch kindly sent me the "On the run" story to review. It is 7 chapters long, and I will review one box per month, so stay tuned. Before I start with the story and the box, here are the subscription basics:
Step 1: JOIN DISPATCH
Subscribe to Dispatch, choose your story, and your first package will be in the mail immediately. Then, you will receive a new box each month.
Step 2: OPEN PACKAGE
Open the box to find physical clues that lead you to the web and back to the real world to unravel a mysterious crime.
Step3: SOLVE THE MYSTERY
Unravel the tangled web of clues found in each package, as additional details are revealed with every package.
You subscription can be paid month-to-month ($24.99), every 6 months ($124.99) or for a year ($199.99). You can also purchase a complete story all at once.
This month, I discovered the introduction box, the first box of the seven chapters story.
Here is the main plot:
In this story, I discovered that my best friend James disappeared. He was not his normal self recently, and I am worried something bigger than I thought is related to his disappearance. He is my best friend, what else can I do than put my detective cap on and look for him and unravel this mystery? You can rest assure, I won't give up on him (even if it is just a game!).
Reading the intro, I want to jump right in to the story. First, I check what I got to start my journey. Let me show you the items I received to start my adventure.
The pièce de résistance: The journal. My character has put a lot of information in there (exactly 29 pages of text, hand written). My journal chronicles the events preceding the disappearance of James. I will most certainly refer to it until the end.
I can already see that these three newspaper articles are going be important. (The paper is like real newspaper!) I will have to look at that website and Instagram page, I might find more information about what happened.
I feel like I really have been invited to a wedding and kept the invitation card in souvenir. There is an address, a date and most importantly a website to check. I already tested it and it works! I could RSVP, and received an email with a link for the photos.
I think I will use the wedding program a lot. It is like a phone book with all those names and how they are linked to the characters. I also have a little description for many of them. The more knowledge I get, the more I feel like I am a part of the story.
I do not know what to make of that wedding toast. The story behind it tells me a bit more about my friend James, like how he liked to play detective when we were kids. Did he found himself in some dark business while trying to see the truth in some shady stuff?
Like the newspaper articles, these looks so real. I must have kept them since my best friend made the front page with his famous wife. I wonder if I could find the articles online…
This business card might be very useful if I get stuck. Baileydetectives.com is my help line. You can literally submit a form with your question or send an email to get some help. There is also some basic tips to be a good detective. I hope I won't need help, but it is reassuring to know I will not have to stop playing if I really cannot find what I am looking for.
My friend James left me a note on a napkin. What happened to him? Why doesn't he want my help? I wonder when he wrote the note, and on what occasion. There might be something about that in my journal…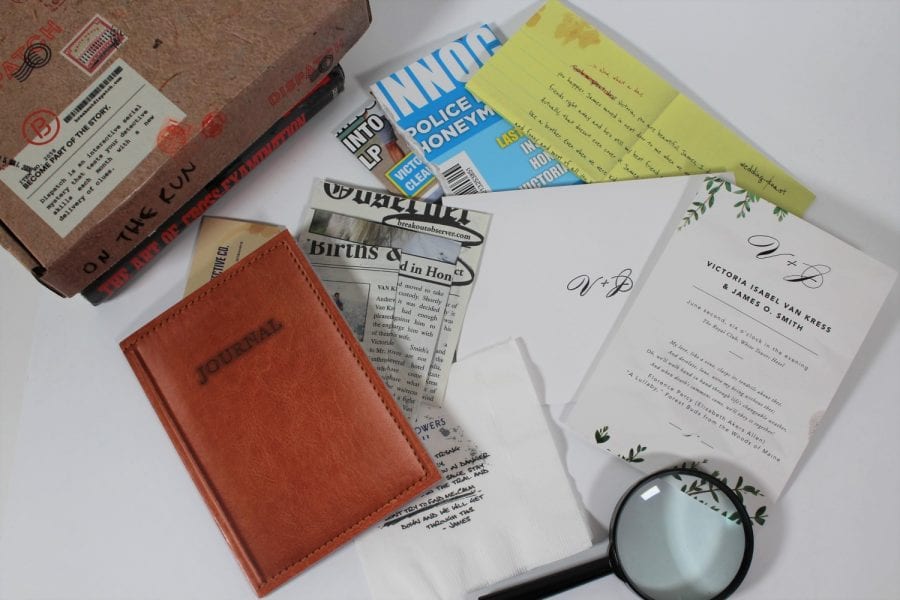 Dispatch May 2019 Review – Final Thoughts
Wow! I am amazed by the amount of details in this story. I have played many similar games, and Dispatch is truly one of a kind. There is definitely a lot of work involved in this game and I have only seen a box so far. The items feel so real, it makes you feel really involved in the case. James, don't worry, I will find you (in a few months)!
Jacynthe Létourneau – https://www.instagram.com/miss_minamie/