Dispatch Review July 2019
Dispatch by Breakout will bring you on awesome adventures of mystery solving and real life stories. You will feel immersed as if you were part of the story and deeply involved in the case brought to you. Fan of "Escape the room" type of games and well thought games, this box is for you.
I played lots of "escape the room" games, so Dispatch was really calling to me. My husband and I love to unravel mysteries and were very pleased to have the opportunity to try this subscription box.
Dispatch kindly sent me the "On the run" story to review. It is 7 chapters long, and I will review one box per month, so stay tuned. Before I start with the story and the box, here are the subscription basics:
Step 1: JOIN DISPATCH
Subscribe to Dispatch, choose your story, and your first package will be in the mail immediately. Then, you will receive a new box each month.
Step 2: OPEN PACKAGE
Open the box to find physical clues that lead you to the web and back to the real world to unravel a mysterious crime.
Step3: SOLVE THE MYSTERY
Unravel the tangled web of clues found in each package, as additional details are revealed with every package.
Your subscription can be paid month-to-month ($24.99), every 6 months ($124.99) or for a year ($199.99). You can also purchase a complete story all at once.
This month, I discovered the second chapter: What's Inside, the third box of the seven chapters story (the first one was the introduction). With lots of information gathered from events that happened in Chili in the previous box, this box brings us on a little trip to Japan.
If you have not read my first reviews, here is a reminder of the main plot:
In this story, I discovered that my best friend James disappeared. He is missing after being convicted of the murder of his famous wife. Something was wrong even before that event and I want to find out what happened and most importantly find my friend. What did he get into?
In the introduction, I gathered some important information and James left me some clues and in the first chapter, I got to know more about what kind of business is going on in Chili. Now, let's see what mystery is hiding in this box…
Chopsticks are commonly used in Japan, but this particular set of chopsticks is telling me something. Letters, numbers… there must be another item in the box to help me decipher that code. There is also a real folding fan! I can see the same kind of code on it as the chopsticks holder. More letters and numbers who certainly mean something else then what it looks like at first.
Just one page here, but a lot of information. There seem to be a handwritten message from James and more letters and numbers. The numbers are ranging from 1 to 74. Is there some math in this game? I think I will keep my calculator near me.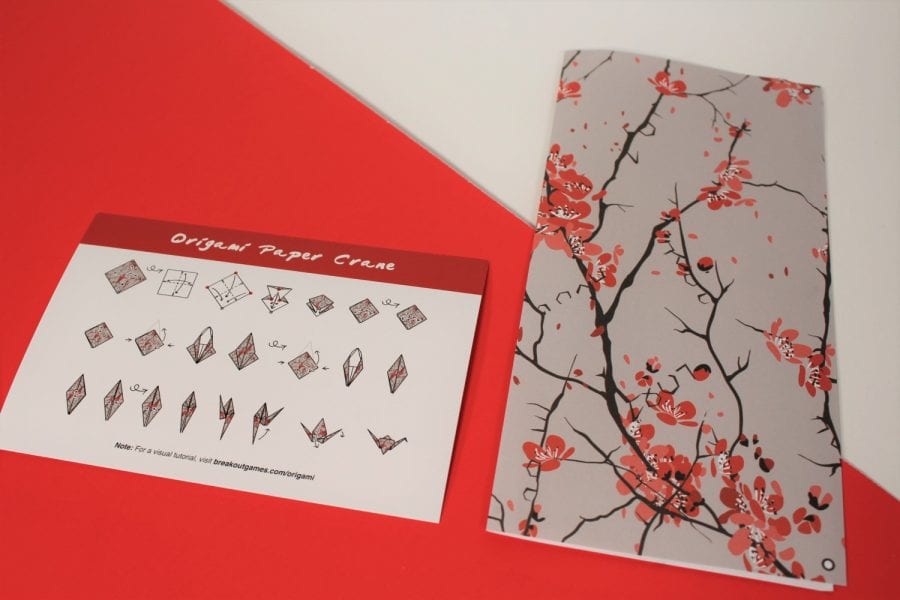 That is really cool. I love origami and this paper is very nice. It comes with the instruction to create a paper crane. It looks a bit hard to fold, but I will do my best. I wonder how this crane is going to help me, but it sure adds to the fun.
I remember I saw more than one item with fingerprints on them in the two previous boxes. On this card, there is one identified by "Mine today" (james fingerprints?), and three others a lot less evident: thief, your mother, my father on the back of the card.
A picture of three men having fun, and behind, the description says "Family photo – Me and Patrick with Dr Roland". Were they invited to the wedding? When was that picture taken? There is one face I can see better than the others, I might have seen him somewhere else.
I received similar front covers in my first boxes. They look like they have been literally stripped from the rest of a magazine. I will do a little Google search to see if I can read more about the articles mentioned on the covers (yes, you can find websites related to the story to help you through the game!).
With the covers full of big titles, I also received three newspaper articles related to events happening in Japan.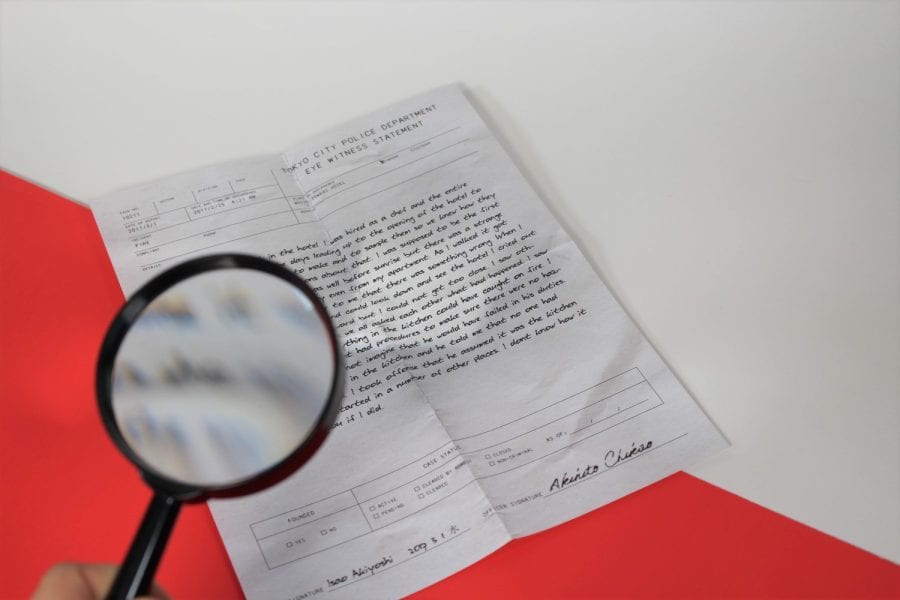 Here I have a witness statement about a fire that happened in the Tokyo hotel of the White Towers company. If I understand well, the grand opening was quite a disaster with that fire.
Three letters were found in the box. One is from White Towers Vice President of Operations to the clients about the incident in the Tokyo resort. The second is bad news from the insurance company that insures the resort. The last one is a handwritten one from a nurse. Should I try that phone number in the White Towers letter?
That little memo looks very important! Lots of detail to help me find a suspect related to the fire incident.
They could have made the Sudoku a little bit harder; that is going to be easy to finish. The hard part is going to be to translate the circles and squares and so on into what looks like a website address. I wonder where it is going to lead me…
Dispatch July 2019 Review – Final Thoughts
Dispatch gets better and better with every box. The trip to Japan really helped me put other things into place and I really enjoyed all the puzzles. It is truly amazing how much detail is put into every box and how it brings the game to another level. I loved all the items related to Japan like the chopsticks, the folding fan and the origami construction I had to accomplish. Now I wonder where will we travel with the next box…
Jacynthe Létourneau – https://www.instagram.com/miss_minamie/