Dispatch Review November 2019
Dispatch by Breakout will bring you on awesome adventures of mystery solving and real-life stories. You will feel immersed as if you were part of the story and deeply involved in the case brought to you. Fan of "Escape the room" type of games and well thought games, this box is for you.
Dispatch kindly sent me the "On the run" story to review, a 7-chapter story that ends this month with the 6th chapter (the first box was the intro). It feels like it is the cherry on the top of the cake, but in this case, with a box that looks like a chocolate box, it would be the chocolate piece on top of the game.
If you want to join the fun and try one of Dispatch stories, here are the steps:
Step 1: JOIN DISPATCH
Subscribe to Dispatch, choose your story, and your first package will be in the mail immediately. Then, you will receive a new box each month.
Step 2: OPEN PACKAGE
Open the box to find physical clues that lead you to the web and back to the real world to unravel a mysterious crime.
Step3: SOLVE THE MYSTERY
Unravel the tangled web of clues found in each package, as additional details are revealed with every package.
Your subscription can be paid month-to-month ($24.99), every 6 months ($124.99) or for a year ($199.99). You can also purchase a complete story all at once.
This month, I discovered the sixth chapter. If you have not read my first reviews, here is a reminder of the main plot:
In this story, I discovered that my best friend James disappeared. He is missing after being convicted of the murder of his famous wife. Something was wrong, even before that event and I want to find out what happened and most importantly find my friend. What did he get into? And if he is not the murderer, who is?
I traveled all around the world to find clues and it seems this month theme is related to Switzerland. He is the list of items I received:
The first item listed is a ski tag that looks almost real with the little plastic tie attached to it. I do not always take time to read all the small prints on tags or contracts, but in this case, something tells me it might be important. Also, I checked if the code on the right corner works and it does!
What a great surprise! Thanks Dispatch, I am a big chocolate fan! I wonder if it is really from Switzerland. I did a little research for the company Battig and could not find it. Anyway, I just hope the clue is not ON the chocolate bar itself (I want to eat it!). There must something inside that I cannot see just yet. I will finish the story then indulge in chocolate to celebrate.
James left me an old bank receipt partially erased and most of the information is not complete. The banks website address in the corner works and it asks me to enter my account number, but I cannot read it clearly on the receipt. There must be another way to find those numbers… There is also a message at the back that might help me.
Slam poetry night is not my thing, but that looks like an important clue. This special night at the Famous No Doze Cafe will be hosted by Olivia Carmichael, who, if I remember well was at James wedding. Her Instagram account is on the flyer, so I will give it a look and see if I can get more information about the poetry night.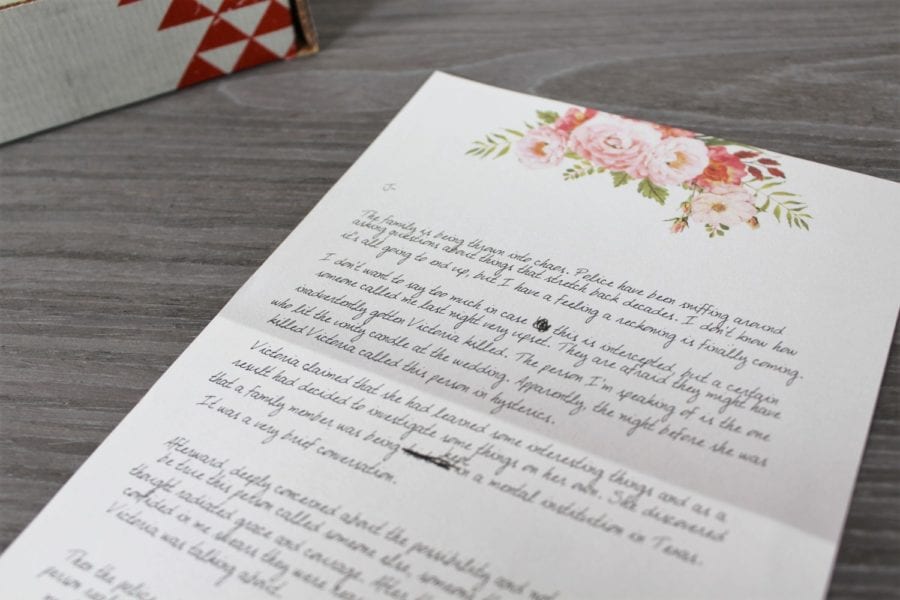 I received two letters and the first reminds me of another one I received in a previous box. I might have seen that stationary before and at first glance, with the V. at the bottom, I thought is was an old letter from Victoria, but it cannot be since the person is referring to her in the text. I will have to read it carefully and find out who it is from.
The second letter was found in the detective's envelope. It was sent to Victoria a week before the wedding. Why is this Owen trying to split Victoria and James apart? Since when is he in the story trying to get to her? Did she love him? I wonder what it all means.
With this second letter, I found another note referring to Gideon Thurston disappearance and other similar cases. The two sides of the page are filled with an F.B.I. agent's writing.
Finally, there were two important journal articles. They are referring to the closing of the story and the FBI being able to relate crimes in the Van Kress family to a murder-for-hire ring.
Dispatch November 2019 Review – Final Thoughts
Is it really the end? One box a month for 7 months looks a little long, but now that I am at the end of the story, I feel it went so fast and now I am finally untangling everything and discovering who is the murderer. I had so much fun playing all the mini games and appreciated all the details and effort put in all the nice boxes prepared by Dispatch's team.
I played most boxes alone, but it is even more fun to play with another person or two. I will keep every Dispatch box and might play again with some friends. I greatly recommend Dispatch by Breakout and guarantee you will have a lot of fun.
Jacynthe Létourneau – https://www.instagram.com/miss_minamie/