Dispatch Review October 2019
Dispatch by Breakout will bring you on awesome adventures of mystery solving and real-life stories. You will feel immersed as if you were part of the story and deeply involved in the case brought to you. Fan of "Escape the room" type of games and well thought games, this box is for you.
October is a busy month for me. Lots of activities, birthday parties, lots of work at my job, etc… But even with a busy schedule, I need time to unwind and lucky me, I have a subscription box that makes me stop to play.
Dispatch kindly sent me the "On the run" story to review and I am now discovering the sixth box of a 7-chapter story (the first box was the intro). I review one box per month, so stay tuned. Before I start with the story and the box, here are the subscription basics:
Step 1: JOIN DISPATCH
Subscribe to Dispatch, choose your story, and your first package will be in the mail immediately. Then, you will receive a new box each month.
Step 2: OPEN PACKAGE
Open the box to find physical clues that lead you to the web and back to the real world to unravel a mysterious crime.
Step3: SOLVE THE MYSTERY
Unravel the tangled web of clues found in each package, as additional details are revealed with every package.
Your subscription can be paid month-to-month ($24.99), every 6 months ($124.99) or for a year ($199.99). You can also purchase a complete story all at once.
This month, I discovered the fifth chapter. If you have not read my first reviews, here is a reminder of the main plot:
In this story, I discovered that my best friend James disappeared. He is missing after being convicted of the murder of his famous wife. Something was wrong, even before that event and I want to find out what happened and most importantly find my friend. What did he get into?
A jigsaw puzzle of 165 pieces is the first clue I saw when I opened the box. One of my favourite winter activities!! It looks like a painted scene more than a picture from what I sew. I started with the easiest part which is the text and it says: "Erechtheion – The porch of the Caryatids" I will finish the puzzle and look it up on Internet.
The scroll is made of real wood and paper and I think it is perfect for this month's theme with the Greek letters on it. Each letter of symbol have his signification under it. Also, there are multiple tiny lines under with ".com" that implies I will have to find a website.
Here is a letter from Simon Prentis, a private investigator from Bailey Detective company (I have received other letters from this company in previous boxes). Mr. Prentis is trying to help me and is saying he is now afraid of the in-law of my best friend. He sent me what he found in the safety deposit box.
In the same envelope I found the letter from Bailey Detective, I found a KenKen puzzle. The square reminds me of Sudoku, but I do not think I ever played a KenKen puzzle. I looked up the rules on Google to help me out. Is the answer related to the web address written under?
I also found a fingerprint on a plastic slat. I have seen a lot of fingerprints in previous boxes, so I am already wondering if I will have to compare it to all the finger prints I found in the past months.
The fourth and last item I found in the envelope is a copy of classified ads. They have been dated with a red pen. There is also a written note that put the emphasis on the add from June 4th. They almost all have in common a fish ad. I wonder if that will help.
If I remember correctly, I think this is the oldest newspaper article I received. The journals have been talking about the Van Kress family for a while it seems. Tragedies are a familiar thing for them. It seems the news from 1995 might be related to what is going on right now.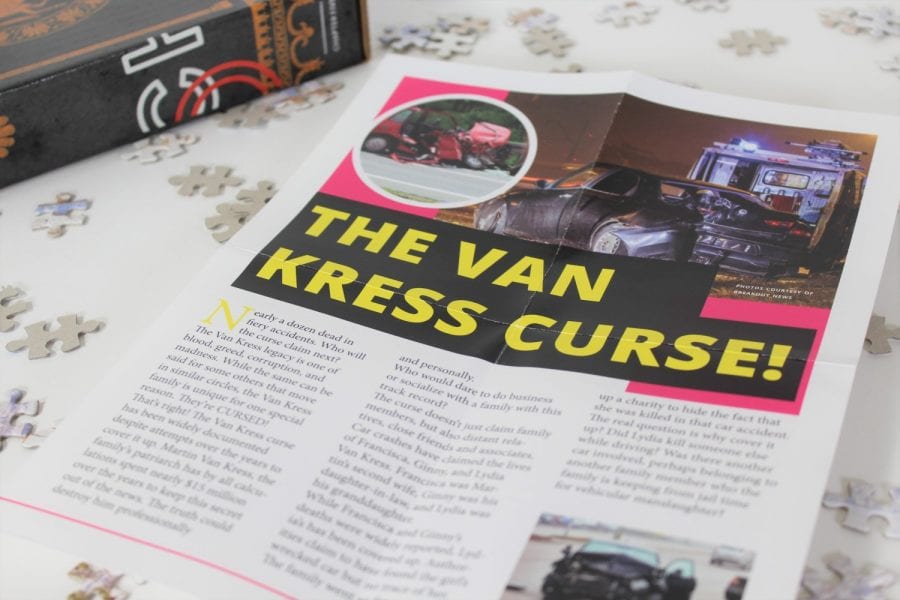 This page looks like it has been cut from the magazine Star Life. It refers to all the strange accidents that lead to death in the Van Kress family. It is a two-side article giving more clues about those "accidents"
This letter is well written but very confusing. Who wrote it? Who is the "Peddler of Death" and the "Breaker of Families" the author is referring to? I might have to read it a few times to detect the mystery behind the riddle.
What happened to this autopsy report? It looks like someone burned it (or tried to). The name of the victim is not written, but from what I can read, this is a report of a member of the Van Kress family and I just learned some new information related to her death.
There are two police reports with Andrew Van Kress as the accused. He has been arrested both times for domestic assault and battery, but the victim was once Amelia Van Kress in 2004 and Ginny Van Kress in 2006. Seems like the kind of husband liked only for his money and fame.
Dispatch October 2019 Review – Final Thoughts
I must admit I kept this box for myself this month (jigsaw puzzle fan here) but it would be such a fun box to discover with friends. Next month will be the final Dispatch box and I cannot wait to see how this twisted story will end. I hope the Van Kress family will get what they deserve and that I will get my friend James back! Stay tuned to see the last Dispatch box in November.
Jacynthe Létourneau – https://www.instagram.com/miss_minamie/