Driftaway Coffee Review December 2019
Driftaway Coffee is a coffee subscription service that sends personalized, freshly-roasted coffee directly to your home. Their mission is to make everyone drink amazing coffee at home. All subscriptions begin with a tasting kit that contains four distinct coffee profiles. Based on your preferences, future deliveries are matched to your taste profile. Because they change their coffees monthly, you'll rarely receive the same coffee shipment twice. This allows you to explore the world of high-quality coffee from the comfort of home. Gift subscriptions are available as well. They kindly sent us this box for review.
Who needs to go on vacation with this subscription box? Taste specialty roasts from across the globe with Driftaway Coffee. I love how your tastebuds will never get sick of your morning cup of joe with all of the different varieties that you receive.
Subscription Details
When you sign up for a Driftaway Coffee subscription your first delivery will be the Tasting Kit.
The First Shipment – The Tasting Kit
"We believe that tasting is the only way to figure out what coffee you like. That's why all of our subscriptions start with a tasting kit: a collection of four 2 oz. bags of fresh, delicious, single origin whole coffee beans. After tasting each coffee, pick your favorites and we'll match future shipments to your taste!"
Customize Size & Frequency
Decide how often you would like to receive your shipment – weekly, every 2 weeks or monthly.
Decide how much coffee you would like to receive in each box – Solo, Doppio, 1 Pounds or 2 Pounds.
Here's a closer look at my December Driftaway Coffee delivery…..
My Driftaway Coffee Tasting Kit came with 4 coffees (And they were all roasted just a few days before I received the box!):
Tanzania's Northern Mondul Estate AA – A classic drink with hints of black tea and toffee. Perfect for nutty lovers.
Honduras' San Vincente – A coffee with notes of vanilla, brown sugar and toast. Think bold.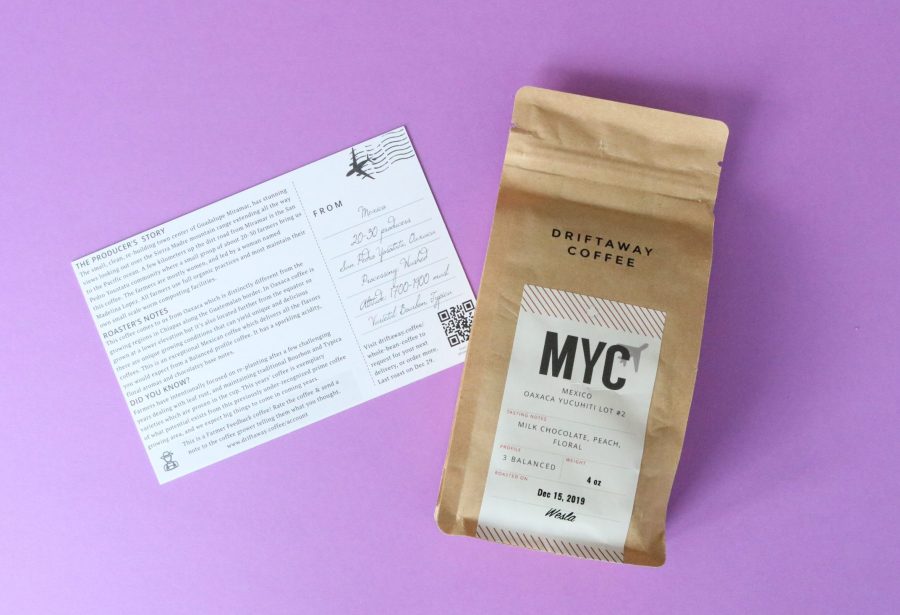 Mexico's Oaxaca Yucuhiti Lot #2 – A balanced coffee with a touch of milk chocolate, peach and floral flavours.
Kenya's Magomano AA – This is a fruity cup of java with a tinge of mango, caramel, and grapefruit.
Driftaway Coffee Review December 2019 – Final Thoughts
If you're a coffee fan – Driftaway Coffee is the subscription box for you! Save money on going out for your daily dose of caffeine, and have a premium cup of java in the comfort of your own home. Bonus – you get to taste unique coffee that you wouldn't be able to get anywhere else!
-Wesla