Elizabeth & Clarke Review Spring 2017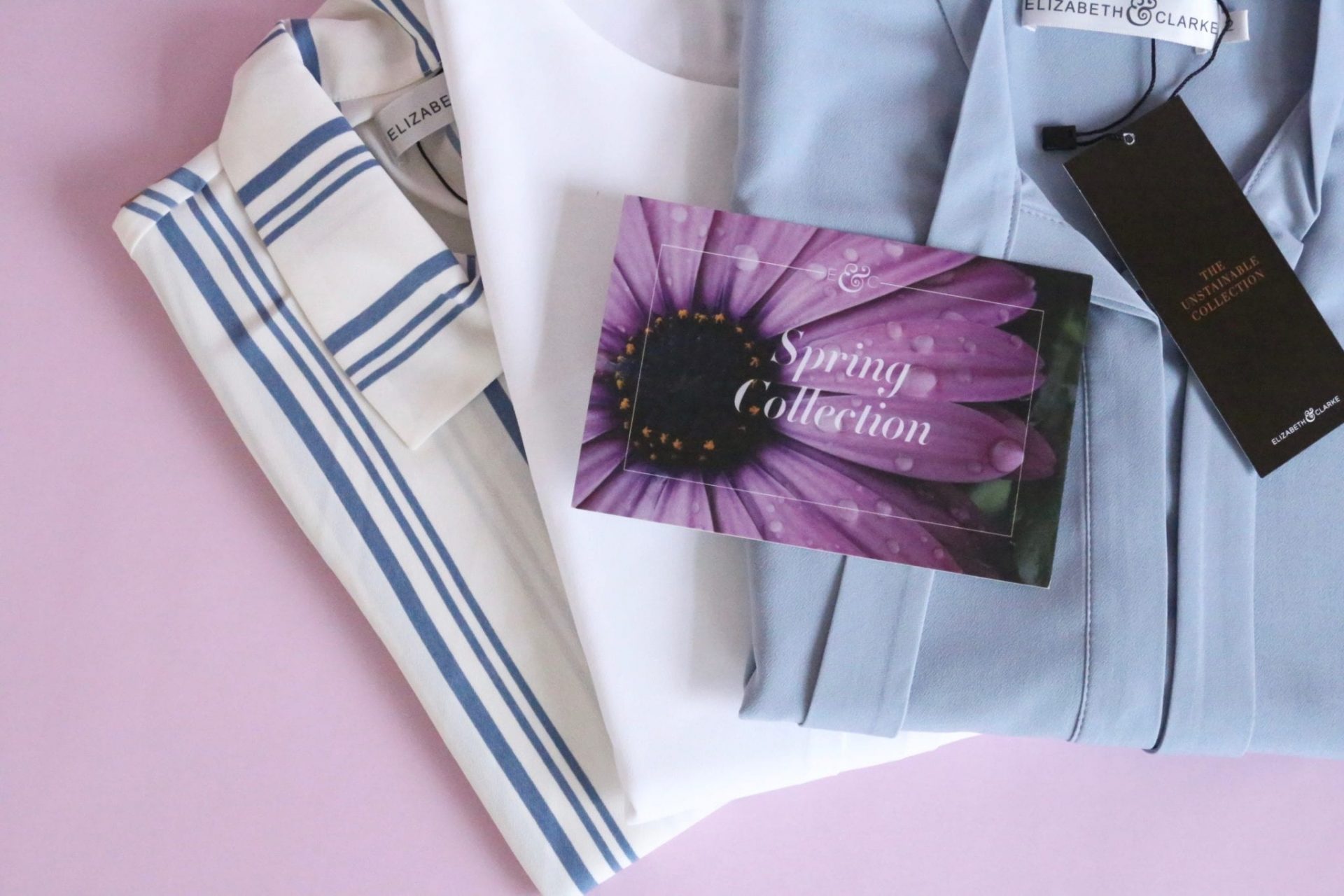 Elizabeth & Clarke is a seasonal subscription service for designer-quality blouses and tees. You can choose to receive one shirt per season, two shirts, or three. They kindly sent us this box for review.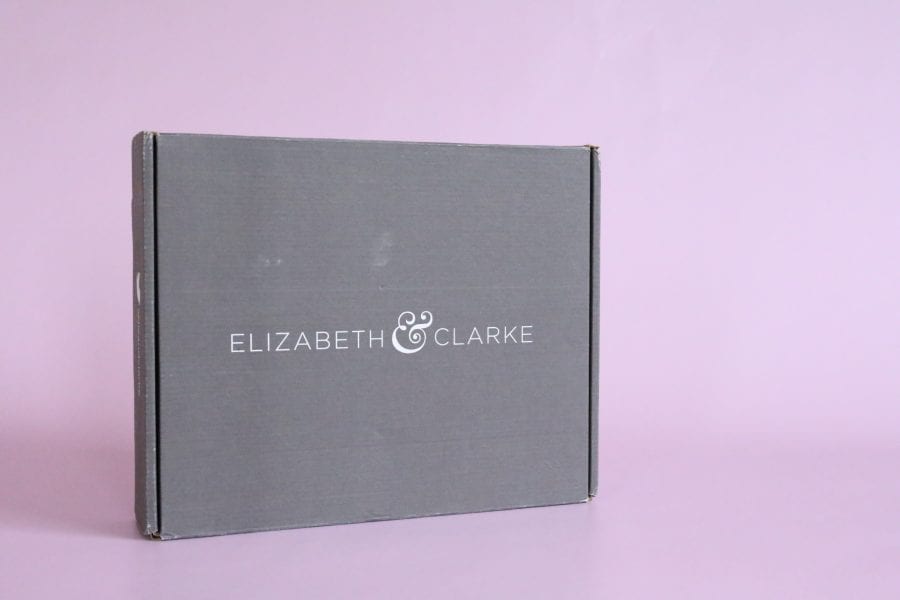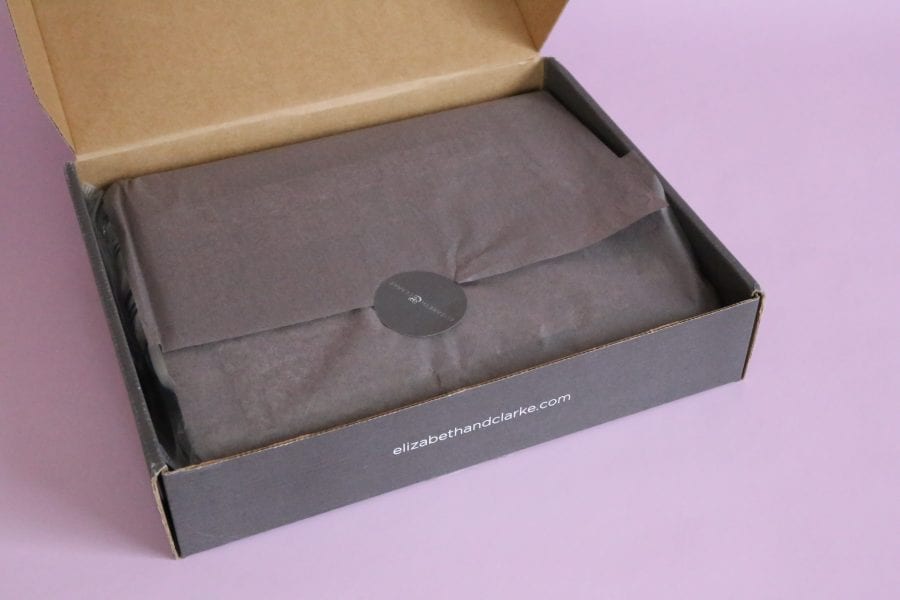 Elizabeth & Clarke is a wonderful subscription for those of us who hate to shop, or anyone looking for a quarterly delivery of fashion happiness. I love the idea of this subscription. They offer beautiful, affordable, and unstainable work essentials delivered to your door each season. Looking for a little help with your work wardrobe? This would be a great start.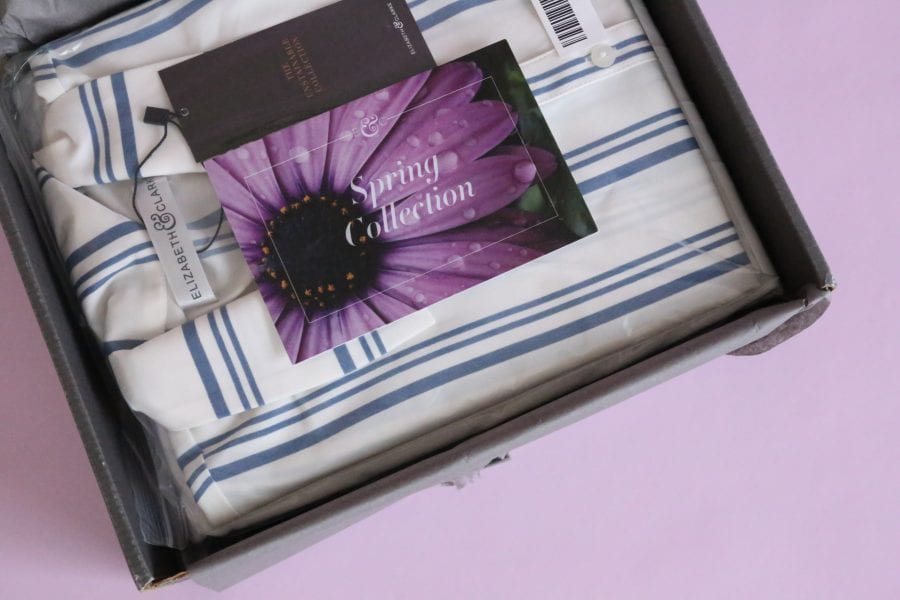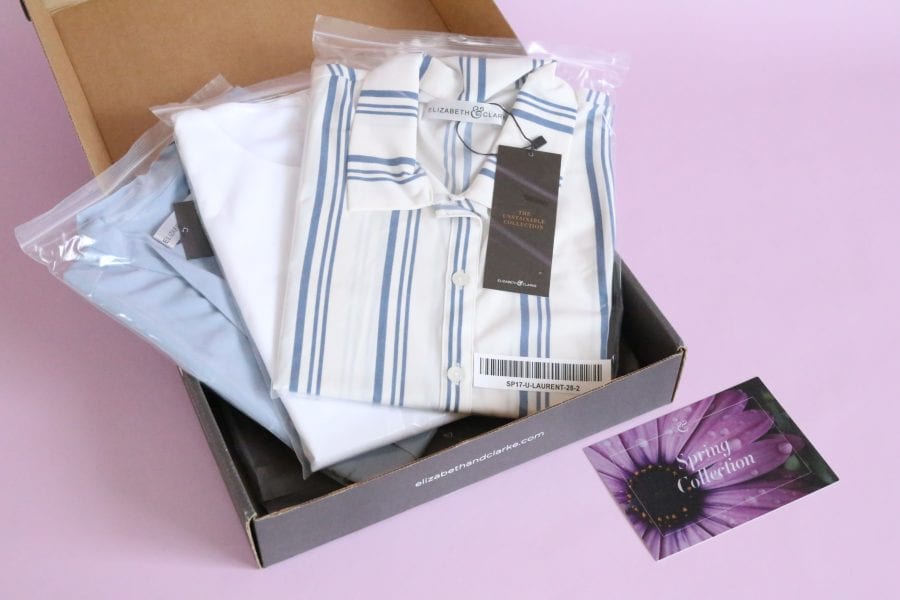 Elizabeth & Clarke offers 3 different subscription options:
1 shirt every season for $60 per shirt
2 shirts every season for $50 per shirt
3 shirts every season for $40 per shirt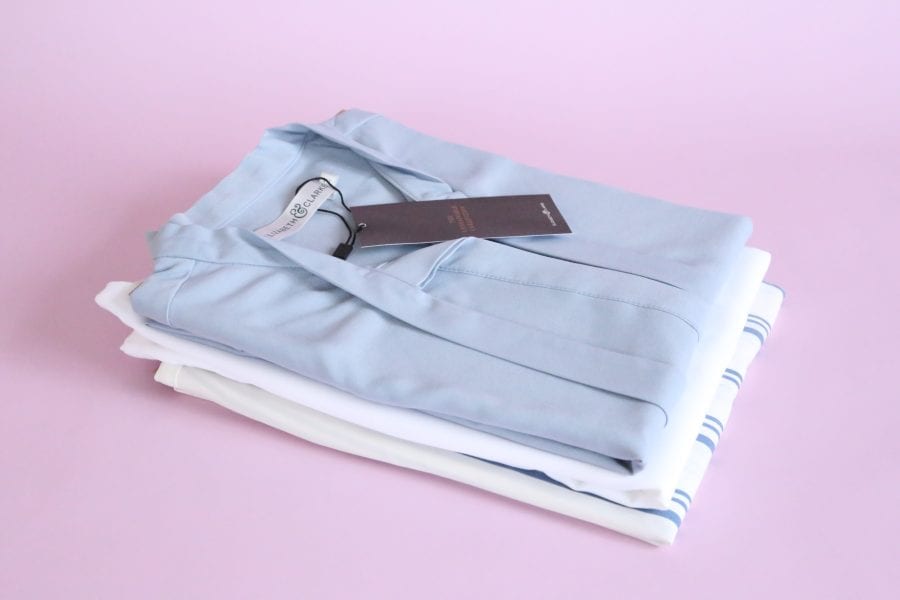 Here's a look at the 3 tops I received for Spring: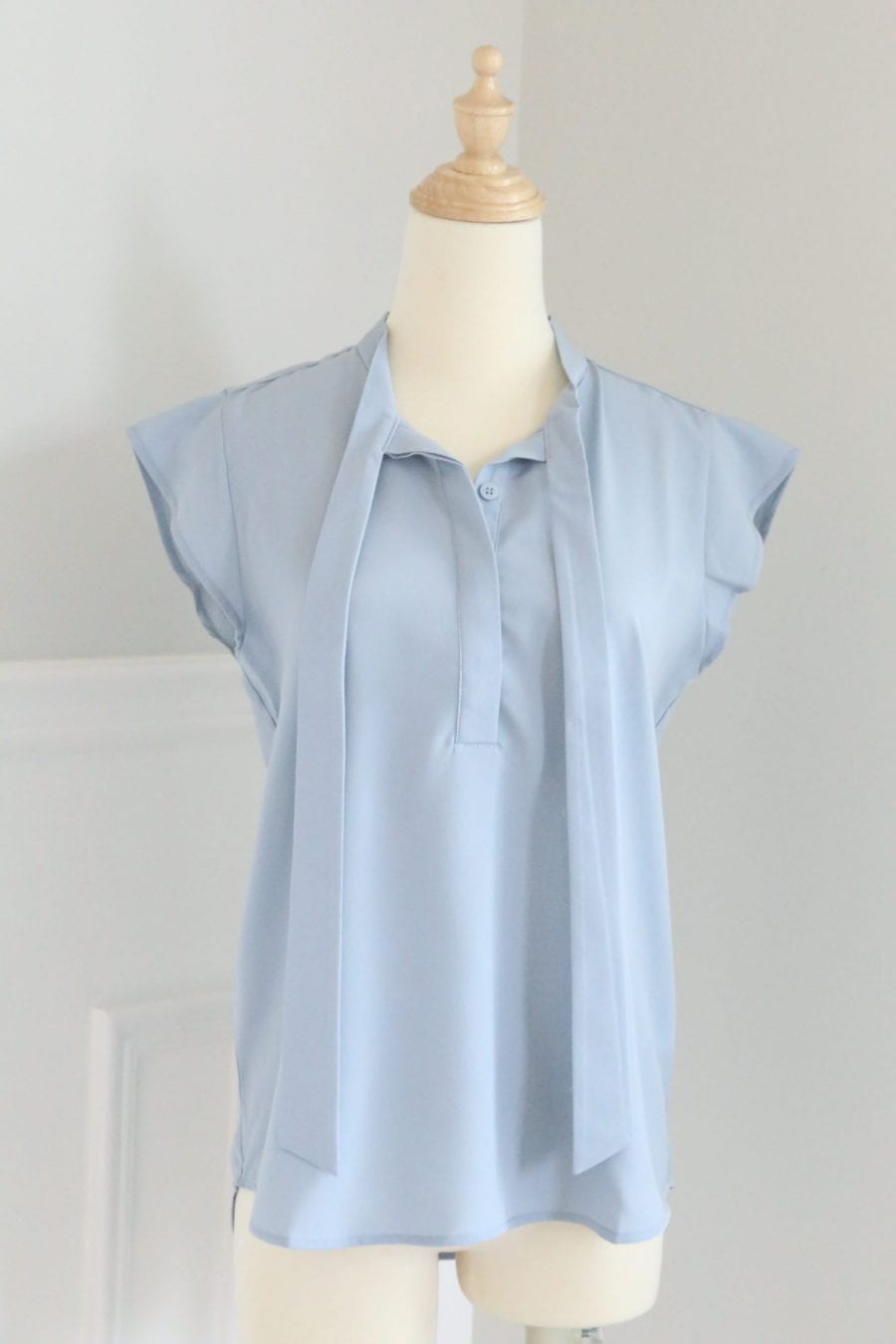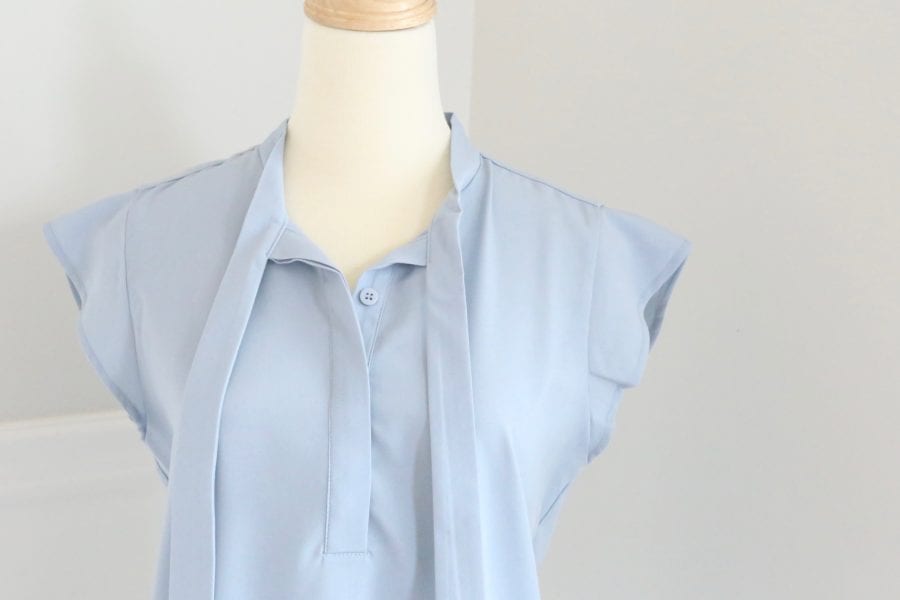 The Charles
The Charles will give you a 'French-girl cool' look for spring. This lovely French Bleu Crepe de Chine cap-sleeved blouse has an elegant open tie collar for a minimalist, yet classic detail and uses our Unstainable® fabric technology to repel all water- and oil-based stains. The Charles is a great day-to-night option whether you are taking a stroll through your neighborhood park or hosting a fab dinner party!
First of all we need to talk about the color of this top. It is absolutely gorgeous! I also love the cap-sleeve and the open tie. At first I thought it needed to be worn with a bow, but I actually prefer it left open. The best thing about this piece is it will look great with a black pencil skirt or skinny jeans and pumps. Very versatile.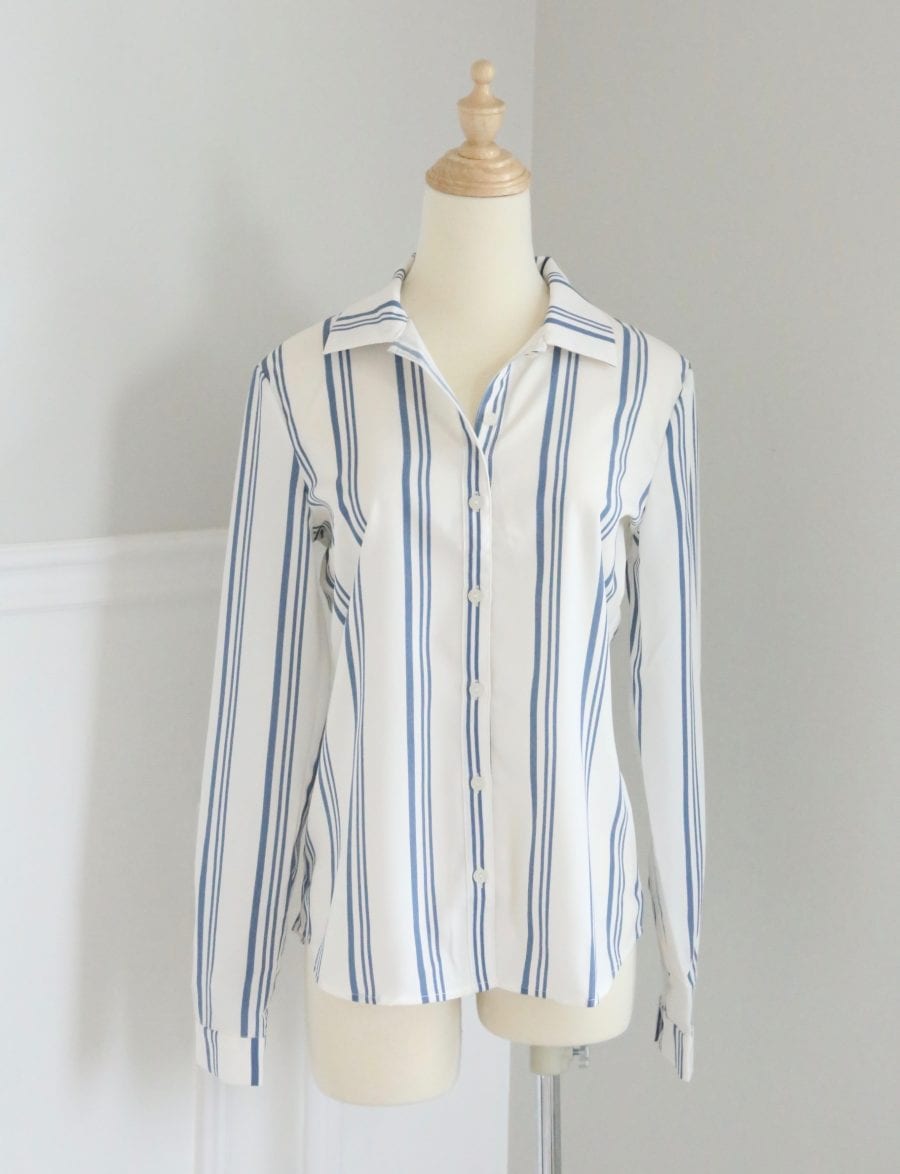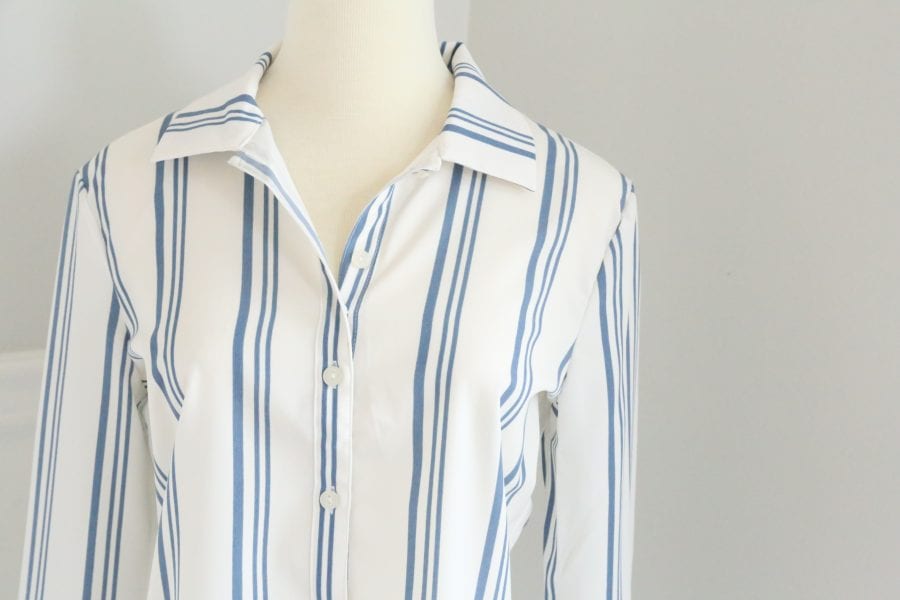 The Laurent
If you are looking for the perfect 'weekend in Paris' style, then the Laurent is the blouse for you! This charming cream-and-blue striped Crepe de Chine blouse has two hidden snaps at the bust for extra coverage and uses our Unstainable® fabric technology to repel all water- and oil-based stains. The Laurent will look amazing paired with your favorite pencil skirt or light wash 'boyfriend' jeans this season.
Now this is my kind of top. I have a weakness for stripes. This one caught my eye right away. I would almost prefer it one size larger, but I will talk more about sizing below. On the product card the model is wearing this with medium-wash denim and it looks super cute! Tuck one side in and leave the other side out and you are good to go!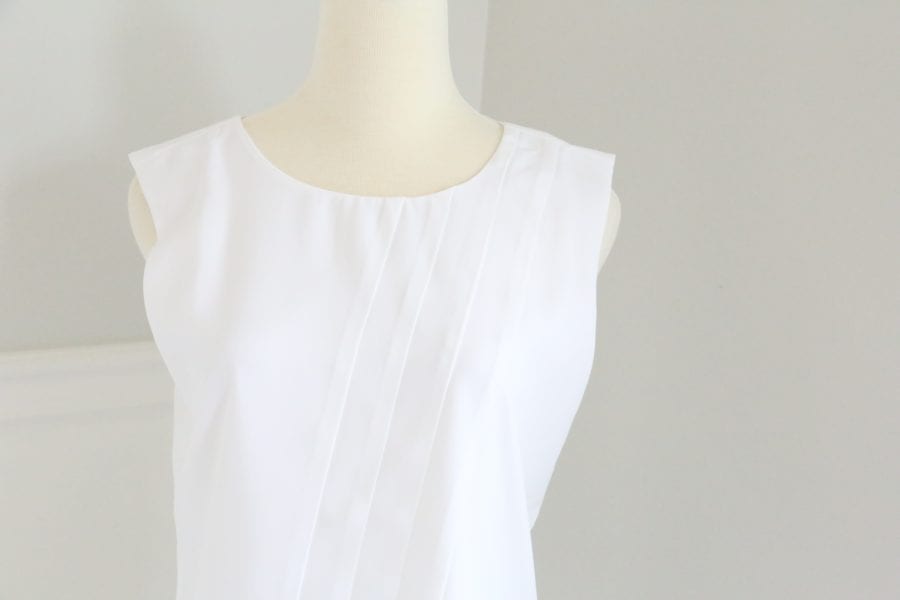 The Davin
The Davin is a polished white Crepe de Chine blouse. It has delicate, asymmetrical knife pleats and a double-layer of fabric throughout to provide 100% opacity. The Davin also uses our Unstainable® fabric technology to repel all water- and oil-based stains. This blouse is perfect for layering underneath a blazer for work or pairing with your favorite trousers or A-line skirt for an exquisite, yet effortless look.
As soon as I read "perfect for layering underneath a blazer" I was sold. This is a great layering piece, and I need more of those in my closet. I was worried about the neckline at first, but its actually very flattering.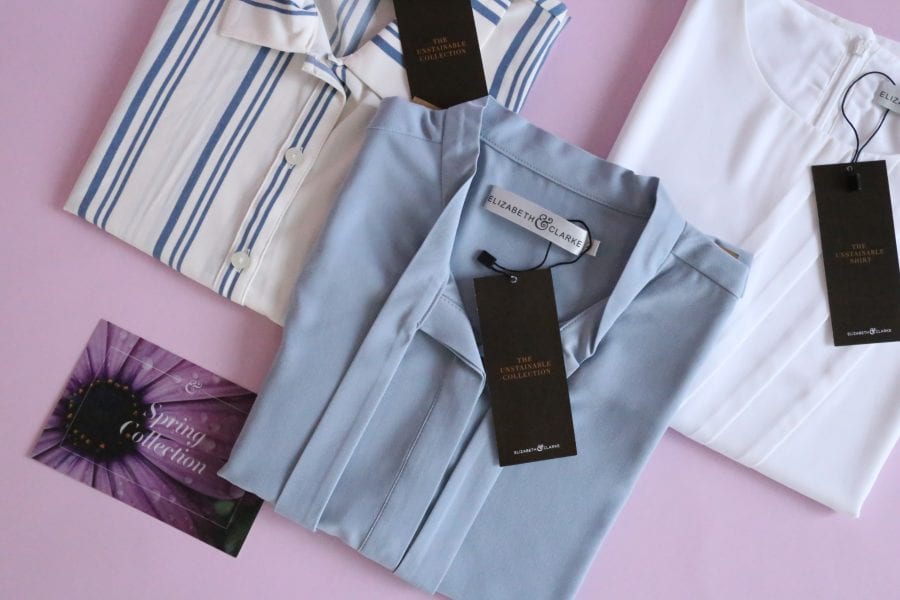 Elizabeth & Clarke Review Spring 2017 – Final Thoughts
I am super happy with the Elizabeth & Clarke Spring Collection. It's a little more my speed than the Winter box was. The Winter styles were very casual, and the Spring styles are a little more work appropriate. The colours and styles are a great way to get your wardrobe ready for warmer weather, and I can't get over the qaulity. The material isn't too thin and it isn't too thick. I am very picky when it comes to blouse style tops as I want them to be thick enough so my bra doesn't show, but thin enough that they won't be too hot or uncomfortable. Wow, that makes me sound very high maintenance. I guess what I am trying to say is I am a huge fan of the new unstainable fabric they are using with almost all of their styles. Yup, you heard that right, all three of the Spring tops are unstainable. This is amazing!! White shirts that won't stain? That's reason enough to sign up for a subscription.
I also wanted to talk about size, in case any of you are wondering how Elizabeth & Clarke tops fit. Based on the sizing guide I have been ordering size 2 for the last 4 seasons. My bra size is 34b and my jeans size is 25. Their size chart is spot on because all 3 tops this season fit me like a glove. But, with that being said, I almost want to start ordering a size 4. I prefer my tops to be a little loose and the size 2 almost fits too well. If you have any questions about sizing please feel free to ask in the comment section below.
I am very happy with the Elizabeth & Clarke Spring Collection and am already looking forward to the Summer styles!
XOXO
Explore.
Save.
Enjoy!
Sign up for a free account on A Year of Boxes to receive exclusive offers, be added to our monthly mailing list, and much more! We are always adding features to improve the experience for our users, from their valuable feedback!
Join Today!