ElleBox Review November 2016
ElleBox Review November 2016
Did you guys read last month's ElleBox Review? I got all personal up in here and talked about why I hate my period. When you hate your period as much as I do, a monthly delivery of necessities and comfort goods is a must! ElleBox honestly makes my period a little more bearable. What in the world did I do before TOM boxes!
Ellebox Details
If you aren't familiar with Ellebox it is a premium monthly subscription service which bundles your choice of tampons and pads with hand curated comfort and wellness goods to make that time of the month a little more pleasant – LOVE IT!!
ElleBox Details
My monthly ElleBox delivery is pretty predictable. They include the same kind of items every month, and I am totally ok with that. It's actually one of the reasons I like this box so much. Yes, I love the unexpected, but at the same time, I am a creature of habit and like to know that every month I am going to receive my necessities, tea, chocolate, and a couple of bath products.
Pure Skincare Cookies & Cream Whipped Body Butter
This luxurious and great smelling body butter melts on contact softening and deeply hydrating even the driest skin.
This seriously does smell like cookies and cream, and it is making me very happy. I also discovered that this company is located in my hometown. I had NO idea! I think I need to go knock on their door and ask for a year supply of this stuff.
Studio Aroma Bath Soak with Plum Leaf & Rosebuds
A rejuvenating bath soak with energy infused essential oils. To use, fill the bath with 1 scoop of bath salts, in the muslin bag for easy clean up. Soak for 20-30 minutes. Wash and rinse after soaking and feel renewed, refreshed and relaxed.
All I want to do when it's my special time is sit in a hot bath, with a glass of wine, and a good book……have I said that before? Any who……I am very familiar with this brand. We have received their products before, and I have always been happy with them. If I had the time I would bath every day.
Chocolate Orange Tiramisu Tea by Tea Sparrow
How good does this sound! It is a caffeinated Black Tea, made with orange peel, almond bits, butterscotch candy and natural flavouring.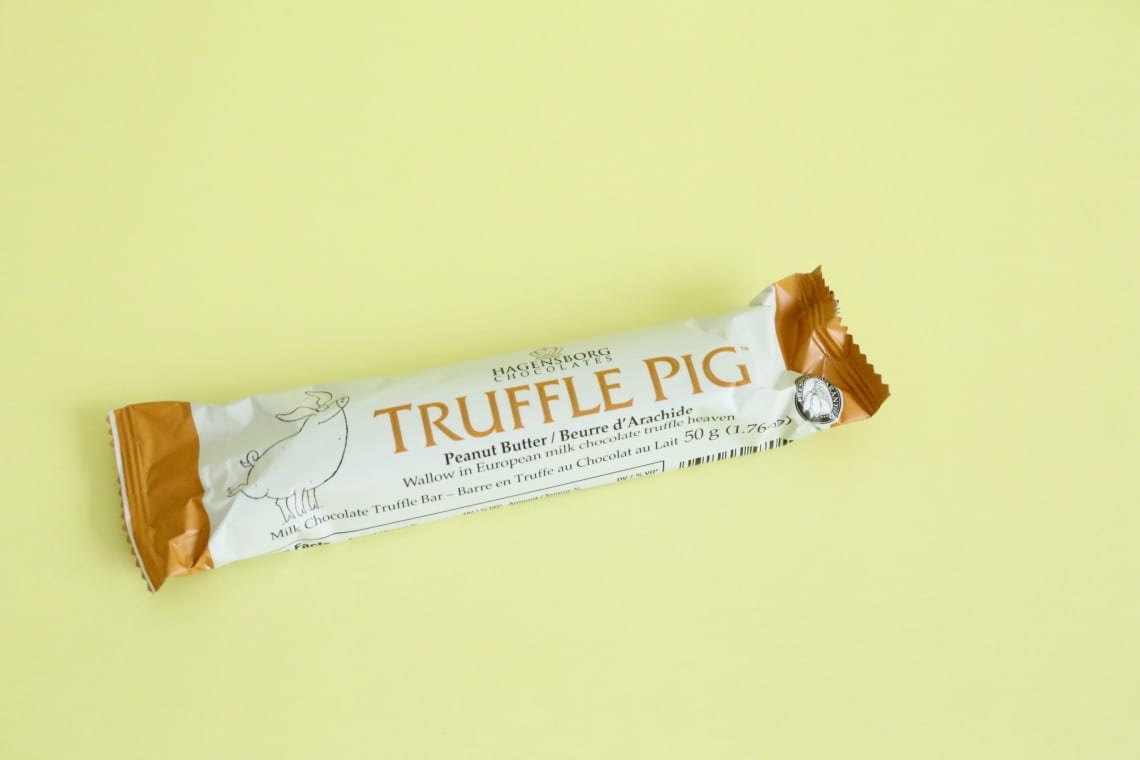 Hagensborg Chocolate Truffle Pig
Now this is what I am talking about!! I am SO happy to see a new brand of chocolate in my ElleBox. Don't get me wrong. I love the chocolate bars we received the last few months, but this Peanut Butter Truffle Bar is TEN TIMES BETTER!! If I am going to splurge once a month and eat something I shouldn't, I need it to be worth it…….and this will be worth it.
Fab Little Bag – Tampon Disposal Bags
I think this must be a bonus item. We have never received anything like this before. And here I was talking about how predictable this box is. I guess it's not so predictable anymore. This is a great idea, and apparently you only need one hand to open and close them.
The Necessities – Tampons & Pads
Here are the real stars of the box. The necessities. Does anyone else hate going to the store for these items as much as I do??
ElleBox Review November 2016 – Final Thoughts
Well…..I think this is my favourite ElleBox so far. Except for maybe the one with the candle, that was a good one. But, other than that, my November ElleBox is pretty amazing. Like I mentioned above, there's not a ton of variety when it comes to this box, we receive the same sort of products each month. But I love the small variations they included in this box. The Peanut Butter Truffle Bar, and the Cookies & Cream Body Butter……..sounds like heaven to me. Not to mention the bonus item……talk about mixing it up!
XOXO
Explore.
Save.
Enjoy!
Sign up for a free account on A Year of Boxes to receive exclusive offers, be added to our monthly mailing list, and much more! We are always adding features to improve the experience for our users, from their valuable feedback!
Join Today!