Emma & Chloe Review April 2018
Emma & Chloe is a subscription box for the jewelry lover. Get gorgeous and unique French designed jewelry pieces delivered right to your door each month accompanied by its certificate of authenticity, a 100% fashion and beauty gazette and a postcard. They kindly sent us this box for review.
There's something so simple and refreshing about this subscription. Emma & Chloe is simplicity at its best. One gorgeous piece of jewelry tucked inside a pretty box. It is the perfect example of – less is more.
Subscription Details
Emma & Chloe has a few subscription options to choose from. You can opt for a month-to-month subscription, a 3-month subscription, 6-month subscription or an annual subscription.
Designer jewelry from France – All their jewelry is brass plated in gold or dipped in a silver bath.
Get insider prices – Starting at $29/month, receive a designer jewelry piece worth $50-$200.
Free shipping on subscriptions – You receive your box between the 5th and the 15th of the month.
Here's a closer look at the gorgeous piece we received this month….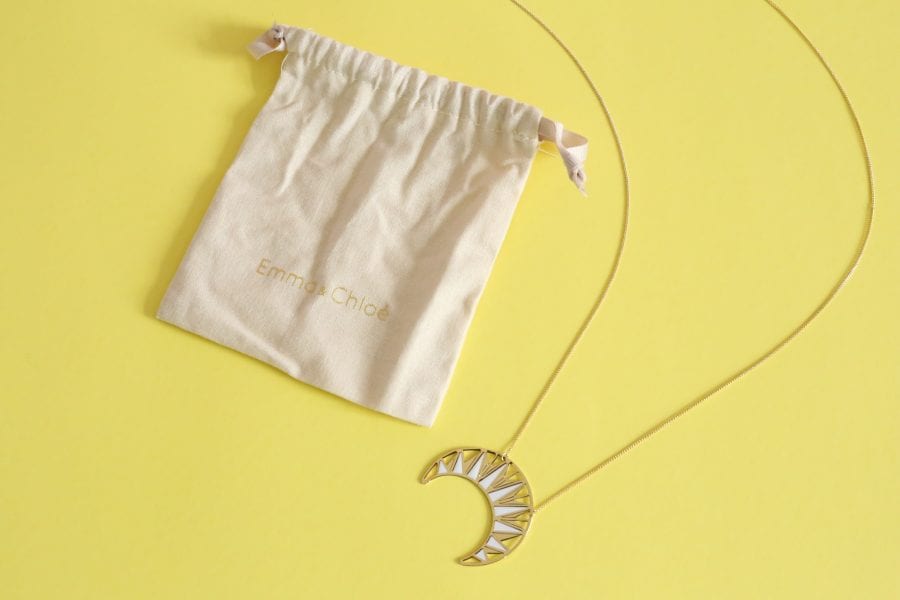 Luna Long Necklace – Retail Value $90
This month discover the Luna long necklace by the emerging French designer Constance L. ! The graphic forms mingle with the celestial curve of this imposing but delicate piece. At the heart of a game of cutouts all finesse, ivory illuminates its brilliance!
Made with brass and delicately gilded with 18K fine gold or dipped in a silver bath.
It was love at first sight when I pulled this necklace out of the box. It's light-weight and absolutely stunning. I feel like this will be my go-to Summer necklace. Perfect for layering!
Emma & Chloe Review April 2018 – Final Thoughts
I am absolutely thrilled with this month's selection. Emma & Chloe has done it again. They have provided me with a gorgeous piece of jewelry to add to my collection. The Luna Necklace is delicate, detailed, trendy and sophisticated at the same time. I feel like it has just the right amount of style, not too much and not too little. I like that it is long. It sits about mid-chest and will be a wonderful layering piece. The white/gold combination gives it a fresh look perfect for Summer. It will dress up a white Summer tee and will pair beautifully with a bright Summer dress. I honestly can't say enough about this subscription. It is beautiful from beginning to end.
XOXO