Emma & Chloe Review August 2019
Emma & Chloe is a subscription box for the jewelry lover. Get gorgeous and unique French designed jewelry pieces delivered right to your door each month accompanied by its certificate of authenticity, a 100% fashion and beauty gazette and a postcard. They kindly sent us this box for review.
Emma & Chloe is a great way to keep your jewelry collection up to date. But I have told you that before. If you are like me, you prefer to avoid the mall. I would rather have someone else pick out items for me. This goes for most things – books, clothes, accessories…..and of course, jewelry. It would also make a really great gift for a friend's birthday, Christmas, Valentine's Day, etc…
Subscription Details
Emma & Chloe has a few subscription options to choose from. You can opt for a month-to-month subscription, a 3-month subscription, 6-month subscription or an annual subscription.
Designer jewelry from France – All their jewelry is brass plated in gold or dipped in a silver bath.
Get insider prices – Starting at $29/month, receive a designer jewelry piece worth $50-$200.
Free shipping on subscriptions – You receive your box between the 5th and the 15th of the month.
Here's a closer look at what we received this month….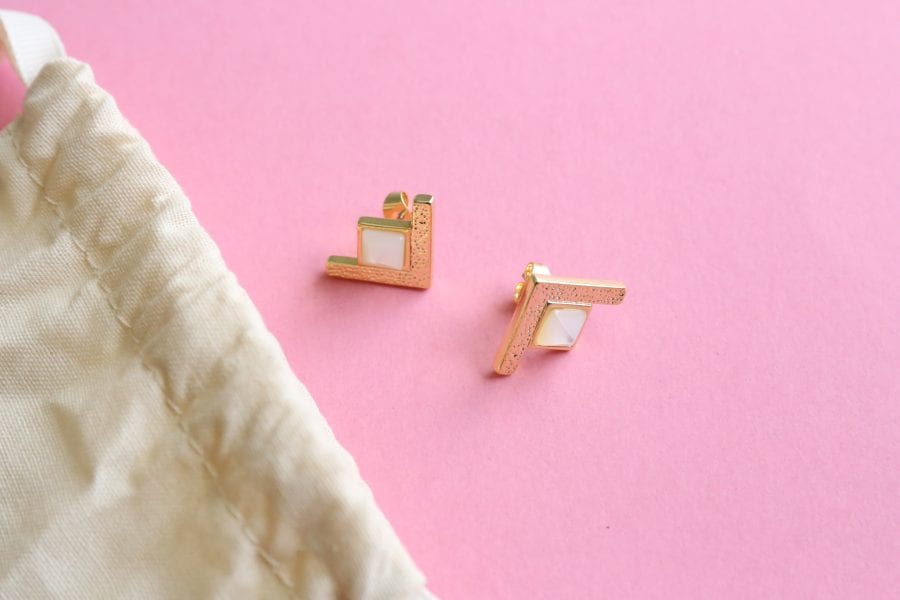 Lou Earrings
The Lou Earrings are part of our updated collection Les Légendaires and draw their inspiration from modern graphic design and art deco. They are fundamentally architectural and designed to curve around the earlobe, offering a perfect fit. Their bold design is due to the intricate brainwork which is "sandblasted" and the smooth, dome-shaped pearl otherwise known as "sugarloaf".
They included a few little extra skincare goodies which was a really nice surprise.
Emma & Chloe Review August 2019 – Final Thoughts
The August Emma & Chloe box has provided me with something my jewelry collection is lacking. Earrings are something I typically don't pay much attention too, but I really need to change that way of thinking. They are a great way to dress up an outfit and anytime I see someone wearing a great pair of earrings I find myself wishing that I spent more time on the simple accessory. It's easy to throw on a great pair of earrings as you head out the door. Hopefully the Lou Earring will inspire me to make more of any effort. Thanks to Emma & Chloe for a fabulous new pair of earrings to add to my jewelry collection.
-AYOB