Emma & Chloe Review October 2018
Emma & Chloe is a subscription box for the jewelry lover. Get gorgeous and unique French designed jewelry pieces delivered right to your door each month accompanied by its certificate of authenticity, a 100% fashion and beauty gazette and a postcard. They kindly sent us this box for review.
If you have a jewelry lover on your Christmas list, this is the box you need to get them! Emma & Chloe is easily my favourite jewelry subscription box and I would be extremely happy to see it under the Christmas tree. I love the style of the jewelry we receive each month and I love the timeless nature of each piece. Trendy yet classic.
Subscription Details
Emma & Chloe has a few subscription options to choose from. You can opt for a month-to-month subscription, a 3-month subscription, 6-month subscription or an annual subscription.
Designer jewelry from France – All their jewelry is brass plated in gold or dipped in a silver bath.
Get insider prices – Starting at $29/month, receive a designer jewelry piece worth $50-$200.
Free shipping on subscriptions – You receive your box between the 5th and the 15th of the month.
Here's a closer look at what we received this month….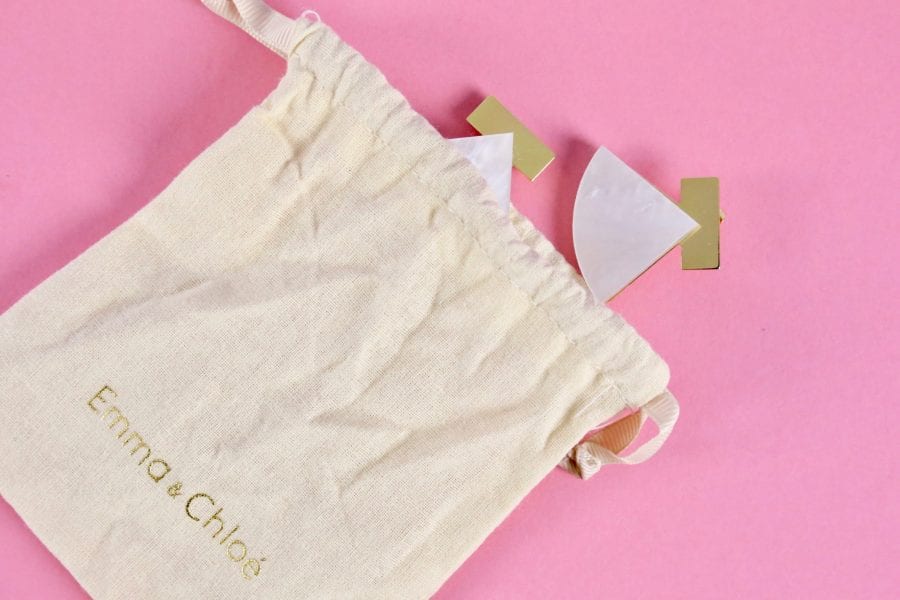 Cosmos Earrings
Discover our October favorite: the Cosmos earrings by the emerging French designer Les Tatillonnes.
Inspired by the '90s, this piece plays on a perfect balance of lines and curves. A pearl white plexiglass area is delicately lined with gold-plated brass or immersed in a rectangular silver bath.
Surprisingly light, these earrings are as good with an evening dress as with jeans and sneakers.
Choose this piece made with brass and delicately gilded with 18K fine gold or dipped in a silver bath, adorned with pearl white plexiglass.
Regular retail price: $82.
Emma & Chloe Review October 2018 – Final Thoughts
The October Emma & Chloe box includes a gorgeous pair of earrings. They aren't necessarily something I would wear but they are gorgeous nonetheless. I like the quality, and the fact that they are on trend. I love the 90's vibe and the versatility of the style. The gold/pearl white combo will go with a number of different outfits and colors. They look absolutely gorgeous on the model on the front of the magazine we received. It's actually making me want to give the earrings a try even though they are a little out of my comfort zone. Overall, Emma & Chloe continues to be a favourite and has been for quite some time. Like I mentioned above, this would make an amazing Christmas gift for any jewelry lover.
XOXO