Emma & Chloe Review October 2019
Emma & Chloe is a subscription box for the jewelry lover. Get gorgeous and unique French designed jewelry pieces delivered right to your door each month accompanied by its certificate of authenticity, a 100% fashion and beauty gazette and a postcard. They kindly sent us this box for review.
Emma & Chloe has been my go-to jewelry subscription box for quite some time. I love everything about it. The price point, the simplicity, the fact that subscribers can choose to receive gold or silver pieces, and of course the jewelry styles. With that being said, I should also mention that the last couple months haven't been my favorite. The pieces were gorgeous (of course) but not 100% my style. But…..we are back on track this month because I am obsessing over the October jewelry piece.
Subscription Details
Emma & Chloe has a few subscription options to choose from. You can opt for a month-to-month subscription, a 3-month subscription, 6-month subscription or an annual subscription.
Designer jewelry from France – All their jewelry is brass plated in gold or dipped in a silver bath.
Get insider prices – Starting at $29/month, receive a designer jewelry piece worth $50-$200.
Free shipping on subscriptions – You receive your box between the 5th and the 15th of the month.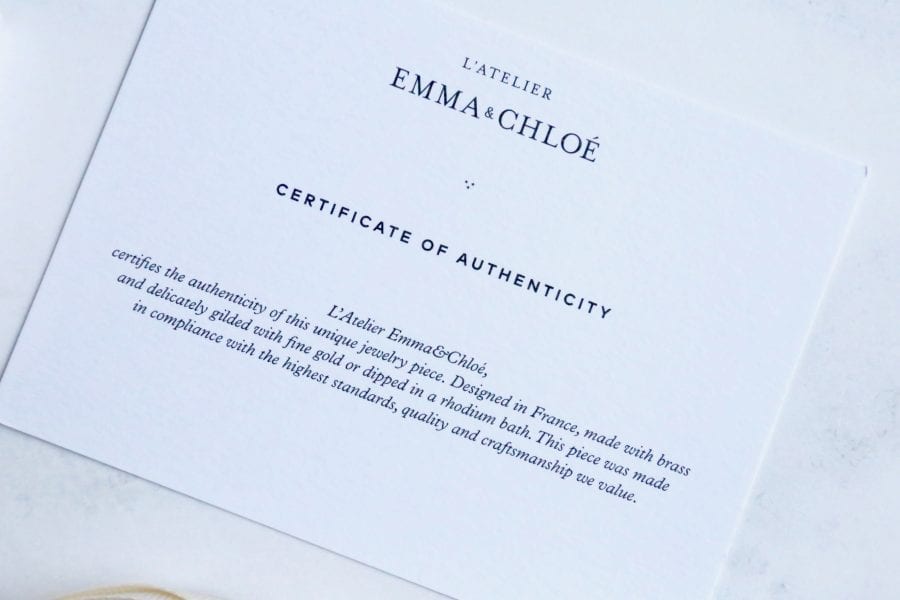 Here's a closer look at what we received this month….
Azilis Ring by l'Atelier
The Azilis ring features a timeless design and a distinctive twisted torsade inspiration, topped with a gorgeous deep green Malachite stone. Inspired by the beauty of Nature, this stunning ring fits all styles and all seasons…..even if the weather is unpredictable.
Description of the jewel:
Composition: brass gilded with fine gold or silver-plated
Nickel free
Semi-precious stones: faceted onyx stone
Stones are manually assembled in our Parisian Atelier
Designed in France
Emma & Chloe Review October 2019 – Final Thoughts
Some of my all-time favorite rings have been discovered in my Emma & Chloe subscription box. In fact, most of the rings in my collection are Emma & Chloe rings. So imagine how excited I was to find this gorgeous piece in the October box. I love everything about it. I love the green stone, the twisted detail, the width and of course the fact that it is gold. But don't forget that Emma & Chloe subscribers can also opt to receive silver jewelry, if that is your preference. The October Emma & Chloe box is one of my favourites to date. Now I just need the matching hoop earrings……
-AYOB