Empower-Her Subscription Box Review Spring 2022
Empower-Her Subscription Box is a consciously curated collection of products, created by women, featuring only women-owned brands—delivered to your doorstep each season. They kindly sent us this box for review.
Empower-Her Subscription Box is a wonderful little subscription that I have come to love over the last little while. This will be my third time reviewing it and so far I have loved every box.
Subscription Details
Here's how the Empower-Her Subscription Box works….
Sign Up: Sign up for the seasonal Empower-Her Subscription Box. Plus save $10 when you sign up annually. Your box includes 6-7 full sized sustainable, ethically made products.
Support Women: Once you sign up you get access to our add-on market place with exclusive discounts to restock on your favorites.
Do A Happy Dance: Once your box arrives share with the community by tagging #sustainablesubscription on social.
Here's a closer look at the Spring 2022 Empower-Her Subscription Box…
Taurah Yoga Mat Cleanser
This Canadian made Yoga Mat Cleanser is created with 100% natural ingredients, vegan, cruelty, synthetic and alcohol free. Simply spray onto mat, wipe down and enjoy the citrus scent! Not into yoga? Try this out as a disinfectant spray on your desk or phone case.
I have a "calm" mist from Taurah and I absolutely love it so I was very happy to see this in the box. I keep meaning to get back in to yoga but until that happens I will use it as a spray for my office desk.
Three Ships Lip Exfoliator
This lip exfoliator works in two parts. Fine sugar crystals slough off dry skin and plump up your lips, while natural shea butter and oils moisturize and soothe. Massage pea-size amount on lips. Rinse off with water or a damp washcloth.
I am very familiar with this lip exfoliator from Three Ships as I have received it before and I have used it a number of times. It smells like a tropical vacay and it leaves your lips feeling oh-so soft.
Simkah Herbal Facial Steam
This herbal facial steam is the best way to prepare your skin to receive your face mask, serum, or moisturizer. It opens the pores, purifies the skin and initiates the skin hydration process. It is an effective treatment to restore radiance to dull complexion, and reduce imperfections of the skin. 
This herbal facial steam is so pretty, and it's something I have always wanted to try. I have just never taken the time to do it. I feel like it would be such a relaxing experience, and a great way to unwind at the end of the day.
Pixie Mood Round Bag
Add some fun to your life with this lightweight, round bag. Made with 100% vegan leather. Perfect bag to dress up and down. A staple for everyone's wardrobe.
Oh my goodness! What a gorgeous product to receive in a subscription box. It is something we don't receive often enough (in my personal opinion). This round bag is a beautiful color and has a nice sleek design. It has an adjustable strap, 2 zip pockets and a pouch in the front.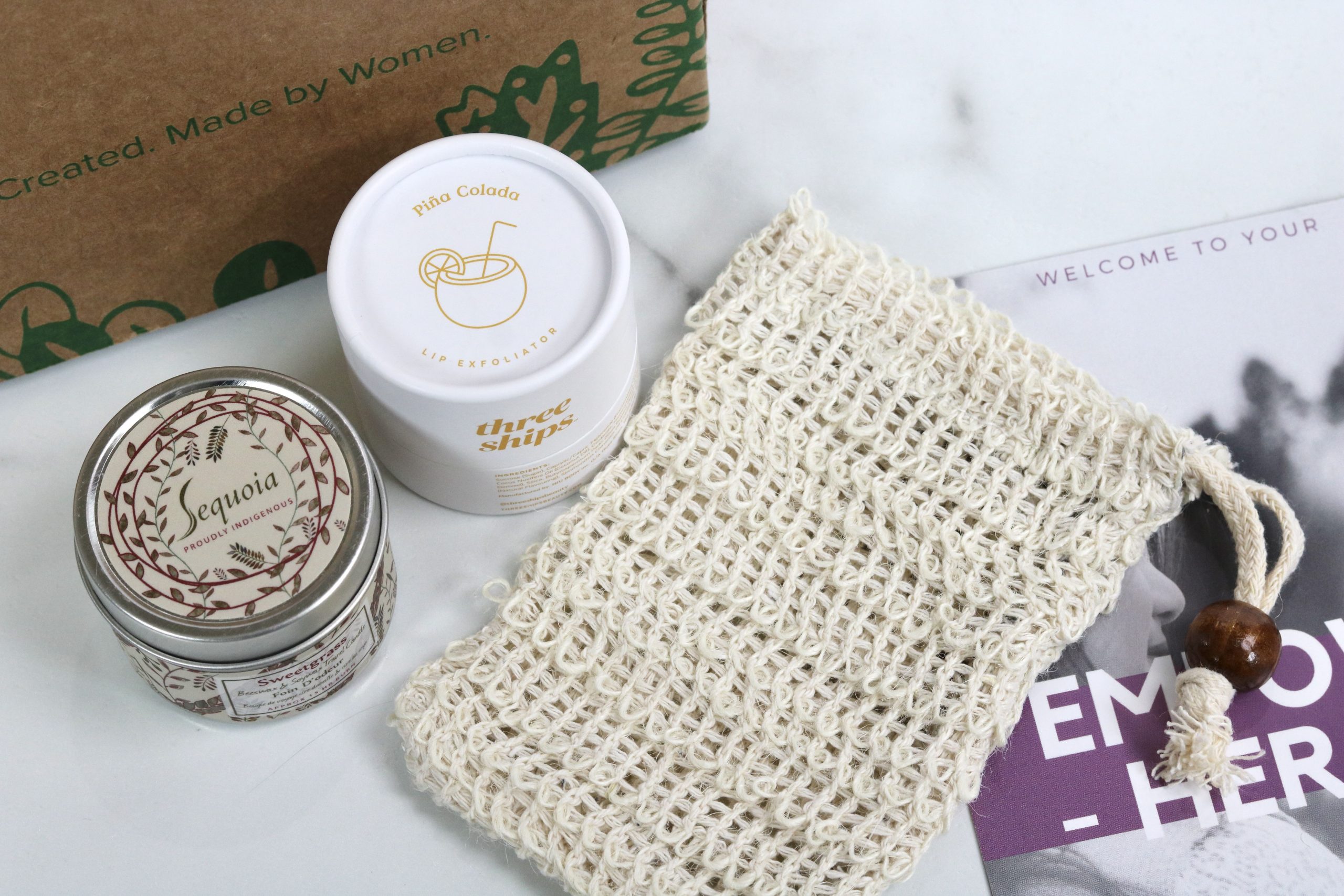 Plant Life Soap Saver
This Sisal Soap Saver made from the agave plant extends the life of soaps by providing good lather that makes soap less harsh on the skin. Just pop your soap into the bag and cinch closed – its great for exfoliation. Sisal is a natural fibre, a traditional material rough enough to clean and exfoliate skin, delicate enough to keep your skin sparkling.
I don't know about you, but I LOVE soap saver bags. I already have a couple but am more than happy to receive another because it is something I definitely like to have back-ups of. It's a great way to get the most out of that beautiful handmade soap bar you may have purchased for yourself.
Sequoia Candle
This candle is created with their own blend of natural waxes: soy wax and beeswax. It burns cooler and when finished can easily rinse out the tin to repurpose. Made with their own proprietary blend of phthalate free fragrance oils and essential oils.
And lastly we have this adorable little candle from Sequoia in a cute little compact tin. It is the perfect size for my desk and it has a 15 hour burn time.
Empower-Her Subscription Box Review Spring 2022 – Final Thoughts
Empower-Her Subscription Box is a great way to discover the best sustainable products made by woman. I have really enjoyed all the boxes I have received to date and I love supporting women-owned companies. The Spring box is a lovely mixture of products but my favourite item is definitely the Pixie Mood Bag – I LOVE receiving fashion accessories. This would make a great gift to yourself, your bestie, sister or Mom!
-AYOB Sarah