Escape the Crate Review: Escape the Ripper
Escape rooms are very popular as a fun group experience where a team works together to solve puzzles in order to break out of a locked room. Similar to that, Escape the Crate brings the experience of an escape room to your home. Every other month, this box delivers a new adventure to your doorstep, and you will find the clues and solve the puzzles in challenging scenarios such as escaping from a pirate ship, solving a murder mystery, defusing a bomb, and more.
This box was kindly sent to us for review.
How it Works
Escape the Crate ships every other month for $29.99 plus shipping. Each box contains letters, ciphers, puzzles, tools, and other objects that may help you in your adventure.
As players, you take on the role of an agent working for E.M.I.T. or Emergency Mediation In Time, a time-traveling organization that goes back in time to fix issues. Each mission is a self-contained adventure with a beginning, middle, and end. Older "retired" boxes are available for a one-time purchase at $39.99 plus shipping.
This is a review of the Escape the Ripper box.
Escape the Ripper
"For the last few months, the citizens of London have been outraged, appalled, and terrified by the killings of the notorious Jack the Ripper. Stalking the foggy streets of the Whitechapel for fresh victims, the cloaked figure has already killed 5 women and he seems to be ready to murder again. It is up to you to put an end to his reign of terror. TWO missions await in this box. The first is a family-friendly mystery in the elegant home of one of the ripper suspects. It is up to you to confirm his identity, uncover hidden passages, and discover his role in this classic escape adventure. The second, however, is a PG-13 adventure that will put you in the dark alleys of London… one step behind the ripper… where you will examine his latest victims and find yourself hot on his trail. Let's hope that he doesn't turn his attention on you. It is our scariest mission yet. Can you escape the ripper?"
This time around, we get not only one, but two, missions to solve. One for teams with younger players or players who do not enjoy violent and scary themes, and the other rated PG-13. The box contains an information sheet with instructions to start. It has a link to the Escape the Crate website that will guide your team on your mission. Note that you will need an internet connection to enjoy the game, so be sure to have your computer or smartphone ready.
Inside the box there are some papers, cards, and props containing puzzles that will be used throughout the game. As you play, the game will give you directions on which pieces to use. Make sure you read through and study all pieces carefully, including the box they came in!
Escape the Crate also includes physical props that will play a part in solving the case.
There are a couple of envelopes that you should not open until the website tells you to.
My husband and I played both missions over the weekend as our Halloween activity. After reading through the instructions and setting everything up as directed, we got to work. You have the option to set a timer for yourself if you want. Escape the Crate recommends setting the timer for 60 minutes for expert/experienced players, 75 minutes for regular/casual players, and 90 minutes for easy/new players. We decided to skip the timer and have a relaxed experience.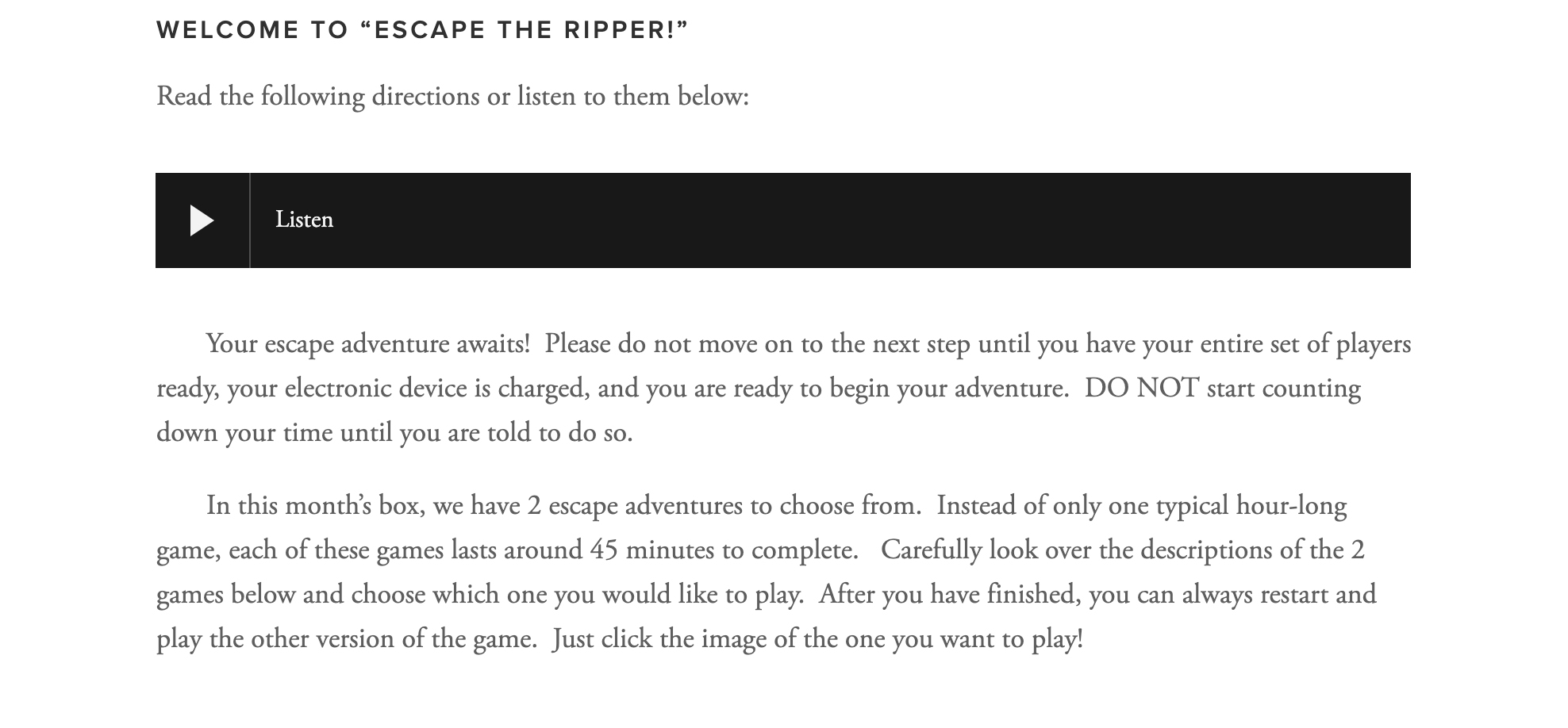 Each section of the adventure has information laying out the problem. You can choose to either read or listen to an audio recording of each section. I really like the effort to cater to different preferences and styles. We listened to the audio recording first, and then read through the written version to look for additional clues we may have missed.
You have to key in a code to move on in each step of the mission. This will be a number or word from solving the puzzle. You have the option of using a series of hints if needed. There is no penalty for using the hints. Each hint will reveal a little more of the solution. It is up to the players on how much they want to depend on them. We wanted to challenge ourselves this time, and since we were not timing ourselves, decided not to use any hints.
There was a good mix of difficulty levels in the puzzles. Some were straightforward, while others required some slight leaps of logic on our part. Nevertheless, we enjoyed the challenge and the satisfaction of finally figuring out a challenging puzzle. If you want to replay the adventure in the future, there is an option to download and print the papers again. I appreciate this touch for players who prefer to scribble on the provided clues.
Escape the Crate Review – Final Thoughts
Overall, we really enjoyed this box and look forward to playing another Escape the Crate adventure. The adventure this time around was perfect for spooky season. This box is such a good option especially right now when going out is not encouraged. The work and creativity that went into creating each box really shows through the level of detail in the story, puzzles and materials. This box is perfect for a fun game night with family or friends, or for anyone looking for an escape room type experience without leaving the house.
Toby & Rocket – http://www.tobyandrocket.com
Explore.
Save.
Enjoy!
Sign up for a free account on A Year of Boxes to receive exclusive offers, be added to our monthly mailing list, and much more! We are always adding features to improve the experience for our users, from their valuable feedback!
Join Today!