Essentials Eco Review Spring 2022
Essentials Eco is a quarterly subscription box bringing low waste, sustainable products designed to fit seamlessly into your daily routine right to your door. They kindly sent us this box for review.
Spoiler alert! I am in LOVE with this season's Essentials Eco box! It's all about Spring Cleaning and it includes a collection of products that I am very excited about. Cleaning is so much more fun when you have the right products. I am beyond excited to use ALL of these!
Subscription Details
Essentials Eco subscribers will receive a selection of 5-7 items from sustainable swaps to low tox cleaning + beauty products all made by North American companies. Boxes can include items such as but not limited to the following…
cleaning solutions
kitchen utensils
natural or low tox alternatives
personal wellness solutions
single use alternatives
skincare products
oral or personal hygiene products
Here's a closer look at the Spring 2022 Essentials Eco box….
The Spring 2022 Essentials Eco box features…..
female founded businesses
BIPOC owned and operated businesses
Canadian owned businesses
handmade products
Featured Recipe – Lemon Soft Scrub
Each box includes a featured recipe and for the Spring box we get to make a Lemon Soft Scrub. It only has a few ingredients, which I love, and you can use it for Spring cleaning.
Compostable Sponges
Cleaning is easier with the right tools but do those tools have to be harmful to the plant? Ditch your plastic sponge for this 100% plant-based cleaning sponge made from wood pulp and scratch free loofah fibres.
I desperately needed new kitchen sponges so I was very happy to see these in the box. We received a pack of 2, they are from Essence of Life Organics, they are fully compostable and they are ocean friendly. Now I just need to get one of those handy little sink holders to place these in.
Lemon Essential Oil
We believe that no cleaning caddy is complete without a bottle of lemon oil. From boosting your cleaners to getting rid of that sticker residue, this bottle brings power and a scent that brightens your day.
I love, love, love essential oils and I also really love learning more about them. For example, I had no clue you could use lemon oil to remove sticker residue. Here's what you do…
combine lemon oil, baking soda, water, apply to the residue, let it sit for 5 minutes, use a damp towel to wipe it off.
This oil is from women owned, family run Ferm + Petal. I will definitely be checking out their website and/or IG page.
Good Juju Laundry Strips
Good Juju laundry strips are natural and so simple, even your kids can do it! Just throw one strip into the machine and press start. These strips are safe for HE machines and even dissolve in cold water.
If you haven't tried laundry strips yet, your must! I started using them about a year ago for little Steven's laundry and since then have started using them for all of our laundry. They are so easy to use, the packaging is environmentally friendly and they take up little space in your laundry cupboard.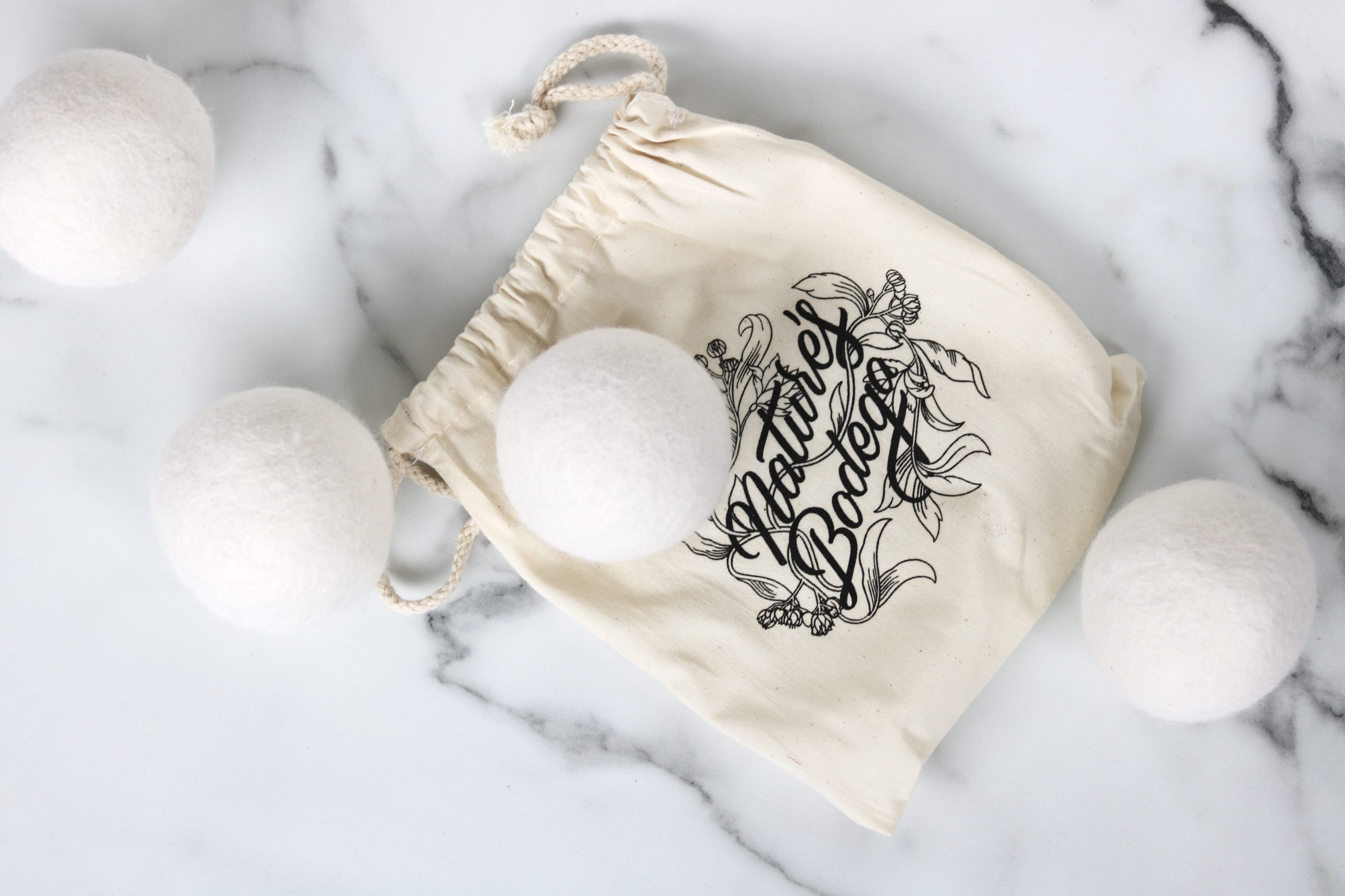 Nature's Bodega Dryer Balls
Your new dryer balls from Nature's Bodega speed up drying time, save energy and reduce wrinkles. Just pop 2-4 balls in your dryer with each load. Spritz with your new linen spray before popping them in to add a fresh scent.
Ok…..I have always loved dryer balls but I feel like there's a lot I didn't know about them. I mostly started using them because they were an eco-friendly swap for dryer sheets and I liked that I could add a few drops of my favorite oil to them. But…..I had no clue that they reduced drying time and also helped reduce wrinkles. Now I love them even more!
Tanit Botanics Cleaner Tabs
Welcome to the revolution. These amazing little tabs not only keep plastic bottles out of our landfills but also decrease large carbon footprint by reducing the need to pack and transport water.
I am in love with cleaning tabs. I only discovered them about a year ago, but I instantly fell in love, because…..how can you not? These little tabs are genius. They are easy to use, they have minimal packaging, and they allow me to use my own pretty cleaning bottles rather than generic branded bottles. I LOVE these and will definitely be checking out the Tanit Botanics website.
Room & Linen Spray
We are thrilled to be launching our very first custom collaboration with Sage + Thistle Handmade Goods. This Essentials Eco exclusive brings the fresh green scent of Spring inside. Featuring lime and lemongrass and made with purse essential oils this is the perfect spritz to freshen your laundry balls or wake up your living room.
I love a good linen spray but often forget to use them. I think I need to put this one on display somewhere, or in a spot that is easily accessible on a daily basis. I also love the idea of using it with the dryer balls.
Microfibre Cloths
The ladies at Mint know clean better than anyone, so when it came time to curate our Spring box we knew who to call. When it comes to natural cleaning products many of you have asked hot to "get that streak free shine?" This set of 3 cloths will have everything from your stainless to your windows glistening in the Spring sun.
A much needed addition to my cleaning caddy. I like to have a few different cleaning cloths on hand and these ones will be great for my bathroom mirrors. I also really love the packaging, just as a side note, I am a sucker for cute logos.
Essentials Eco Review Spring 2022 – Final Thoughts
The Spring Essentials Eco box is absolutely wonderful! It is filled with eco-friendly cleaning products just in time for Spring cleaning. I think they put together the perfect collection of cleaning essentials and I am very excited to use everything in the box. I appreciate the thought and energy that when into this season's box. They sourced amazing products from wonderful brands. This is definitely going to be one of my favorite deliveries for the the Spring season!
-AYOB Sarah