Essentials Eco Review Summer 2022
Essentials Eco is a quarterly subscription box bringing low waste, sustainable products designed to fit seamlessly into your daily routine right to your door. They kindly sent us this box for review.
I am SO excited to share the Summer Essentials Eco box with you today because it is one of my favourite boxes of the season. I think they have done a fabulous job and I will get a ton of use out of every product they have included. This continues to be a favourite.
Subscription Details
Essentials Eco subscribers will receive a selection of 5-7 items from sustainable swaps to low tox cleaning + beauty products all made by North American companies. Boxes can include items such as but not limited to the following…
cleaning solutions
kitchen utensils
natural or low tox alternatives
personal wellness solutions
single use alternatives
skincare products
oral or personal hygiene products
Here's a closer look at the Summer 2022 Essentials Eco box….
Market Bag: "Whether to your local farmers market or a lazy evening on the beach, we hope that you carry this little reminder that no one is perfect and we are all on this journey together."
I totally forgot to get a photo of the back of the bag, but at the bottom it says "life is but a learning journey". I absolutely love this bag and will get a lot of use out of it. Reusable canvas bags are one of my favourite items to receive.
Jojoba Oil: "Jojoba oil is a versatile powerhouse for skin, body and hair! Naturally infused with Vitamins B, C & E this oil is the perfect after sun lotion, sunburn care or extra moisture for those dry areas."
I have always loved Jojoba oil but had no clue how versatile it was. Here are just a few ways you can incorporate it into your daily life……
makeup remover
cuticle oil
hair oil
beard oil
massage lotion
aftershave
skin hydration
carrier oil
Peppermint Foot Scrub: "With your toes in the sand or your favourite summer sandals can be hard on your feet. This peppermint foot scrub bar is infused with exfoliating volcanic rock and shea butter to help soften even the roughest heels."
Oh my…..this little bar smells SO good! Peppermint is my absolute fave. I find is so soothing, calming, and it can also be energizing. I can't wait to pamper my feet with this scrub.
Buzz Off Spray: "From days at the park to weekends at the campsite, it is time to get outside. This year don't let those pesky little bugs spoil your day with this invigorating citrus and herbal blend. It not only smells great but helps repel insects so you can enjoy the outside like you were meant to."
This is a wonderful item for a Summer box and one that I am very excited to have received. It will be great for little Steven and I. He LOVES to be outside so I am going to put this in our beach bag so that we have it on hand at all times.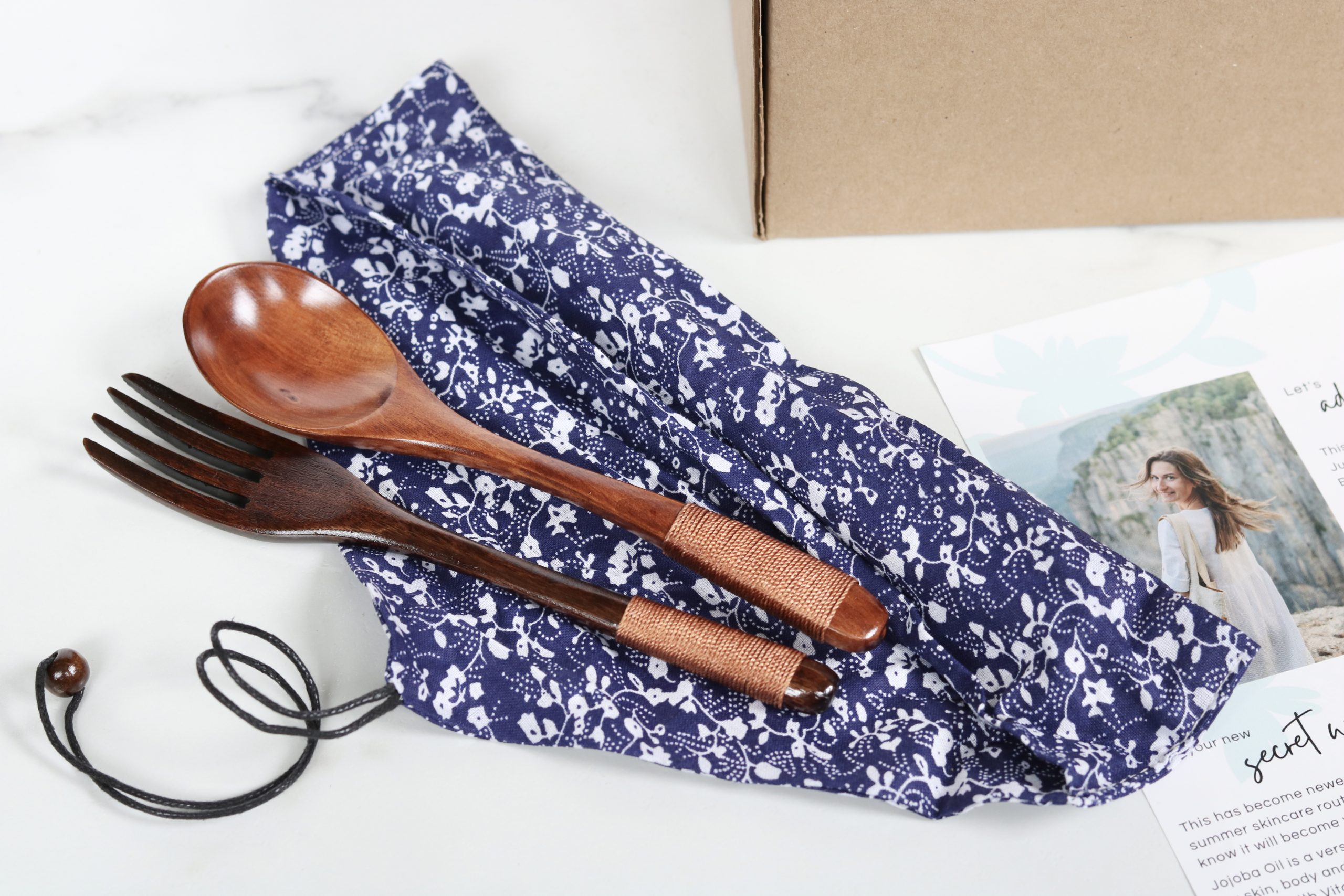 Travel Utensil Set: "Perfect for impromptu picnics or lunch at the office, this simple two-piece wooden set will have you saying 'no utensils please' from now on. With braided handles and their own drawstring pouch, your utensils stay clean and so does your bag."
I have received a few utensil sets in my day but this is by far the most beautiful! The color of the wood, the braided handles…..the travel bag. I LOVE everything!
Essentials Eco Review Summer 2022 – Final Thoughts
I am so in love with the Summer Essentials Eco box. It is, without a doubt, one of my favourite deliveries this season. The curation is thoughtful and beautiful. I love the variety of items and I also love how useful each one is. I can see myself using these items on a regular (if not daily) basis. And……I think the price point is so reasonable. I give this box a big A+!
-AYOB Sarah