Eternally In Amber Review May 2017
Eternally In Amber is the first hair accessories bi-monthly surprise box. Bows and hair ties are great, but what about the essentials? Every other month, you will discover artisan-crafted hair accessories, limited edition travel size hair combs, and inspiring ways to have more fun with your hair for all ages. They kindly sent us this box for review.
Shonah and I have been alternating this fun little hair accessory subscription box. I reviewed the January box and she reviewed the March Box. We both think it is a fun idea for a subscription and like the idea of replenishing our hair accessories every two months. We all know that hair accessories go missing faster than all your other fashion accessories combined, so why not get a few new pieces in the mail every 60 days?
May Theme – Summer Prep
This month you are being prepared for Summer. The weather will be hot and your hair will be even hotter. These colourful summer essentials will help you keep your hair up and out of the way as you enjoy Summer all season long. Plus you get 2 more limited edition accessories to try! Be sure to stop by Instagram & show us how you are putting your box to use. Please also leave a review of your box below, because we want to know what you think. We hope you enjoy this month's box!
Travel Sized Comb ($9.50)
Touch ups are to be expected, and this travel tool is just what you need. Just throw this small, but mighty travel comb in ay purse, clutch or bag to tame your hair on the go.
You all know how I feel about travel sized items…..I love them! I love anything I can throw in my purse. I love this item because I love to be prepared.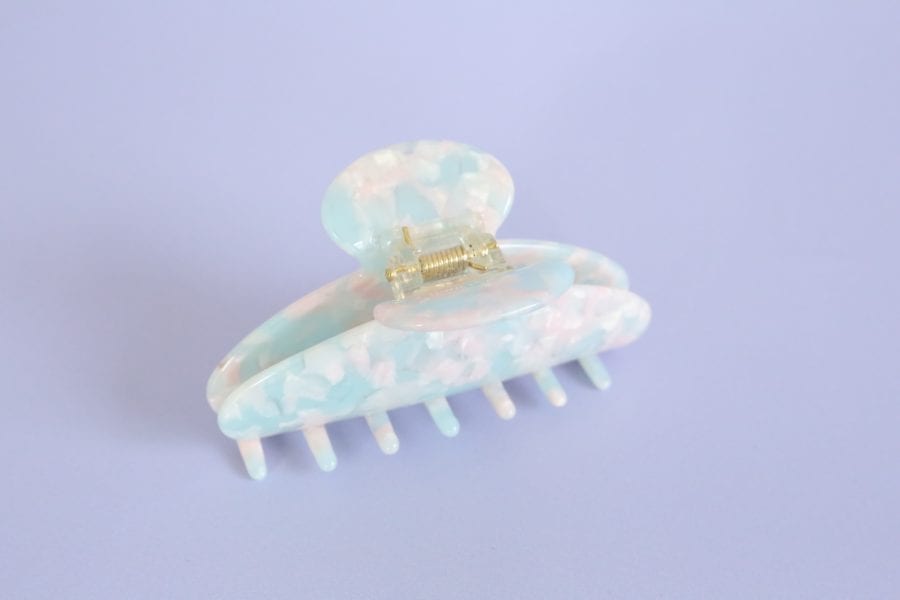 Hair Claw ($9)
This bestselling accessory is a no brainer for the Summer! Whether you are poolside or running errands, use this durable claw to create various undo's to keep your locks up and off your face.
I like to have a few of these on hand at all times. They are a quick and easy way to throw your hair up when you are in a hurry.
Limited Edition Swirl Side Comb ($10)
Same great side comb, new beautiful color.
We received a similar comb in the January box but it was brown. I happen to love these combs. It's a really cute way to put your hair up on the side.
Limited Edition Bobby Pin Set ($7.50)
Who can't use another set of bobby pins!
Bobby pins are my life. I use them every day and have them all over the house.
Eternally In Amber Review May 2017 – Final Thoughts
Eternally In Amber is a really cute little subscription box. It's a fun way to keep your hair accessory drawer stocked, and a great way to make sure you are never without a hair clip. It's simple and to the point, and I think the shipping frequency works perfect with these sort of items. Even though I prefer to receive my boxes monthly, I think it's adequate to received these sort of items every 60 days.
Question: Have you tried Eternally In Amber? Make sure to leave a review HERE. We love to hear what our readers think of the subscription boxes we have listed in our box directory.
XOXO
Explore.
Save.
Enjoy!
Sign up for a free account on A Year of Boxes to receive exclusive offers, be added to our monthly mailing list, and much more! We are always adding features to improve the experience for our users, from their valuable feedback!
Join Today!